WWDITS Star Harvey Guillén Channels George Santos for Stephen Colbert
What We Do in the Shadows star Harvey Guillén killed it as George Santos during last night's edition of The Late Show with Stephen Colbert.
---
As we await word on what the fifth season holds for Nandor (Kayvan Novak), Guillermo (Harvey Guillén), Nadja (Natasia Demetriou), Laszlo (Matt Berry), Colin (Mark Proksch), and The Guide (Kristen Schaal) when FX's What We Do in the Shadows returns later this year, we had a chance to check out Guillén last night on CBS' The Late Show with Stephen Colbert. Now, we know what you're thinking. As great of a late-night guest as Guillén has proven themselves to be in the past, a late-night visit is still just a late-night visit. Unless it's a visit with Jimmy Fallon, and then… well, may God (or whatever it is you worship to get you through your day) have mercy on your soul. But this time around, we got to see Guillén put their comedic acting skills on display as Stephen Colbert arranged a "satellite interview" with Guillén's George Santos to give the newly-elected GOP House of Representatives member from New York a chance to clear their… names? Yeah, it seems Santos has had a lot of trouble with the truth throughout their life (lives?), with lies littered all throughout their personal and professional lives (see?). And what was Santos' punishment from House Speaker (in name only) Kevin McCarthy? Santos was named to two committees. So you can see why this would be the perfect topic for Colbert and Guillén to go "scorched earth" on satirically, right?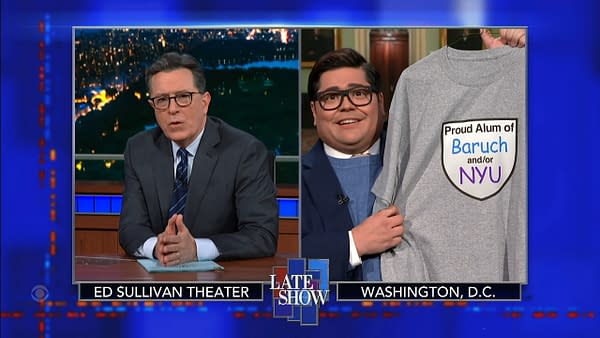 Here's a look at the complete segment from Thursday night's show as Guillén portrays a creature far scarier than anything WWDITS could ever dream up in a nightmare, with Colbert's interview with "Santos" kicking in at around the 3:00 mark (and make sure to check out some What We Do in the Shadows Season 5 updates that follow):
Sharing that Guillermo is "coming into his own," Guillén explained that the familiar/bodyguard/vampire hunter will have some choices to make between accepting how his life is currently, working harder towards his ultimate endgame (becoming a vampire), or possibly considering a new path. In fact, Guillén reveals that it was "probably the most emotional season" he's had to film during the series' run. Here's a look at the clip from Guillén's red-carpet interview with Deadline Hollywood at the 28th Annual Critics Choice Awards, where they tease the choices that Guillermo will face during the fifth season, followed by a look back at their most recent WWDITS-related posts:
Courtesy of an Instagram post from Guillén back at the beginning of December 2022, we learned that filming on FX's What We Do in the Shadows Season 5 had officially wrapped. "That's officially a wrap on season 5 of [What We Do in the Shadows]; we did it!" Guillen wrote as their Instagram post caption. "Thanks to this amazing crew .. the whole team .. writers, costumes, hair and make-up, producers .. it takes a village. I can't wait for y'all to see it!" Here's a look at Guillén's post, followed by a look back to an on-set tour Guillén treated us to at the end of November 2022:
In this special edition of "TikTok Cribs" via Instagram, Guillén invited us into their very sweet trailer that, right off the bat, is already bigger than my apartment. That said, considering Guillén appears to be working on 27 different projects at any given time, we're glad to see that they have somewhere comfortable to crash. That aside? I really need to know what's in the closet because it feels like there are some Guillermo costumes in there that could be major spoilers:
Created by Jemaine Clement and produced by FX Productions, What We Do in the Shadows stars Kayvan Novak as Nandor, Natasia Demetriou as Nadja, Matt Berry as Laszlo, Mark Proksch as Colin Robinson, Harvey Guillén as Guillermo, and Kristen Schaal as The Guide. Joining them this season in recurring roles is Anoop Desai (American Idol) as an acquaintance of Nandor's from his ancestral homeland. In addition, SEAL Team star Parisa Fakhri (SEAL Team) has joined the cast as Marwa, one of Nandor's 37 wives from his days as an ancient warrior in the kingdom of Al Quolanudar. Clement, Waititi, and Paul Simms serve as executive producers for What We Do in the Shadows alongside Scott Rudin, Garrett Basch, Eli Bush, and Stefani Robinson.