Pro wrestling is a carny business, and despite the sterile image of WWE today as a global entertainment corporation, it wasn't that long ago that playground rules were king in the locker room. Stories of bullying and hazing are rampant in WWE history, including very recently, but in the latest issue of the Wrestling Observer Newsletter, Dave Meltzer recounts a particularly heartbreaking tale of bullying against one of the most beloved legends in WWE history, the recently deceased announcer Howard Finkel.
Meltzer says that the bullying incident occurred after Finkel was involved in an angle at a WWE house show where he was supposed to be slapped by a female wrestler, but flinched during the spot. As a result, Finkel was taken to "wrestler's court," an infamous backstage proceeding where wrestlers would decide punishments for other wrestlers for perceived transgressions or violations of locker room norms, such as wearing the wrong color tie when shaking hands with The Undertaker (who, by the way, as a backstage leader in WWE, was a ringleader of this sort of thing).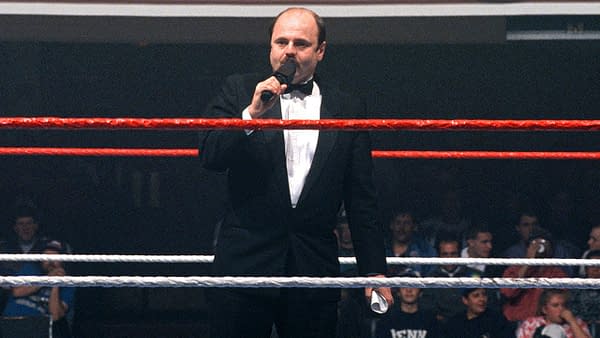 Meltzer says Finkel was "bullied and absolutely humiliated" by the event, which recently arrived WCW wrestlers were horrified by. Finkel, Meltzer says, was on the verge of tears, and was sentenced to be slapped by another woman as punishment. When Finkel once again flinched, he was bullied even further. Meltzer goes on to talk about WWE's penchant as a company for humiliating performers like Finkel and legendary announcer Jim Ross through embarrassing and meanspirited angles. Meltzer writes:
Indeed, when Finkel was put in the WWE Hall of Fame, his entrance video was all for the laughs, more about making fun of him and showing the different angles he did, but he responded the night of the Hall of Fame doing one of the best speeches in its history.

He and Jim Ross, while very different as people, were both put in that position. With Ross it was always to do it in Oklahoma if possible, knowing Ross was so proud to be from Oklahoma while New Yorkers consider that part of the country second-rate. But with Ross, it was because he always tried to push his opinions on things, trying to be political and nice about it, but he always had his definitive opinions based on learning from Bill Watts, Leroy McGuirk and Ernie Ladd among others. His product views could clash with those of McMahon at times.

Finkel in many ways, because he was so nice and would take it without fighting back, was humiliated at times, but paid well for his position, remained loyal and grateful, and probably just considered it an unfortunate part of his role in the company.
Howard Finkel, the voice of WWE ring announcing for decades who was pushed into retirement while still in his prime, as many WWE talent not named McMahon are, for being too old, passed away last week at the age of 69. You can see WWE stars paying tribute to Finkel here in our report from last week.
Enjoyed this article? Share it!