WWE Doubles Down on Saudi Partnership Following Stranded Wrestler Controversy
In a Vince Russo level swerve, WWE today announced an expansion of their partnership with the government of Saudi Arabia following a tense weekend that saw many of its wrestlers mysteriously stranded in the country after Thursday's Crown Jewel event. It all started with reports prior to Crown Jewel that WWE had not yet been paid for the event, telling investors at their Q3 conference call that they couldn't count on the previously promised two shows a year from Saudi Arabia going forward. Then, following the Crown Jewel event, most of the talent who had flown in for the show found themselves stranded when their flight was delayed, causing many of them to miss Friday Night Smackdown and leading WWE to shake things up with an actually interesting episode of the show.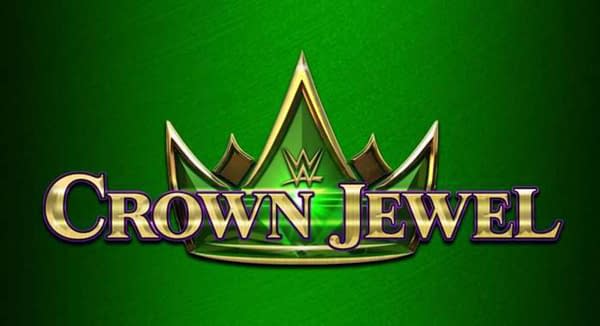 WWE blamed the delays on mechanical difficulties, but angry tweets from wrestlers as well as dirt sheet rumors suggested that something more nefarious was at play. Former WWE announcer Hugo Savinovich claimed to have inside information, saying that the wrestlers were prevented from leaving the country by the Crown Prince of Saudi Arabia after a dispute with Vince McMahon, who cut the live feed of Crown Jewel to Saudi Arabian television as a power play because the Saudi's owed WWE money. Wrestlers were said to be upset that McMahon left the country in his private jet while talent was left behind, with Dave Meltzer claiming wrestlers had "lost respect" for McMahon due to the incident.
None of that has been confirmed, of course, aside from various vague tweets from the wrestlers who were stuck that they would not be returning to the country for the next show, and WWE has stuck to the "mechanical difficulties" line. But in a new twist, the company sent out a press release Monday announcing that they would expand their partnership with Saudi Arabia from one to two shows per year… even though the previous deal, by all accounts including the evidence of two shows literally taking place in the country each year so far, already specified two shows per year.
Here's the press release:
11/04/2019

STAMFORD, Conn. & RIYADH, Saudi Arabia–(BUSINESS WIRE)– Following the historic Crown Jewel event in Riyadh, WWE (NYSE: WWE) and the Saudi General Entertainment Authority (GEA) have expanded their live event partnership through 2027 to include a second annual large-scale event. WWE and GEA also continue to work towards the completion of a media agreement in the MENA region.

This long-term partnership demonstrates WWE and GEA's commitment to bring sports entertainment to the region and supports Saudi Arabia's Vision 2030.
So what's the real story here? We may never know, but we could have a lot more juicy rumors to sink our teeth into once the Wrestling Observer Newsletter comes out this week and the internet wrestling media transform its contents into a billion clickbait articles.
The Saudi Arabian deal has been the subject of controversy since its announcement, due to the country's abysmal human rights record, particularly its treatment of women and LGBTQ people, and the murder of journalist Jamal Khashoggi. The country allegedly would not allow wrestler Sami Zayn to perform at the shows due to his Syrian heritage, and wrestlers including John Cena, Daniel Bryan, and Kevin Owens have all said they will not perform in the country. The deal resulted in backlash from fans, as well as a segment on Last Week Tonight with John Oliver, but in general stock prices have risen as a result of the deal, which floods WWE with money, enough to even get Shawn Michaels to come out of retirement and nearly murder himself in a match. However, following the controversy this weekend, WWE's stock price fell nearly 5% before rocketing back up as soon as WWE sent out the press release.