WWE Superstar MVP appeared on WWE's The Bump ahead of Backlash on Sunday, and he discussed his reaction to two emotional moments involving his friends. MVP discussed his relationship with Shad Gaspard and how he's been affected by Gaspard's tragic death. On a lighter note, with the clip of MVP and Gaspard reacting to Kofi Kingston's WWE Championship win making the rounds on the internet, MVP talked about what Kofi's win meant to kids around the world.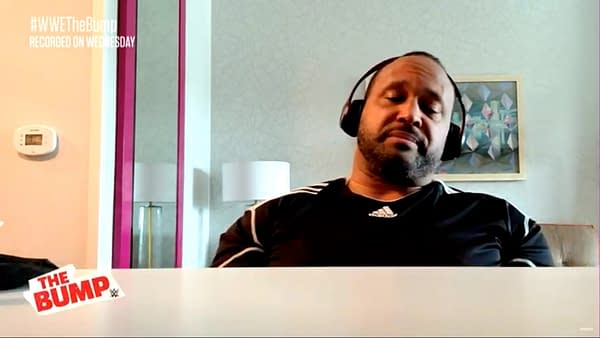 Shad Gaspard died tragically after being swept up by an ocean riptide in May. Gaspard was swimming with his son, and when lifeguards came to rescue him, Gaspard directed them to save his son first. After that, Gaspard was submerged and not seen again until his body washed ashore a few days later.
"It's been pretty rough," MVP said of dealing with Gaspard's death. "Shad was what I used to refer to as my annoying big little brother. The circumstances surrounding his passing were extremely tragic, and being a father, it hit me particularly hard. Specifically, because he was one of the ones with which I used to discuss the relationship with my son and the blossoming experiences that come with being a dad. So for him to give his life to save his son and the circumstances exponentially made things harder."
But as for Kofi Kingston's WWE Championship win, MVP couldn't be more proud. Kingston defeated Daniel Bryan to win the WWE Championship at WrestleMania 35. Kingston would go on to hold the title for 180 days, ultimately losing to Brock Lesnar after WWE Smackdown moved to Fox.
"Aside from the fact that I've known Kofi, we were in developmental together, to see him and all of his hard work finally pay off at that level and to have an African American hold the WWE title is huge because it always helped," MVP said. "When I was little and I used to watch wrestling, I remember seeing Tony Atlas and Rocky Johnson as tag team champions and they looked like me. It meant something to me to aspire, to have somebody to look up to that you share a likeness with. The impact of Kofi being born in Ghana and raised her in the states and becoming WWE Champion, I don't know if you saw any of the footage when he went back home to Ghana and the reception that he received, it's huge. Little boys all over the world who are WWE fans had a champion that looked like them and who they could celebrate and aspire to in a brand new way. That was exceptionally cool and emotional."
Enjoyed this article? Share it!