As The Yankees Retire #2 For Derek Jeter, They Say Goodbye To Single Digits As Well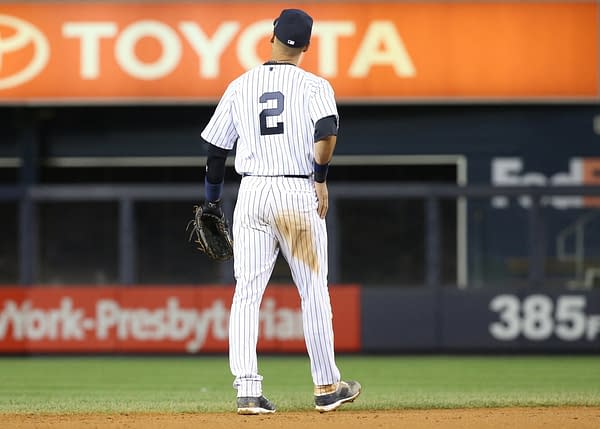 Tonight, the New York Yankees retire #2 in honor of Derek Jeter. Jeter had a career for the ages, as Yankees are prone to do. 20 seasons at shortstop. 14 time all-star. 5 gold gloves. 5 silver slugger awards. A member of the 3,000 hit club, he retired as sixth all-time in career hits. He is also the Yankees all-time leader in hits, doubles, games played, stolen bases, times on base, plate appearances, and at bats. He served as the Yankees Captain from 2003 until his retirement in 2014. He won the Rookie of the Year award in 1995, and he won 5 World Series Championships with them.
An interesting tidbit has also came to light, as after the Yankees retire #2 tonight, they will no longer have any other single digit numbers to offer their players to wear, except #0. The list of players they have retired is maybe the most special group in sports:
#1 Billy Martin
#2 Derek Jeter
#3 Babe Ruth
#4 Lou Gehrig
#5 Joe Dimaggio
#6 Joe Torre
#7 Mickey Mantle
#8 Yogi Berra, Bill Dickey
#9 Roger Maris
That is an impressive list, and that is just numbers 1-9. Weirdly, only 18 MLB players in history have ever worn #0, and the Yankees have never had anyone take that number. The Yankees have traditions other MLB teams don't follow: no beards or long hair, no names on the back of the jerseys, no mascots; but no rule against wearing #0. You can't wear the number in the NFL or NHL either. Players are not likely to choose it either.
So, after tonight, we will never see another single digit in Yankee uniform ever again. Looking at the list above, it is the way it should be. Congrats Derek, while I never rooted for you (I am an Indians and Red Sox fan), I always respected what you could do on the field. Good luck as an owner as well.