Yellowjackets Interview: Creators, Showrunner Discuss Theories & More
Yellowjackets' Ashley Lyle, Bart Nickerson & Jonathan Lisco spoke with Bleeding Cool about addressing mental health, fan theories & more.
---
Yellowjackets creators Ashley Lyle & Bart Nickerson and showrunning partner/executive producer Jonathan Lisco spoke with us about unique topics related to their series, online fan influence & depicting mental health and illness on screen. The first episode of season two of the hit Showtime series is out now, with subscribers receiving the episode on Fridays; otherwise, each one premieres on Sunday nights. Their thoughtful answers gave me a lot to think about when going into this new season and a unique perspective on characters like Lottie Matthews (Courtney Eaton/Simone Kessell). Just to be on the safe side, we're throwing on the "MAJOR SPOILERS AHEAD!" sign and throwing down an image spoiler buffer – you've been warned!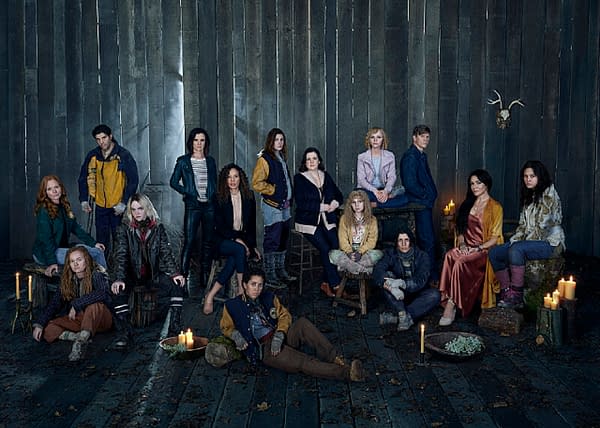 The online community and fandom of "Yellowjackets" can be so influential due to its growing presence. I was wondering how much of that influences the series for you. Are there any fan theories that you've seen online that are your favorites?
Bart Nickerson: I think we definitely try to not be kind of influenced by it. I do think there is something incredibly kind of exciting and affirming about getting to make a show that seems to inspire a fan base to sort of like dissect things and then use their own creativity to come up with great plans. Occasionally people are correct about something that we might be planning on doing, but we don't change it because of that, either. In terms of favorite fan theories… is that the pilot pit girl was actually Callie and that what you were seeing was not a flashback but a flash forward. That is not true for sure. But I just thought it was just like such a clever theory, although it doesn't quite hold up.
Jonathan Lisco: It does break it down a little bit, but it's very much intriguing, and kudos to that person.
Ashley Lyle: It would have to involve a time machine, which is not a world we're playing in this show in particular. I, for one, definitely have looked at the subreddit; I find it very charming. What more can you ask for than to spend all this time creating a world and then have people engage with it in such a detail-oriented way and with such passion and enthusiasm? But I tried to limit myself, and I think everyone else in the room has too. I looked at it a bunch after we aired season one and then felt like I needed to put it away while we were making season two. We learned very early on from Julie Plec, who we worked with on our very first job; we worked on "The Originals" with her. It's very easy to fall from fan appreciation into fan service. I think that that serves nobody because, for one thing, you're never going to make everybody happy. I mean, you look on Reddit, and there's whole arguments, and people are on one side and on the other. I think that we just need to tell the story that that we were going to tell, that we want to tell, and hopefully, the enthusiasm that we're getting from the fans will continue. If anything, it gave us the confidence to feel like people were going to love the story that we were going to tell and do love these characters. In terms of actual plot or actual theories or actual mythology, you know, we're not mining the subreddit for those at all. But it is fun, once you start airing, to see how people react and what their guesses are about what's going to happen next because we've already made it up. It's already going to happen. There's less danger of being influenced by it as opposed to just being delighted by it.
The exploration of mental health and psychosis in "Yellowjackets" is both beautiful and devastating at the same time. What research went into these topics and how they're represented on screen with these characters and their experiences?
Ashley Lyle: What's interesting is that some of it was research, sort of like actual research. We wanted to approach the subject with a lot of sensitivity. To some extent, some of it is just in all of us. A writer's room is a very intimate experience. We are sort of a little family, and you have to be, especially on a show like this, willing to really bring yourself to the table. We did sort of medical research because we wanted to make sure that we were not misrepresenting anything. To some extent, it's just based on our own experiences with memory and with trauma. I think that what's interesting is that there is sort of a falling away of the taboo of talking about mental illness that's happened over the past, you know, 5, 10, 20 years. I think that is really wonderful. It allows you to really explore it in a way that doesn't have to be sort of binary.
I feel like there's been a lot of, not demonization exactly, but I feel like sometimes it's all too easy to say, "Oh, this person is mentally ill, and then they do terrible things," or "this person is mentally ill, and they are extremely sad" or that it defines them in a particular way. Ideally, we're working with a little bit more nuance than that. But at the same time, we are telling a story, so we want it to be engaging and exciting at the same time. We definitely wanted to, first and foremost, particularly with this season, make sure that we were announcing pretty early that we don't see Lottie as a villain. We don't see any of our characters as villains, or maybe we see all of them as villains. But we certainly don't see Lottie in her struggles with her mental illness as making her sort of, in any way, shape, or form, better or worse than anybody else on our show; it's just that her circumstances are different.
Jonathan Lisco: I was just going to piggyback on what Ash said. Slightly different from the mental health conversation is a conversation in the writers' room that we found particularly fascinating, which is "where do the darker, self-destructive impulses come from?" This is not mental illness. This is in all of us, we've all felt this, this saying of when you're standing at the edge of a cliff, what your real fear is not that somebody's going to push you off; it's that you're going to throw yourself off. If the goal of the human organism is to survive, what function do those impulses serve, and why do they essentially occur in all of us? Like, why do we all have these what we call shadow selves? And that's led to a lot of really vivid conversations in our writers' room. And it's not about mental illness per se. It's kind of about people who are trying to be mentally well but still are dealing with and struggling with these impulses that lead them to do things that have dire consequences in their lives.
Bart Nickerson: A place that we happen to start from because that's just the way that we do it, and it's what excites us is to start from a place of curiosity about the character. Then we try very hard as a show to give all of our characters the kind of dignity of their own point of view. There are characters that are kind of secondary or kind of tertiary where you don't have a ton of time to live in that point of view, but spend at least a little bit of time there and try to have their world make sense from inside that point of view. I do think it's something that we do well as a show. And I think it allows you to go to some very dark places, but with a kind of sensitivity of also that you're not there to make fun of the place or to take a cheap shot at them. You're there to actually see what it feels like a little bit.
---
---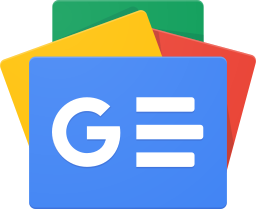 Stay up-to-date and support the site by following Bleeding Cool on Google News today!