Showtime has released the first episode of their new animated series Our Cartoon President, which features an animated version of Donald Trump and other major figures from his administration and and Congress. The comedic parody series is based on the animated version of Trump that appeared multiple times on The Late Show with Stephen Colbert. The series is produced by Stephen Colbert and Chris Licht with R.J. Fried on as the showrunner.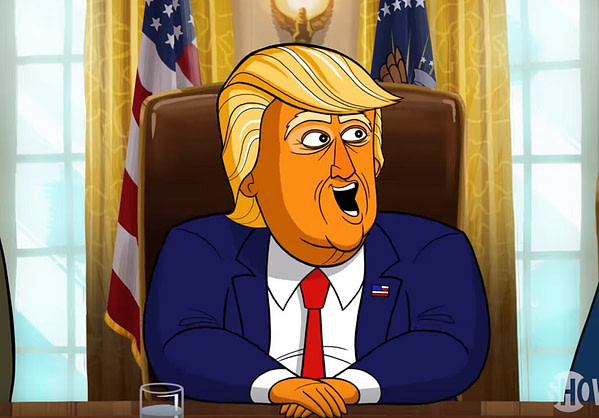 The first episode, which you can see below, is more mean-spirited than funny. It takes a lot of personal shots at the characters, some of whom aren't elected officials at all, like Melania Trump and Karen Pence. Trump comes across in an almost Peter Griffin kind of way, and you start to feel sorry for the president as if he was thrust into this position rather than choosing to run for office.
Colbert and his writing staff have done some of the funniest takes on the current government and his years on The Colbert Report would make you think that this would be some quick-witted political satire. Instead, it's more sitcom with in-jokes that I can't see having a very wide appeal.
You can judge for yourself below, but I won't be going out of my way to watch another episode.
Our Cartoon President will then premiere on February 11th at 8 p.m. ET.
https://youtu.be/zbrdfG6CX68