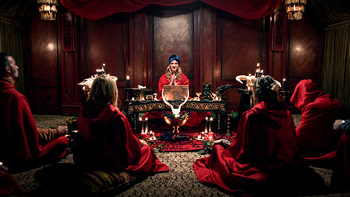 Grady Hendrix is a popular horror author of such books as My Best Friend's Exorcism and the amazing nonfiction look at vintage horror, Paperbacks from Hell. He's the writer of the new movie Satanic Panic starring Hayley Griffith (The Mysteries of Laura), Ruby Modine (Happy Death Day franchise) and Rebecca Romijn (X-Men franchise, Star Trek: Discovery), director Chelsea Stardust (Into The Dark, Seeing Green). In Satanic Panic, pizza delivery girl Sam finds herself in an upscale neighborhood where a group of classic Satanists decide she will make the perfect sacrifice. Satanic Panic comes out September 6.
Listen here:
Listen on YouTube:
Check out the Trailer:
Castle Talk Podcast Links:
Join us over on Facebook to chime in.
The show is hosted here. Get our RSS Feed. Subscribe at iTunes. Listen on Stitcher. Or on YouTube.
Twitter: castleofhorrorp.
The Team: Hosted by Jason Henderson, editor of the Castle of Horror Anthology and Young Captain Nemo, and creator of the HarperTeen novel series Alex Van Helsing.