Lying In The Gutters – 16th July 2012 – That Was The San Diego Comic Con That Was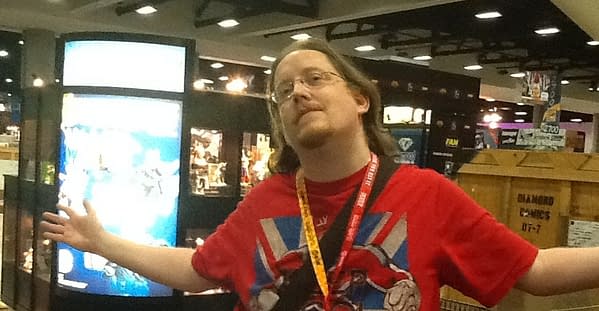 Look at that happy man. It's almost as if he understands. That was taken at the beginning of San Diego, when a fresh faced Englishman had just landed, still wearing a rather irritating patriotic T-shirt, and bears no resemblance to the current, haggard shell of a man tapping away trying to kickstart his synapses into remembering what happened at Comic Con. Thankfully, you've done it for me, by looking at the statistics for the website for the week.
I'm currently staying in Los Angeles for a couple of post-con days (get in touch if you want to meet up), and giving me a half way house between San Diego Comic Con and home. Missing my family but loving my friends. And reflecting back on a Comic Con that seemed to last a month, it was so full of excellence.
So what exactly were you reading? And why?
Top Twenty Traffic Stories Of The Week
1. A Reboot Of Firefly? UPDATED
3. Extended Man Of Steel Teaser
5. The Exact Moment Ed Brubaker Found Out The Title Of The Captain America Sequel
6. Three More Marvel Missing In Action
7. Official Marvel Studios Logos For Captain Americ 2, Thor 2 And Ant Man
8. Edgar Wright Appears On Stage And Announced Ant Man
9. A New Sandman Series By Neil Gaiman And JH Williams
10. Ben Kingsley In Full Mandarin Costume
12. Review: The Walking Dead #100
13. Stephanie Brown Dropped From Smallville
15. The New 52 Is A Tough Thing To See – Alex Ross
16. Guardians Of The Galaxy Concept Art Released
17. Uncanny Avengers #1 Gets Twelve Covers
20. Godzilla Trailer Screens At Comic Con
And Ten You May Prefer
1. David Lloyd Launches New Weekly Comic With Kyle Baker, John McCrea, Phil Hester And More
2. Guillermo Del Toro And Ron Perlman "Together In Trying" To Make Hellboy 3
3. The James Robinson Panel And Darwyn Cooke's Next Project
4. Guillermo Del Toro Unveils Pacific Rim Footage, Reveals His Plans For Robot And Monster Mayhem
5. Jonathan Ross Makes A Major Silver Age Art Acquisition
6. How Prematurely Axed TV Series Should Have Ended, According To Their Creators
7. Racebending At San Diego Comic Con
8. Walking Dead Season 3 – New Trailer From Comic-Con
9. Jean Grey Is Marvel's But Phoenix Is Mine- Chris Claremont
10. Comic-Con Footage Reel From Neill Blomkamp's Elysium Was Truly, Shockingly Impressive
Thanks to Pinguino, Grace Randolph, Raymond Brown, Kate Kotler, Peter S Svensson, Jen Aprahamian, Louis Falcetti, Keysha Couzens, Will Romine, Skip Harvey, Shawn Schillberg, Joe Salas, Joe Orlando, Joseph Stone, Mark Bourne, Alex Wilson, Chris Thompson, Dean Butters, Keysha Couzens, Al Tremaine and Jesse James for making an unforgettable Comic Con. Same again next year.