Black Lightning Season 1, Episode 8 Recap: The Book of Revelations
This article contains spoilers for Black Lightning season 1, episode 8, 'The Book of Revelations'.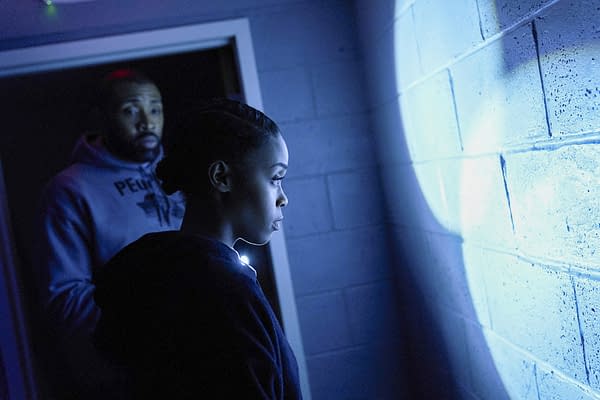 This was a bit of a different episode for Black Lightning. Being framed for the murder of Lady Eve (Jill Scott) and the cops with a shoot-to-kill mindset, Jefferson (Cress Williams) decides to take Anissa (Nafessa Williams) with him as part of her training to try to clear his name. This is the main story of the episode as they go to check out the bodies and discover that the burn patterns on the corpses aren't consistent with the type of injury Black Lightning would cause. Between Gambi (James Remar) and Anissa, they realize that a portable weapon powerful enough to do the damage it did would have to be nuclear powered. Though resistant, Gambi tracks the radiation to a park. He begs Jefferson to let it go and tells him there is now a bounty on his head. Jefferson is determined to clear his name. He goes to the park and finds a body in a shallow grave along with the weapon. He calls it into Henderson (Damon Gupton) and then waits for the police.
When a lone person arrives instead of uniformed officers, Jefferson tells Anissa to stay while he moves closer to see what the guy is doing. All of this episode has been teaching moments about staying focused or how much power to use. But here, Jefferson gets too close as the man accidentally (?) causes the gun to meltdown and explode. Anissa races over and tackles Jefferson, saving his life. He is excited about it later when he tells Lynne, talking about how he doesn't want to change Anissa too much as her natural instincts are to protect people.
There are some other stories going on in between all of this. Gambi meets with the head of the ASA, Martin Proctor (Gregg Henry), who has decided it's time to take out Black Lightning. Lynn (Christine Adams) finds that the lab to which she took the powder from Alvin's storage unit had a break-in, and everything was stolen except for a physical copy of the DNA results. She compares that to what is in Green Light and it's a match. She can't find anything on what was being done 30 years prior, so she goes to talk to Gambi, who tells her that he can't talk about it, but he needs to speak to Jefferson. Lynn tells Jefferson that it's time he asks Gambi the questions they've never asked — like who he really is.
Jefferson goes to see the tailor, who is waiting. Gambi tells his friend that his real name is Peter Esposito and he used to work for a government agency called the ASA. They were experimenting on the people of Freeland by introducing a drug that was supposed to make the people more docile. A side effect was it gave some people powers. Gambi was sent there to find the people with powers. When he found out about green light and how it was killing some kids, he leaked the information to Alvin… which got him killed. When he was sure that Jefferson had powers, he left the ASA to make sure they never got Alvin's son. Jefferson is angry and tells Gambi to stay away from his family.
Speaking of family, one other thing happens. When Jennifer (China Ann McClain) sees a friend of hers fall and almost get hurt, it triggers her lightning powers — something she is able to do again at home after some trial and error. She does the smart thing — she goes and tells Anissa.
And while we spent no time with Tobias (Marvin 'Krondon' Jones III), we got to spend some quality time with Lala (William Catlett), who is back from the dead. He returns to the club and finds out that folks thought he was dead. He has his boys drive him home, and then in the back seat he has a discussion with Lawanda (Tracey Bonner), the girl he killed. Lawanda wanted Lala to kill his men, but Lala points out that one of them is driving the car. She would later appear again, naked, when Lala is taking a shower. It remains to be seen if this is Lawanda's ghost talking to him or if he's just gone completely crazy.
To have an episode of a superhero series where the hero never suits up isn't unheard of, but it is rare. Other than the sparring session at the beginning, Jefferson never used his powers. And they fact they've already introduced Jennifer's powers only eight episodes in kind of surprises me. But I really like the fact she went to Anissa about it. So many hero origins have the person with powers keeping everything a secret; it's nice to see one of them go, "What the hell is happening? Let me go ask."
It will be interesting to see the fallout from Gambi's reveal. This could've been something kept on the back burner for a while, hinted at, and then in early season 2 have the big betrayal. The fact we're getting all of this now makes me think they will find a way to get past it.
Next week it looks like we see more about Gambi's past, Anissa tells Jennifer the truth, and for some reason Jefferson and Anissa go out in Obama and Hillary masks. That could be pretty funny.
https://youtu.be/ZfVssb9aScA