This article contains spoilers for Marvel's Jessica Jones season 2 episode 'aka Sole Survivor'.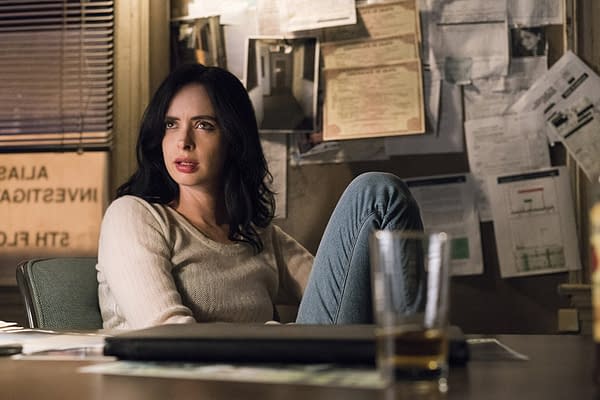 The episode starts with Jessica (Krysten Ritter) and Trish (Rachael Taylor) dumping the body of Will Simpson (Wil Traval) into the ocean where Jessica used to go for family vacations as a kid. They dump him to avoid questions by the cops. He has a duffel bag full of gear in the back of his SUV that Trish takes to protect herself. She talks Jessica into having a psychiatrist try to unlock her memories with hypnosis. It doesn't work. Griffin (Hal Ozsan) arrives and is worried about Trish. We switch to Jeri (Carrie-Anne Moss) who are confronted by her partners in the law firm who want to push her out because of her medical issue. Later, Foggy Nelson (Elden Henson) finds offers to help her fight them and she pushes him away.
Jessica returns to the office and Malcolm (Eva Darville) shows her an eviction notices for running a business out of a residence. She confronts the Super (J.R. Ramirez) but has not luck, he wants her out and says the owner agrees. She goes back to her office and starts going through all of the files that Trish had pulled together, posting everything up on the walls. She stares at it so much, she dreams about the creature she saw in her flashbacks. Malcolm dug into the super's background to discover he had a criminal record for document forgery. She sends Malcolm to the owners house, knowing building owner might find Malcolm attractive. But he has a new boyfriend from Cambodia coming to live with him and shuts the door on Malcolm. Jessica goes back to IGH facility and discovers a clue, letters peeled off a door but still sticky and she gets the name Dr. Leslie Hansen, who was an ER doctor at Metro General where Jessica ended up as a kid.
Jessica and Trish head to Hansen's apartment. Jessica admits to Trish she already checked out Griffin, and while he's lived his life… he's really a decent human being. At the apartment they learn that Hansen has moved out after putting stuff in the basement. They go down to check it out and discover a human skull in the incinerator. Jessica sneaks the skull into the morgue and Trish exchanges favors with coroner and foodie Maury Tittlebaum from season one. He promise to call her when they get an ID. Back at her apartment, Trish is startled by Griffin and pulls a gun on him. They make up and goes to put her gun away. Griffin looks like he's backing up her files onto a USB drive.
Jeri goes to Jessica's office and asks for five minutes. She tears up the complaint signed by Pryce Cheng (Terry Chen) and then asks Jessica for her help in keeping her firm. She tells Jessica that she has ALS (amyotrophic lateral sclerosis) and could be dead in eight years or two, the don't know. But she doesn't want to lose her position at the firm as it's her life. Meanwhile Trish uses her show to call out people with knowledge of Leslie Hansen. The doctor calls in and sets up a meeting and wants her to come alone. Jessica calls TMZ to get the paparazzi on Trish by telling them her and Griffin broke up. She then goes to meet Hansen herself. A woman shows up at the bar claiming to be Hansen (Janet McTeer). Jessica tries to make her talk and she gets some information, but the woman thinks Jessica should be grateful for the good things IGH has done. Turns out that Jessica actually died on the table and they brought her back to life.
Meanwhile Maury calls Trish to tell her the skull is Dr. Hansen, so Malcolm helps her get away from the photographers and they race to help Jessica, who actually needs the help. Not-Hansen turns out to be equally as strong as Jessica and the slam each other around a bit before she races outside to get away. She runs into Malcolm, sending him flying. A photographer clicks pictures, thinking Trish is dating Malcolm. Jessica gets outside in time to see the woman leaping up a building and getting away. But Jessica takes the photographer's camera and there is a picture of the woman on it.
These episodes are very dense. I'm having to take notes as I go because of all the ground they're covering. This is a series you really have to pay attention to, I almost feel like I need to start putting up notes and images on the wall to follow along. The intensity has lagged for a second and even with the two side stories, the super and Jeri, the main story is humming along. The writing here is really strong and we're only three episodes in.
On to number 4.
Enjoyed this article? Share it!