This article contains spoilers for the DC's Legends of Tomorrow season 3 episode 'Necromancing the Stone'.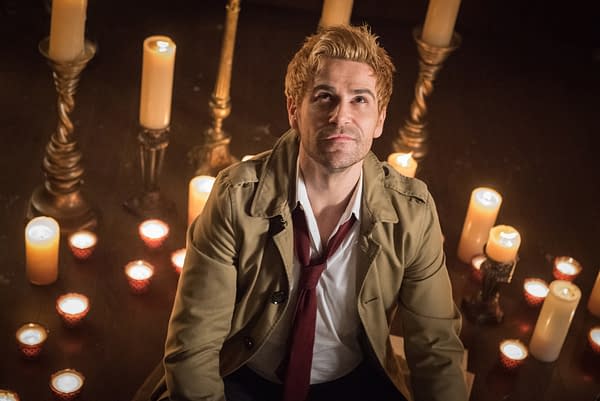 The latest episode of DC's Legends of Tomorrow was chock full of Easter eggs and setups, along with proof of just how kickass Sara Lance (Caity Lotz) is. The episode starts with the team splitting up to go after a few of the low-level anachronisms, including returning a dog to the Russian Space Program, keeping the Mona Lisa from walking into a modern gallery, and getting Alfred Einstein home from the dawn of time. This is all happening while Ray (Brandon Routh) and Mick (Dominic Purcell) try to fix the fire totem.
Sara, whose relationship with Ava (Jess Macallan) has gotten to the 'girlfriend' stage, is called to by the Death Totem and convinced by a vision of her past self to use it. Things go horrible wrong from there. When everyone returns they find Mick drunk in the study and Ray beaten severely in the lab. They discover that it's Sara, now a death witch, who attacked him, and she starts attacking the others. Possessed by Mallus, Sara has no problem with the others, using someone from their past to mess with them emotionally. With Wally (Keiynan Lonsdale) it's Jesse Quick (Violett Beane), for Zari (Tala Ashe) it's her brother, and for Nate (Nick Heywood) it's his grandfather Henry (Matthew MacCaull), aka Commander Steel.
Ava finds out what's going on and takes Gary (Adam Tsekhman) with her to find John Constantine (Matt Ryan). She's a bit jealous of him, knowing that he and Sara hooked up not that long ago. Gary suggests a way to find where the Waverider is, and they go there.
Meanwhile, after Sara took out the others, it's up to Amaya (Maisie Richardson-Sellers) and Mick to find the fire totem and see if Ray finished it. He did, and while it's not for Amaya to use, it works instantly for Mick, who hurls a fireball at the possessed Sara. Between Mick, Constantine, and the others, they are able to slow Sara down enough to try to bring her back. While inside Mallus's realm, Nora (Courtney Ford) tries to convince her to join them and we see the event that lead to Sara leaving the League of Shadows… she assassinated a man in front of his daughter.
Finally, it's Ava's voice that draws her out of the realm and back into control of her body. She talks with Constantine, thanking him again and saying she should just find him a spot on the ship. He says it's tempting, but no. She then goes to Ava and ends it with her, believing she is too broken to be with someone so good — which might be a good thing, looking at next week's trailer. And the episode ends with Constantine joining Gary and his friends for a night of Dungeons & Dragons.
Easter egg-wise, there was a reference to Constantine looking like Sting — who Alan Moore is supposed to have based the look of the character on. There is a moment when Wally refers to Flashpoint and Ray asks if that's what they're calling what Barry did. There is a reference to Doctor Who without actually saying Doctor Who, and of course there is the whole D&D thing where Gary equates the Legends to classes in the game. And the comments about Constantine joining the team fit since the news yesterday that he'll be a series regular if the show is renewed for a fourth season.
Only three episodes left, and next week we find out the truths about Ava — and it looks like there are a lot of them. Maybe Sara has girlfriends, plural, now.
https://youtu.be/hJqXWHoewqU
Enjoyed this article? Share it!