Posted in: Netflix, Review, TV | Tagged: entertainment, Marvel's Luke Cage, Mike Colter, netflix, television, Theo Rossi
---
Marvel's Luke Cage Season 1, Episode 4 Recap: Step in the Arena
This article contains spoilers for Marvel's Luke Cage season 1, episode 4. 'Step in the Arena'.
.
.
.
.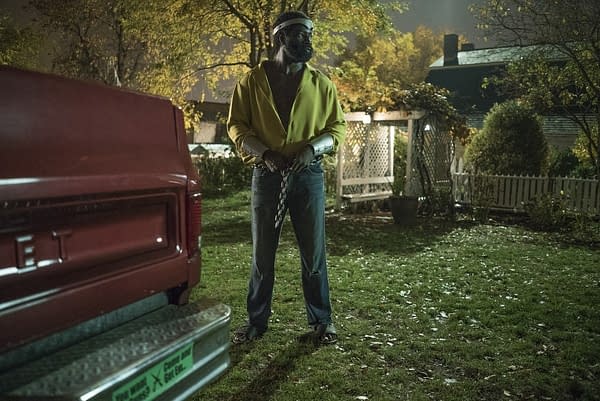 And here we go with the story of how Carl Lucas became Luke Cage (Mike Colter). We start with the fire department working the rubble from the building collapsing on Luke and Connie (Jade Wu) after the rocket hit the restaurant. Misty (Simone Missick) and Scarfe (Frank Whaley) are the ones investigating and hope that a traffic cam might give them an idea of what happened.
But while out, Luke flashes back to his time in Seagate Prison and we meet Albert Rackham (Chance Kelly), the guard who runs the place. He calls out Luke — or Carl Lucas — as being a former law officer, which gets all of the inmates' attention. But he's not adjusting well to being in prison and insists he didn't do it. He meets Reva (Parisa Fitz-Henley) in a group session talking about making friends inside. Carl doesn't want any friends, but Squabbles (Craig muMs Grant) talks to him anyway. Rackham sends two inmates, Shades (Theo Rossi) and Comanche (Thomas Q. Jones), to see if Carl will bend or break. He fights them off, and Rackham thinks he's found a "gladiator". He offers to let Carl fight, promising extra rations and conjugal visits, but Carl says no.
We get back to now. Luke is awake, as is Connie, but her leg is hurt — and they smell gas. Luke starts moving rubble to try to get them out.
Back to the flashback — Carl wants to fight Comanche, but Squabbles pulls him aside to cool off. He and Squabbles start a friendship, and in group, Carl starts reverse-analyzing Reva. They have a moment alone and open up. She sees he is actually innocent. Her boss, Dr. Burnstein (Michael Kostroff), comes in, and she tells him that Carl is imprisoned but not a prisoner.
Cut to now, and Scarfe and Misty see the footage of a rocket flying into the restaurant. Then back to group, and they talk about rumors of prisoners getting their sentences reduced in exchange for being experimented on. Reva insists that it's not true. They have another moment alone, and we see a there is something between the two of them. Rackham comes in and sees it too. He uses Squabbles to force Carl to fight, but Carl insists the Squabbles is with him the whole way. Carl gets taken to his first fight, and he learns that they're being put out online.
As he is fighting, we cut back to seeing Luke remove the debris from Connie's leg. We cut back and see a montage of Carl fighting and winning, but getting more and more violent as he goes, losing who he is. Squabbls calls him out on that and on not taking care of himself. He's trying to find a way out from under Rackham.
Reva goes to see him since he hasn't gone to group in months. She sees his scars and says that they had broken through, but now he's just broken. He tells her that it's not all about him and that survival costs. Rackham has Shades go talk to Reva, showing Carl that he knows there are two people inside that he cares for.
Cut to now — looking at the video footage, it isn't enough to go after Cottonmouth. Misty gets called to the scene because something has happened while Scarfe calls Cottonmouth. Back in the past, Carl sneaks over to tell Reva what is going on and ask her to not come to the prison anymore — that it's not safe. He gives her his lawyer's number and says he's ready to talk; once he's out he'll bring down Rackham, and he thinks the Warden is in on it. She asks why he's telling her, and Carl says it's because she gives him hope.
The guards shake down Squabbles for information. Rackham sends Shades and Comanche to give Carl a serious beatdown. He ends up in the infirmary, where Burnstein says he has internal bleeding and won't survive a transfer. Reva tells him they beat Squabbles to death. He's going to die, but Reva asks Burnstein to do the experiment on Carl. He's hesitant but agrees and tells her to go home.
Bernstein has been experimenting on prisoners and Reva knew. He tells Carl that he's probably going to die, but he's already dying. He puts him in the chamber and starts the process. Rackham comes in and doesn't want Burnstein saving him, so he shuts off the coolant and causes the chamber to overheat. Burnstein runs back into the other room just as the whole thing explodes.
Carl survives the procedure and gets out. He has the shackles and headpiece still on, giving him the classic Power Man look. We cut to now as Luke is about to try to get them out of the rubble. Cut back to Carl. Knowing the guards are coming, he gets angry and punches the wall — only to see his fist make a huge dent. He starts punching through the wall as Luke is punching through the debris in the present. Misty arrives just as it's happening. Carl busts his way to freedom just as Luke busts his way out of the rubble and gets Connie out.
Carl gets to the mainland, steals a yellow shirt and jeans (completing the Power Man look), then calls Reva. In a hotel room, she's looking at a USB drive that we know comes up in Marvel's Jessica Jones, while Carl shaves. He comes out looking like Luke, puts on a hoodie, and we learn that Reva hasn't always been a psychologist and has been able to get his records. She promises to explain about the experiments. He chooses his new name based on a bible verse his father used to quote and the line "No cage can hold a free man." Back in the now, Misty wants answers, but a look tells her "not now." He goes to leave, but the press wants his name, so he turns and tells them "Luke Cage."
The Verdict
The episode does a solid job of telling the story in flashback while mixing with what is going on. The Squabbles character was a bit clichéd, but it kept them from having to develop him too much. Rackham was a bit stereotypical too, but the key characters here were Reva and Carl… and maybe Shades. It was interesting seeing Comanche as he and Shades were paired in the comics, and the character will be back in season 2. You have to love how they were able to work in the classic '70s look of the character for fans without getting too silly. Overall, a nice interlude and origin story. Now we can get back to the main arc.
---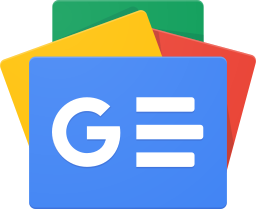 Stay up-to-date and support the site by following Bleeding Cool on Google News today!