The Alienist Season 1, Episode 10 Recap: Castle in the Sky
This article contains spoilers for the season one finale of the Alienist – Castle in the Sky.
.
.
.
.
.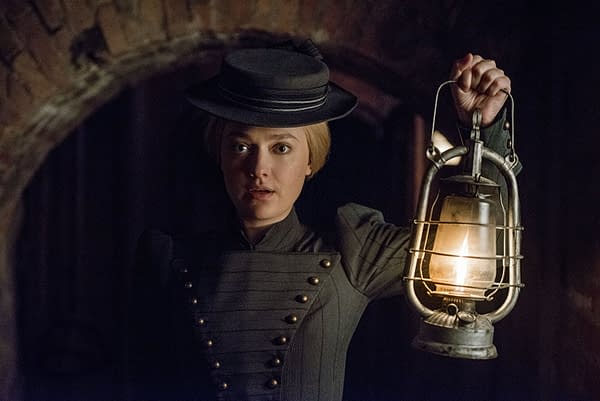 I binge watched the first nine episode of the Alienist and was really looking forward to the finale last night. The episode starts with the discovery of the latest dead boy and finding out that Joseph (Jackson Gann) is missing. They are still looking for Beecham (Bill Heck) and Sara Howard (Dakota Fanning) goes to visit Dr. Laszlo Kreizler (Daniel Brühl) to try and get him out of his depression and back on the case. She shares with him the fact that her own father suffered from depression and tried to commit suicide. When he lost his nerve, tried pulling the gun out and shot off the side of his face, she helped him finish the job. We learn that it was Laszlo's father that damaged his arm so badly and it wasn't a birth defect as he claimed. The reaching out works and Laszlo gets back on to the case, but makes some discovers he doesn't share.
And while the rest of the team are staking out the highest bridge in the city, he takes John Moore (Luke Evans) to the opera where they are watched by Thomas Byrnes (Ted Levine). They try to duck out to go where Laszlo has figured Beecham is going with Joseph. Sara, concerned about Laszlo and John, figures out where they have gone and goes there. They find Beecham and he knocks out John and is struggling with Laszlo when Captain Connor (David Wilmot) shows up and shoots Beecham. He then plans to kill John and Laszlo so he can take all the credit, that's when Sara shows up. He grabs her by the throat and starts strangling her, but she pulls a Derringer pistol and shoots him dead. Laszlo tries to get Beecham to confess why he killed the boys, but he dies before saying anything.
Marcus (Douglas Smith) and Lucious (Matthew Shear) cut open the brain and they find no abnormalities. Roosevelt (Brian Geraghty) is happy with the results, but makes Connor a hero, which seems to appease a lot of people who were worried that an Alienist solving a crime instead of the cops would be trouble. The episode ends with Sara rebuking Johns admissions of love, but not completely. And Laszlo going to see his father and coming to terms with what happened.
The series was riveting to me. The characters compelling and the case was very interesting. Which may explain what the finale was disappointing. It felt very anticlimactic with no real justice served. Our killer turned out to be an abused child and the ex-cop who caused so many problems was labeled a hero. John didn't get the girl in the end and overall, these are just five people who will go back to their normal lives. Even finally catching the killer was kind of meh. No exciting battle or act of heroism. He was shot in the back by someone we all hated, who then gets shot in the stomach. Maybe the budget was spent when they got to the finale, but it really felt like they got there and said… "oh, we better wrap this up, dinner's almost ready."
That said, I think the Alienist was an entertaining series and I'd be interested in watching more if a second season is made.