I've never seen a student road trip sez comedy to Beirut before. But that's because comic books will go where none others will dare. Also truth is always stranger than fiction. Andy Warner, author of Brief Histories of Everyday Objects and This Land is My Land has seen his nonfiction comics published by Slate, Fusion, American Public Media, the United Nations, and The Nib, where he was a contributing editor. He currently teaches cartooning at Stanford University and the Animation Workshop in Denmark. And he has a new thing for 2020.
Spring Rain is his graphic memoir from St. Martin's Griffin. In 2005, Warner travelled to Lebanon to study literature in Beirut, one of the world's most cosmopolitan and storied cities. Twenty-one years old and recently broken up from his girlfriend, Warner feels his life is both intense and directionless. Immersing himself in the vibrant and diverse city, he quickly befriends a group of students, many LGBTQ, including both foreigners and Lebanese, straddling different histories and embracing the freedoms of the multicultural city. Warner and his friends dance, do drugs, and hook up, even as violence breaks out in the city—the scars of a fifteen-year civil war reopening with a series of political assassinations and bombings. As street protests grow and the city is rocked by political violence, Warner feels his grasp on reality slowly begin to slip as he confronts traumas in his past and anxiety over his future. Spring Rain is a graphic memoir of a young man's attempt to gain control over his life as well as a portrait of a city and a nation's struggle to define its future in the predawn of the Arab Spring. And it's out on January 28th. Here's what some kind people have said so far;
"Drawing parallels between Lebanese political unrest and his own mental health struggles, Warner's intricate graphic memoir resists simplistic clichés… Warner's work honors the richness of Lebanon and the fragile, fleeting nature of peace." ―Publisher's Weekly

"A cartoonist uses his art to connect the world he sees collapsing outside with the psychological state crumbling within. The political and psychological potently intertwine within this highly charged memoir."―Kirkus Review (starred)

"Spring Rain captures the feel of tumultuous and glorious Beirut in an evocative memoir that sits at the intersection of the personal and the political." ―Joe Sacco, author of Footnotes in Gaza

"Warner's terrific coming-of-age memior gives us a tour through a city―and mind―on the brink." ―Matt Bors, Editor of The Nib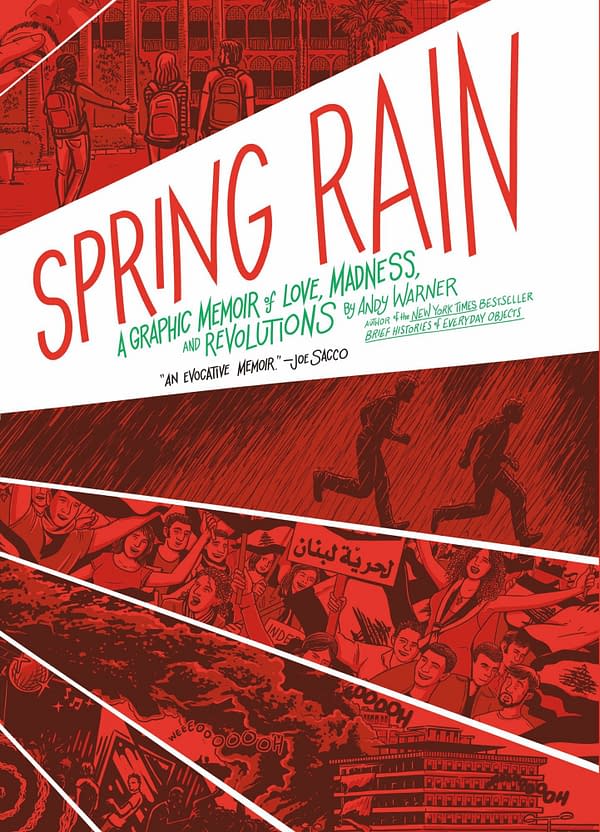 Enjoyed this article? Share it!