2019 Marvel Unlimited Plus Members Will Get Shalvey House of X Variants, Exclusive Deadpool Figure
Marvel has revealed the lineup of collectibles that will be given to subscribers to Marvel Unlimited Plus for 2019. The items subscribers will receive include connecting variants for House of X #1 and House of X #2 by Declan Shalvey featuring a mashup of X-Men from different eras.
In addition, subscribers will get an EX-X-XCLUSIVE Skottie Young designed Cyclops pin and an EX-X-XCLUSIVE Deadpool: Terror Inc. action figure in this All-X-Men-themed box.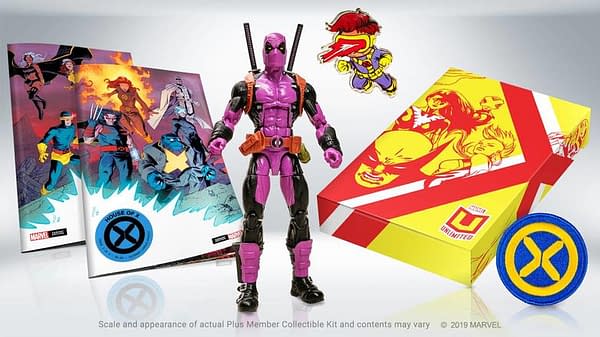 Of course, the Unlimited Plus membership also comes with all the benefits of a regular Marvel Unlimited membership, which is to say access to Marvel's entire back catalog of digitized comics, over 25,000 of them, as well as new comics six months or so after they're released. Unlimited Plus members also get 15% off new digital comics (though why not just wait six months and get them for free?) as well as 10% off Marvel merchandise.
A regular Marvel Unlimited subscription costs $9.99 per month, and the Unlimited Plus subscription is $99 for the whole year, which works out to be cheaper than the monthly cost. However, lump-sum annual regular Marvel Unlimited subscription, which costs just $69 per year, is the cheapest option if you just want to read Marvel's back catalog of digitized comics.
The service works pretty well on a tablet as far as reading experience goes, so a Marvel Unlimited membership is worth the money in our opinion. We mean, you can read lots of Chris Claremont X-Men stories on there, whereas Marvel hardly ever publishes new Claremont stories in their comics, even though they pay him to be Marvel exclusive. The extra junk with the Plus membership is useless to us, but if you like variants, dolls, and pins, then by all means, whatever floats your boat, true believers. You can sign up here.