2019 Wolverine's Weiner X-Pick of the Year: Horniest X-Men Comic
Each week in X-ual Healing, Bleeding Cool's weekly X-Men recap column, we choose the X-book which that week provided the most satisfying X-Men reading experience, filling one's belly like a juicy sausage grilled by a hairy Canadian with his adamantium claws on a hot Summer day. As we enter the new year of 2020, and a new decade, it's time to look back on 2019 and celebrate the X-Men franchise with the Wolverine's Weiner X-Picks of the Year, a grilled-meat-themed honor unmatched in all of comicsdom.
---
Sworn to sell comics for Marvel executives who feared and hated the fact that Fox owned their movie rights, The Uncanny X-Men suffered great indignities, but thanks to a corporate merger and a line-wide relaunch, the X-Men can finally get back to doing what they do best: being objectively the best franchise in all of comics.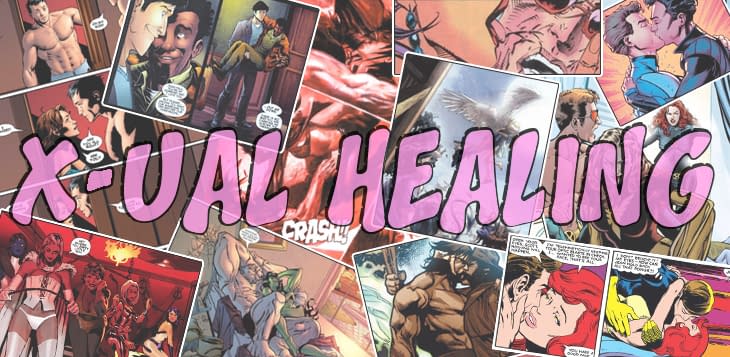 ---
Yesterday, we named Jonathan Hickman the Wolverine's Weiner X-Pick of the Year for Favorite Twitter Account. Now…
Horniest X-Men Comic – Age of X-Man: The X-Tremists
When Marvel killed off all the X-Men at the end of X-Men Disassembled and launched the Age of X-Man crossover event, we weren't expecting much behind a third or fourth generation Age of Apocalypse retread. But by handing some of the titles off to fresh creative teams and letting them experiment with some innovative takes on the franchise, we instead ended up with some wonderfully bizarre comics that, despite taking place in an alternate reality, served as masterful explorations of the characters we've known and loved for decades.
And when it comes to the X-Men featured in Age of X-Man: The X-Tremists, what makes them tick is, for the most part, horniness. First of all, the entire book was based on the premise that Department X were basically the repressive sex cops, busting any mutant who dared to engage in emotional or physical love affairs, since those kinds of connections were outlawed in X-Man's utopia in favor of growing mutants in laboratories. But despite this, an unlikely relationship blossomed between The Blob and Psylocke after Blob confessed his secret love for his colleague and Psylocke responded not by mind wiping him and turning him over to the authorities, but instead by crawling across the table like a model in an 80s hair metal video.
Now, if this had been the asshole Blob we're all familiar with from the regular timeline, this would never have worked, but in Age of X-Man, Blob grew up in a world where everyone was a mutant and no one was prejudiced against him for his body. It was a brilliant take on the character, since we're likely to take for granted the fact that both his enemies and even his friends have been casually fat-shaming The Blob for decades, but once that's stripped away, we see how Blob could be a sensitive, generous, and caring person. And Psylocke was totally horny for it!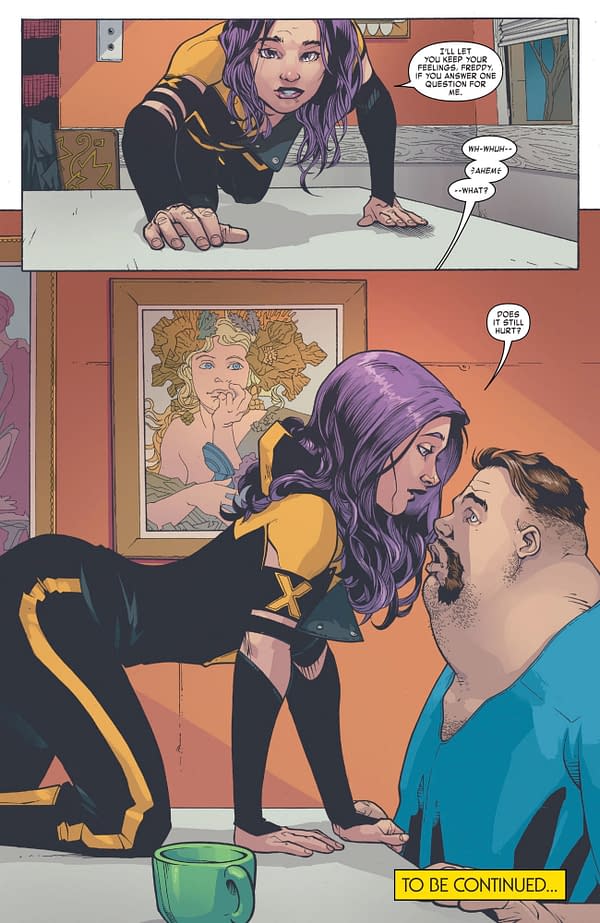 Of course, we haven't seen these two lovebirds interact since the event ended, but maybe once Betsy Braddock is done being Captain Britain, they can rekindle this romance in the nonstop mutant orgy of Krakoa. Of course, Blob and Psylocke weren't the only ones with horny feelings boiling under the surface of their repressive exteriors, waiting to explode. Pretty much everyone was feeling it.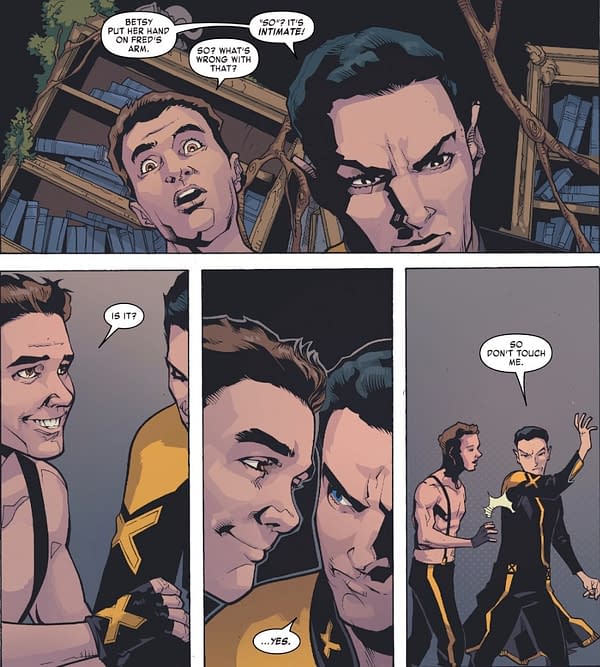 Leah Williams clever writing combined with Georges Jeanty's excellent portrayal of mutant emotion (and horniness) made X-Tremists one of our favorite comics of the year, and we'd love to see this team return for a new series in the Dawn of X. But until then, we honor these legends with the golden Wolverine's Weiner X-Pick of the Year award.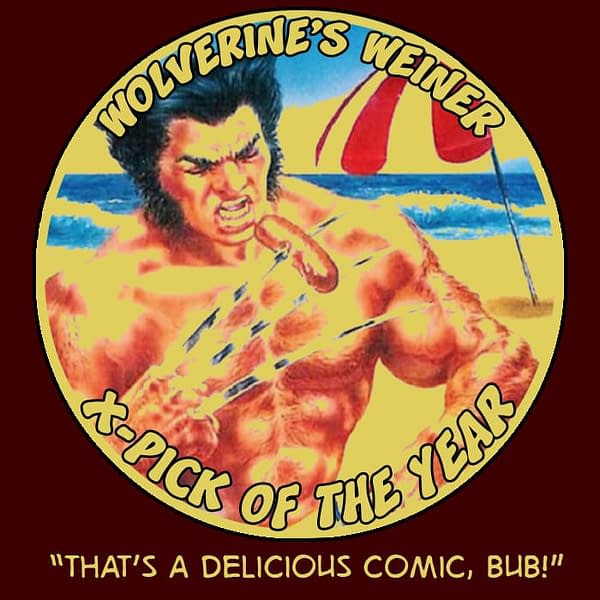 Runner Up: X-Men, which gave us Wolverine, Cyclops, and Jean Grey sharing connecting rooms so they can all f**k each other.
---
Check back all week as we celebrate more X-achievements in 2019!
Read more X-ual Healing here: