Meet 2D Cloud, Purveyor of Disturbing Comics
Recent books published by 2D Cloud are not disturbing in the blood-and-guts sense that you might expect from The Walking Dead TV show, but nevertheless, they are disturbing in a modern, spare, way that builds on contrasting elements of myth, imagination, and disjointed aspects of modern life. The titles are varied, as are the styles of these works, but the 2D signature seems to be twisting the lens on life and leaving you feeling like you've walked through a hall of fun-house mirrors that may, in fact, be more realistic than you're prepared to admit.
Having a look at their recent book gave me that sense of inertia and vertigo at the same time, at least. I opened their broadsheet newspaper style comics Deep in the Woods, drawn by indie award-winner Noah Van Sciver and Nic Breutzman, whose cover depicts a wide-eyed, sweating Red Riding Hood talking to the floating, severed head of a steer, while tinged in a sickly green, and found that this "double feature" opens with Van Sciver's tale, "The Cow's Head". I've seen several of Van Sciver's works before, and know he has a penchant for folktales and historical pieces that pick your brain apart and have a subtle, nightmarish quality. Usually, though, I've seen them in mini comic format, not spread out over my floor giant-sized. And not with a gore-dripping cow head staring at me. These unexpected moments in comics are particularly terrifying. The opening warning that the main character, Robin, lived a "miserable life", which was "cold and desolate" is enough to add to the post-modern gloom of it all despite the ahistorical setting of a cabin in the woods. But believe me, it gets worse. There are inexplicable supernatural elements, clawing trees, all etched out in Van Sciver's trademark crosshatching and heavily inked facial expressions that chill the soul. And of course, ambiguous, painful outcomes.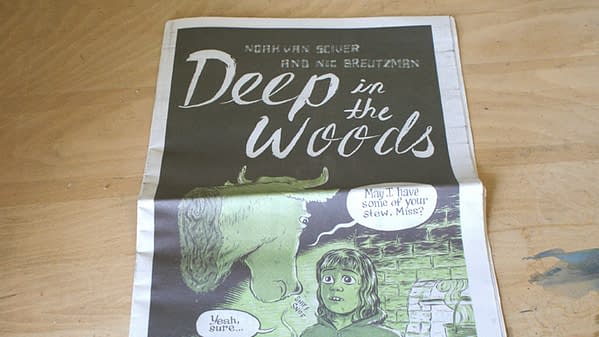 Breutzman's "The Mayfly" is based on a story by Mark Twain, converted into a strange youthful tale of haunting, underground comix style with a dash of manga in character expressiveness. There are drugs involved, characters with dangling eye-balls, ghosts, a sinister well, and all in a mid-range upbeat style that'll make you blink. The large format here, too, immerses you in the strange and leaves you needing some fresh air to clear your head. These are comics that take a walk into the uncanny through unconventional routes.
But there's more when it comes to 2D releases of late, and with very different takes on disturbing life in art. Anna Bongiovanni's first graphic novel Out of Hollow Water is neatly packaged in a small format, full-color waxy cover, and features some intense, cartoony line-work. Like Van Sciver's piece, Bongiovanni takes ahold of folklore and mythology to plumb the unconscious but occasionally skims near the surface of basic human fears, too. A young female narrator attempts to escape a "shadow" discussed in monologue, one that takes on visible, palpable form, and finds herself writhing in transformation in the first chapter. The second is dark indeed, featuring an unwanted newborn in a folksy, sinister woodland setting, and the dark spirits that attempt to save it. Bongiovanni taps into deep wells of guilt and fear in this loose narrative, and her simple lines make it impossible not to be drawn in to the mix.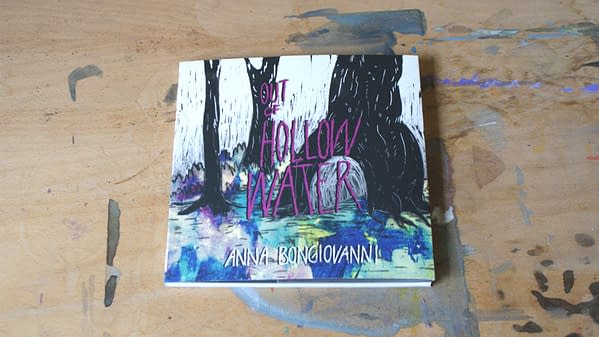 The aptly titled Abyss by Saman Bemel-Benrud is standard 'zine size with sharp pale covers minimally infused with strange symbols. When you crack it open, you find emotive line drawing in panel grids with hospital pale-green offset colors. It forms a narrative of a young couple going about daily life and discussing an ordinary thing, or so it seems, a strange dream the girl has had about a burrito. But wait for it. In her conveyed dream, she unwraps a burrito to find "static" escaping in symbol form. Waking up craving a burrito, she takes a walk with her guy to get one through a "Futura" condo complex being built and a sense of modern paranoia in austere architecture sets in. The motto "everything good is disappearing" resonates. The couple "state into the primordial void" of modernity, take cellphone pics, and go about their chilled lives, but are haunted for several reasons by the experience. It gets stranger and stranger, descending into mental symbol language and cellphone shots, causing plenty of "freaking out" from the characters. Bemel-Benrud leaves plenty unexplained, and plenty to haunt the reader after closing the covers on his modern psychological myth. Strong Eye Contact, by Christopher Adams, is a fairly lavish horizontally-framed little book, and has one of the more bizarre covers you'll see on a modern comic: gridded, colorful, patterned with marching donkeys on a desert landscape. What it contains follows a visual theme of grids, and panels whose spacing varies and style morphs as it progresses. Some of the "panel" aspects of the book are framed in white, making the vignettes feel more stacked, following the life of a central African American man in brightly checkered clothing. It's full of strange, bold detritus from daily life from performing comedy standup, to fast food, public toilets, and visiting a theme park with the wife and kids. The comic elements are interspersed with full-page patterns that may suggest an unraveling in the colorful weave of the character's life.
Two changes in style and layout further suggest this breaking down of narrative, a switch to crayon artwork with large white spaces, and several single-panel snapshots from vacations that suggest they are created from textile stitchwork in their gridding texture. It's up to the reader to construct a complete picture of the life conveyed, and the silence of the comic places the reader in control. The story left for your construction is relatable, but suggests isolation, and even the ridiculous aspects of human behavior in a world that the character and the reader struggle to make sense of. It's disturbing, too, in its own way, and leaves you questioning the surfaces and ephemeral aspects of physical life.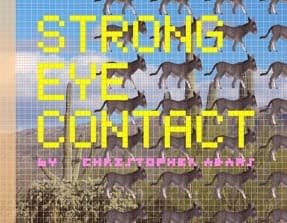 Touring these books leaves an unsettled feeling, and that's almost certainly intentional. 2D Cloud gathers some work here that pushes the envelope on comics narrative and leaves you "staring into the void" yourself, but it's the void of the blank page and the possibilities there for comics. Comics can do anything, but 2D are clearly putting their best foot forward on shaking up expectations and taking us into the more isolated wastelands of emotion, conflict, and modern detachment from a fixed narrative in our own lives. 2D represent an avant-garde approach to comics here, but they do so through extremely diverse styles, and that can only add to our appreciation of comics. If a comic doesn't disturb you from time to time, are you reading challenging enough material?
2D Cloud's website also offers online content for many of the artist mentioned here and links to their other works.
Hannah Means-Shannon is Senior New York Correspondent at Bleeding Cool, writes and blogs about comics for TRIP CITY and Sequart.org, and is currently working on books about Neil Gaiman and Alan Moore for Sequart. She is @hannahmenzies on Twitter and hannahmenziesblog on WordPress. Find her bio here.