Dave Sim has been keeping us up to date with the Cerebus reprint project and his upcoming work.
Firstly, the remastered first volume of Cerebus is going back to print with the new remastered files and can be ordered with the Diamond code STAR0070
That retailers will be able to adjust their orders for the Gold Logo 30th Anniversary edition of Cerebus: High Society, also remastered, so that now is a good time to ask your retailer for one of those as well, with the code AUG120748, and that at $30 will be the same price as the normal edition…
…and I just realised that I hadn't ordered this through my shop and I should probably get on with it. I'll tell Orbital Comics when I go in on Wednesday on the way to the airport. You should too. High Society is a real high point in Western comics, both in the time it was first published and the impact it had on the industry, but also it remains devastatingly satirical and topical to present day political machinations.
The original copies were created with far more rudimentary printing technologies than are available now, and those were the files being used until George Peter Gatiss and Dave Sim went back to the original art. Which means its time for me to upgrade my edition bought only twenty years ago.
He also talks about working on The Strange Death Of Alex Raymond… though it may take a while. Serialised in his Glamourpuss comic, it grew from an initial exploration of photorealistic comics, comic strips and the people who created them. Initially it seems that Sim was doing this as an excuse to recreate their styles, and push his creative muscles away from the cartoony, but it then became an investigation into the artist's life and death, still a topic of controversy, decades later.
Sim explains why he's taking his time;
Nothing is carved in stone which is why I haven't started having any NUMBER of discussions with IDW yet.  I want to show them what I have at the end of the month and let them know all the things that I'm wondering about and theorizing about — colour being one of them.  And I definitely want THEIR unvarnished perspective.  I'm completely out of step with comics today and they're both very much IN THE TRENCHES on a daily basis.  The last thing I need is them tip-toeing around any imagined sensitivities on my part while thinking "This isn't going to work like this, but how do we tell DAVE SIM that?"

By TELLING him.  That's why the book isn't scheduled and won't be for at least a year if not two.  I want to get this right.  And if that means starting over, that means starting over.  I'm sure IDW welcomes anyone's feedback who is interested in the project.  But it's WAY at the beginning.  I'm bringing all of YOU in on it to a degree because you are DEFINITELY the core target audience — the ones most apt to actually go into a store and ASK for this book when it gets there.  So I want you to know that it IS being worked on on an on-going basis and where I am.
So anyway, there I am pootling through Dave's latest Kickstarting missive, picking out bits and pieces and then I hit this.
 My theory is that if I say anything newsworthy (or, rather, "newsworthy") here, the news sites will pick it up.  Rich Johnston (Hi, Rich!) runs a lot of stuff at BLEEDING COOL and as far as I can determine that's where news sites see my stuff and decide if it's news.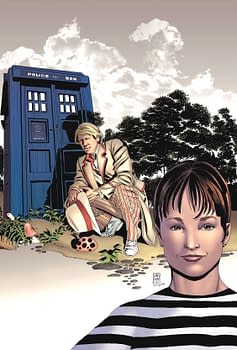 Hi Dave. This is basically the equivalent of watching the news only for (insert your favourite newscaster here) to start talking to you directly and asking after your family. Normally only the insane get to experience that. So that's something I will treasure.
But there is a very narrow definition of "Dave Sim" and "news".  My IDW variant covers are "news" to a degree.  People see them and seem to like them, which is good.  That's a big reason I'm doing them, now.  At first, I didn't think anyone would even notice any more than they notice anything else I do. IDW has really been playing them up big in PREVIEWS which I take as a vote of confidence.  The news sites (some of them) are running them from what I hear.
Just in case Dave sees this, I run them partly because they are generally pretty decent, and I'm a fan, but also because of the seeming juxtaposition between a man known for an incredibly staunch attitude to creator owned work, and drawing a Doctor Who variant cover. Which, you know, I also love. And so I just can't resist…
But I'm still hoping for the My Little Pony cover I geeked about with Chris Ryall at the New York Comic Con last year.
Enjoyed this article? Share it!