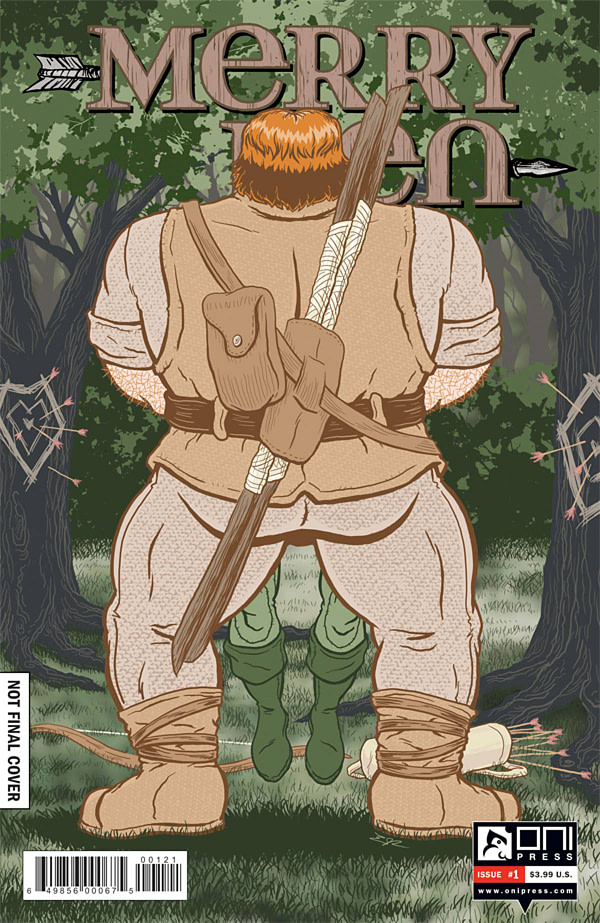 "When Robin Hood was about twenty years old; he happen'd to meet Little John;
A jolly brisk blade right fit for the trade, for he was a lusty young man."
The original ballads of Robin Hood don't mention Maid Marion at all. She was a later addition in the 16th century.
In June, Oni Press takes a trip back to Sherwood Forest for The Merry Men, a gay reworking of the Robin Hood legend – or as some attest, a recontextualising of its original themes.
And Sixth Gun reaches it's fiftieth and final issue… here are the Oni Press solicitations for June 2016.
MERRY MEN #1
(W) Robert Rodi (A) Jackie Lewis with Marissa Louise (CA) Jackie Lewis with Marissa Louise
13th century England. Robert Godwinson, former lover of King Richard, lives with his band of Merry Men in Sherwood Forest, away from the watchful eye of Prince John, who has outlawed homosexuality. Though isolated, the men live in peace–that is, until a stranger approaches their camp asking for aid to a nearby town under siege by the Sheriff of Nottingham. Robert–nicknamed Robin–is reluctant to help, but equally eager to get rid of this perplexing stranger… and to put his formidable bow-and-arrow to use. It's Robin Hood like you've never seen him before, based on scholarly speculation about what's really behind the outlaw's legend.
FC, 32 pages SRP: $3.99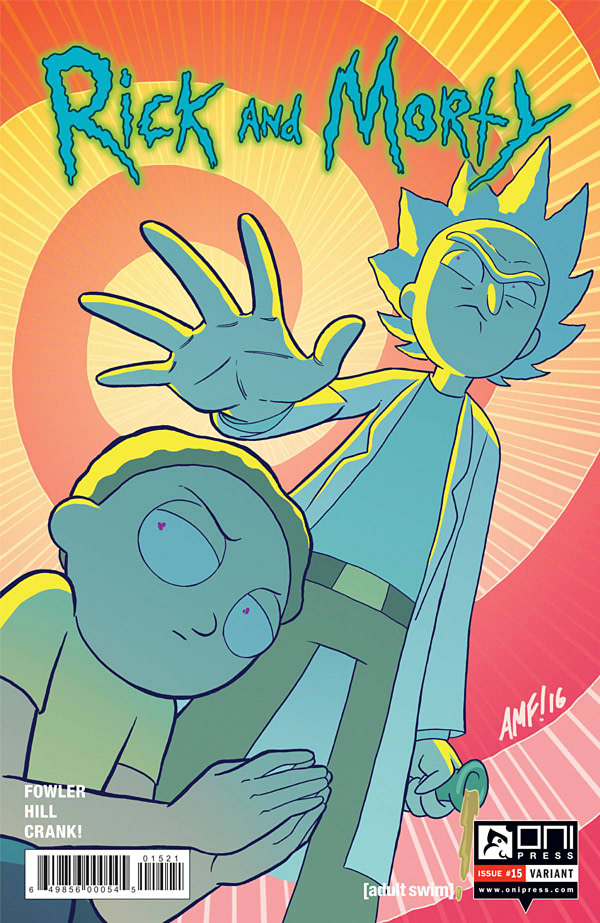 RICK & MORTY #15
(W) Tom Fowler (A) Tom Fowler (CA) CJ Cannon
After being goaded into an argument with Jerry about the 'noble nature' of sport, Rick takes Jerry and Morty to the biggest game in the Galaxy, where parents bet on their children as they fight to the death in a giant murdertorium! And Morty gets a front row seat!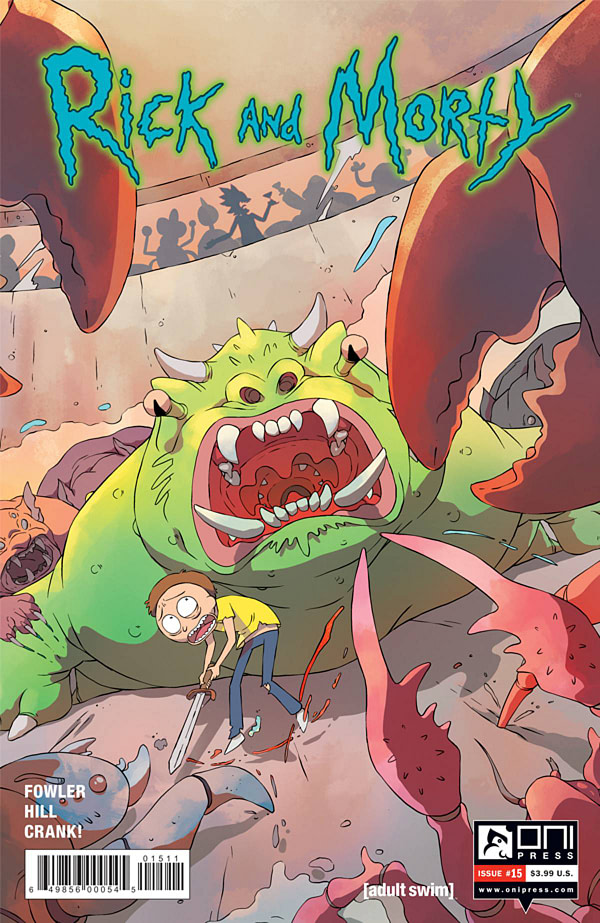 Will Rick save Morty in time to prevent him competing? Will Jerry manage to elude the space mob? Will Morty find love in the bowels of the arena before it's too late?
Probably not.
FC, 32 pages SRP: $3.99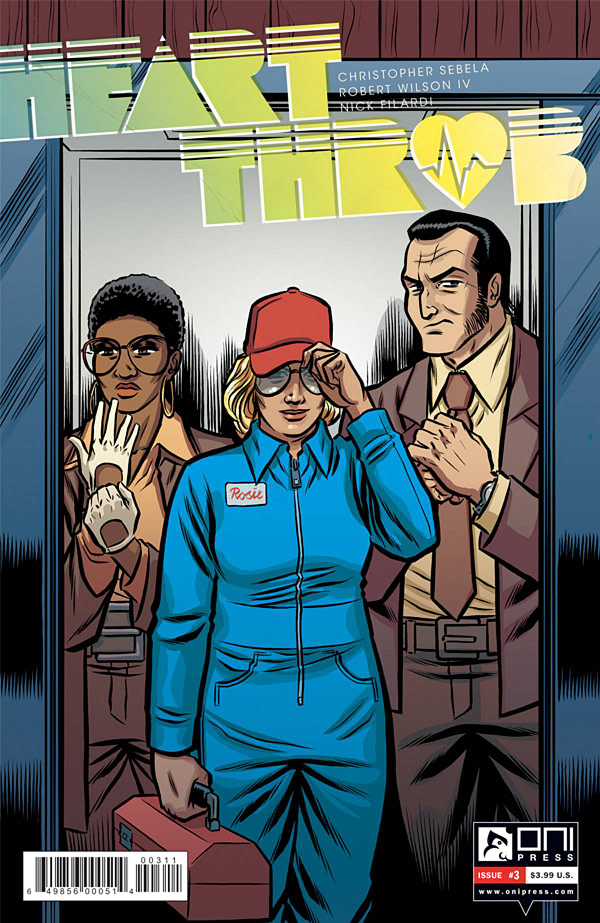 HEARTTHROB #3
(W) Christopher Sebela (A) Brian Hurtt with Bill Crabtree (CA) Robert Wilson IV
Love means never having to say you're sorry. Though it occasionally means having to say "Put your hands in the air, this is a stick-up." With a crew assembled and their plans in place, it's time for Callie and Mercer to take the biggest step of any relationship: stealing a few hundred thousand dollars from a crooked insurance company that holds the pink-slip on their heart.
FC, 32 pages SRP: $3.99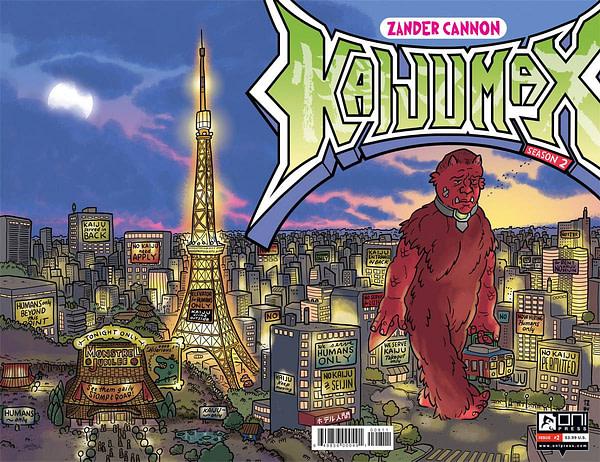 KAIJUMAX SEASON 2 #2
(W/A/CA) Zander Cannon
During a prison-wide lockdown, Leader of the Nation of Mecha Mechazon writes an impassioned letter to convince his police officer sister that she's working for an oppressive system, While the tension between the Humongo Brothers reaches the boiling point. Also: Gangland slayings! Rap battles! A hole in the head! And…moon bunnies?
FC, 32 pages SRP: $3.99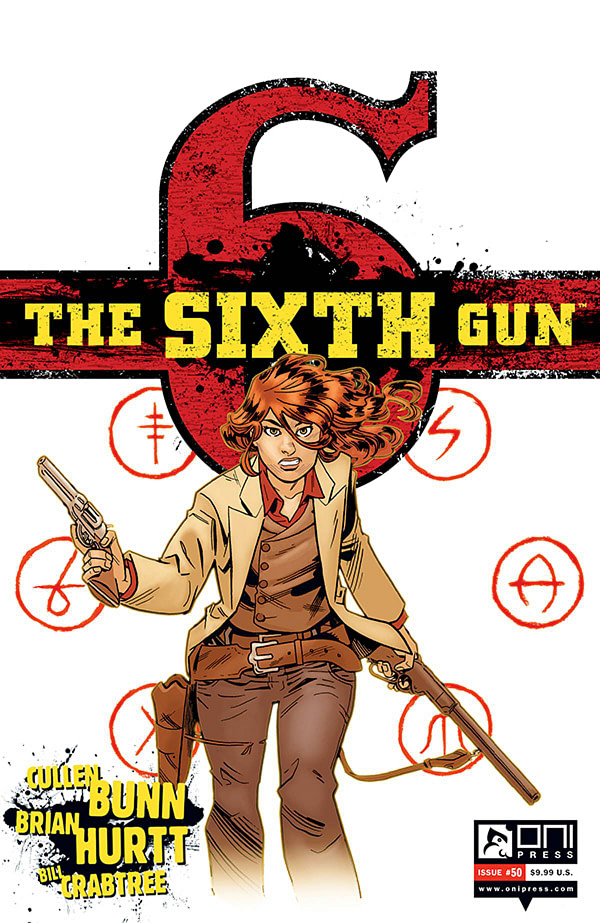 SIXTH GUN #50
(W) Cullen Bunn (CA) Brian Hurtt with Bill Crabtree
The war for creation and the battle for The Six concludes in this epic, TRIPLE-SIZED finale!
This is the end.
FC, 72 pages SRP: $9.99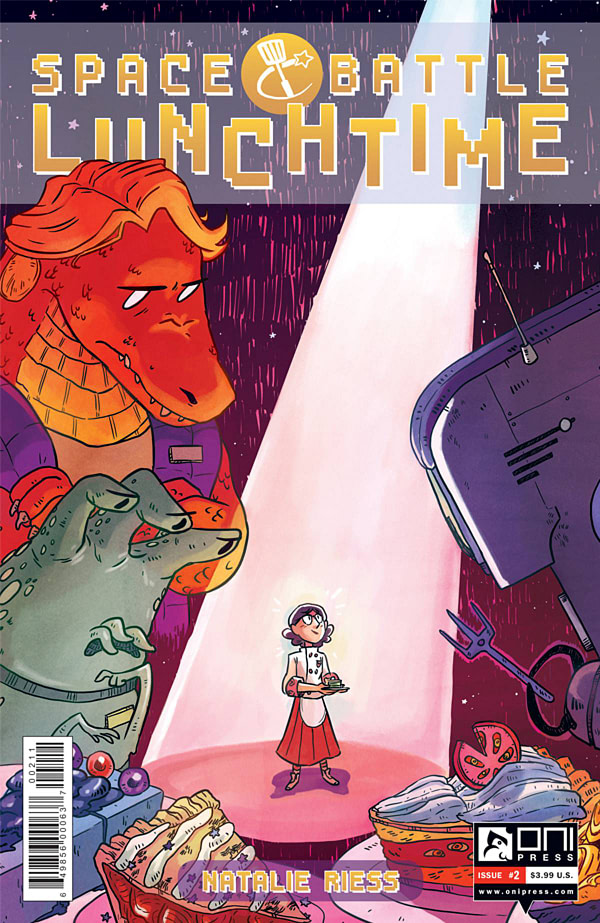 SPACE BATTLE LUNCHTIME #2
(W/A/CA) Natalie Riess (A) Natalie Riess (CA) Natalie Riess
Meet the chefs of the hit show Space Battle Lunchtime! Peony, the only contestant from Earth (and the only one who's never heard of the show before!), is having a bit of trouble with her ingredient—which comes from a planet she didn't even know existed. (Also: What is Moon Butter???) But it's the other chefs she'll need to watch out for—they'll stop at nothing to win.
FC, 32 pages SRP: $3.99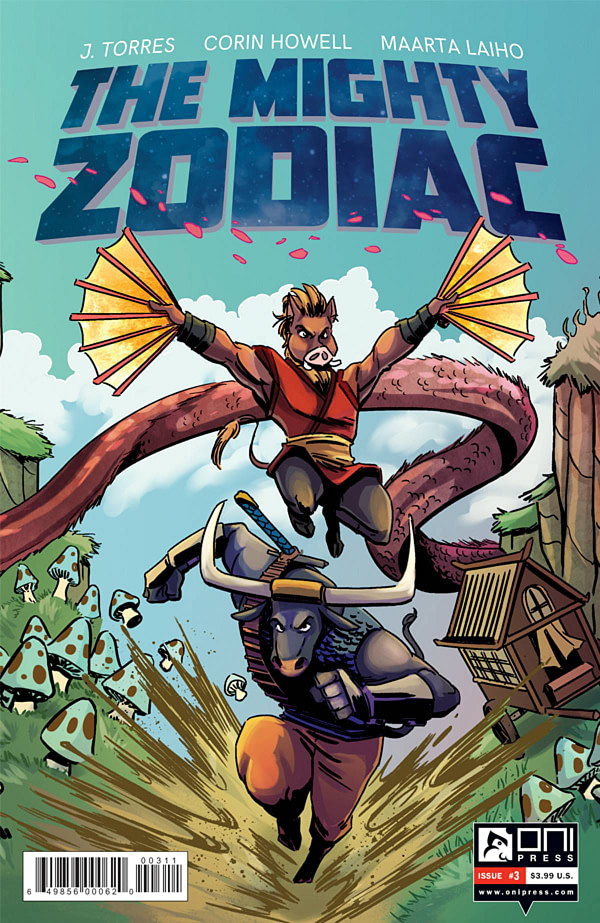 MIGHTY ZODIAC #3
(W) J. Torres (A) Corin Howell with Maarta Laiho (CA) Corin Howell with Maarta Laiho
Ho has arrived at Twilight's Bastion with a star, but it's… done something to him. As the Unlucky Four watch over him, Ho relives key moments from his past, including his friendship with Rang – and Rang's betrayal. What will happen to Ho? Where's Rang? And what happened to the rest of the Mighty Zodiac?
FC, 32 pages SRP: $3.99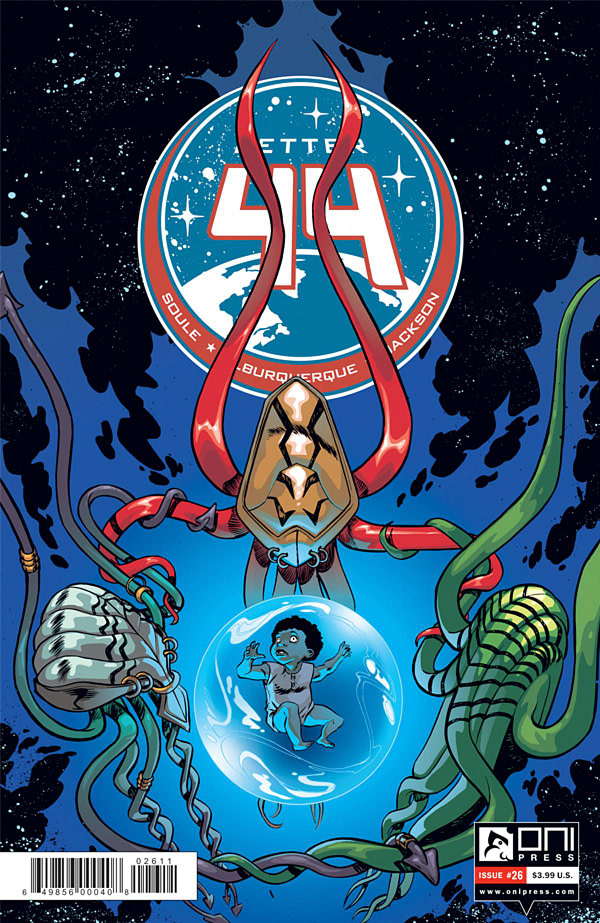 LETTER 44 #26
(W) Charles Soule (A) Alberto J. Alburquerque with Dan Jackson (CA) Alberto J. Alburquerque with Dan Jackson
Modifications have been made to the Chandelier. Now, exponentially more powerful, it prepares to fire at an approaching danger. What is this danger, and why do the Builders feel so compelled to destroy it? Meanwhile, Carroll attempts to blackmail Drum in order to get himself in with the 666 who will survive the end of the world.
FC, 32 pages SRP: $3.99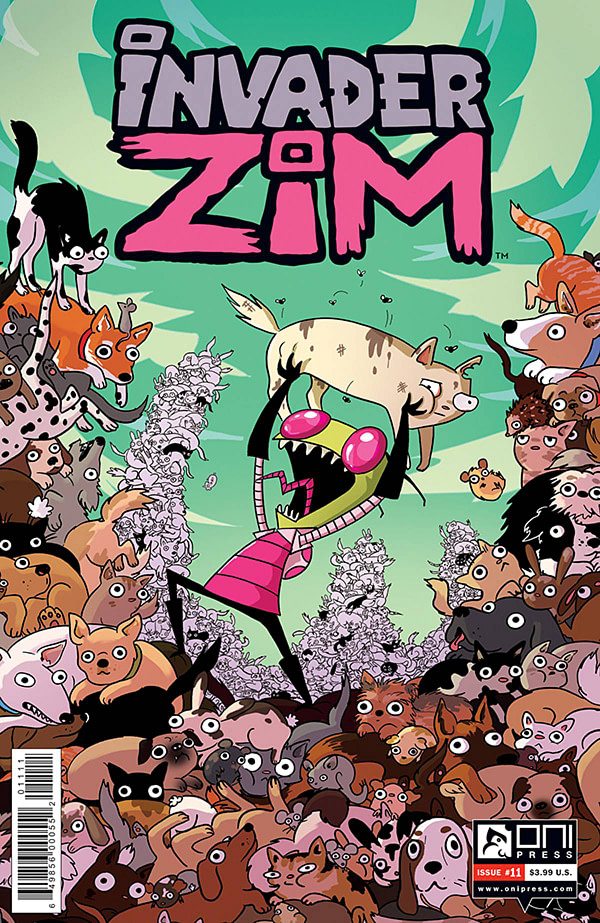 INVADER ZIM #11
(W) Sarah Andersen (A) Sarah Andersen with Katy Farina (CA) Sarah Andersen with Katy Farina
A special one-shot written and illustrated by Sarah Andersen (Sarah's Scribbles, Adulthood is a Myth)! When GIR brings home a flea-ridden stray cat, ZIM is furious—until he finds out what the cat does to Dib. Dib's sneezing and covered in hives—could the magical powers of this "cat" be harnessed and turned against ZIM's mortal enemy?
FC, 32 pages SRP: $3.99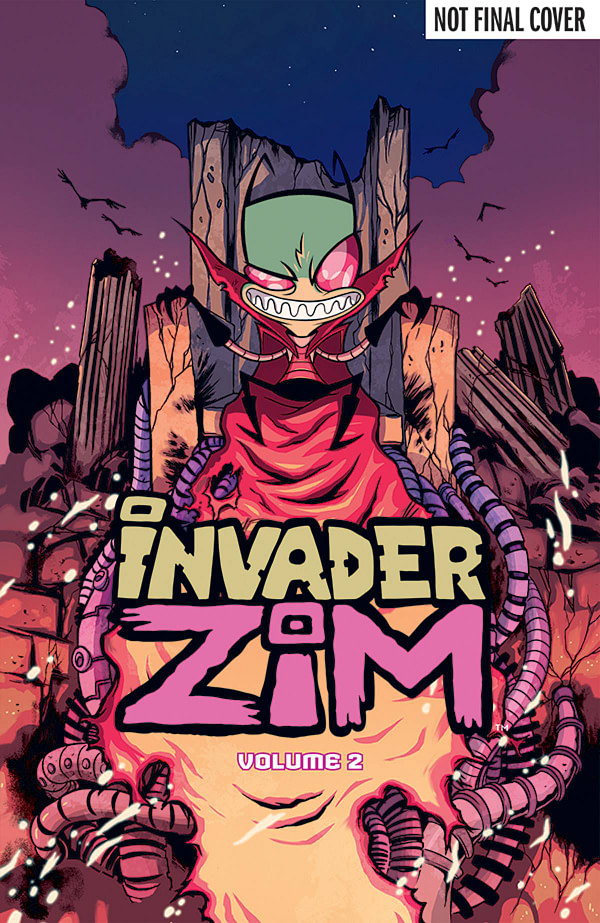 INVADER ZIM VOLUME 2 TP
(W) KC Green, Eric Trueheart, Dennis Hopeless, Jessie Hopeless (A) KC Green, Dave Crosland, Savanna Ganucheau, Warren Wucinich (CA) Dave Crosland with Warren Wucinich
Volume 2 of the hit comic series (based on the hit Nickelodeon TV show) INVADER ZIM starts off with a BANG! I mean a BANK! As ZIM takes on the immense task of getting a business loan. From there, things get steadily worse. Then better, then worse yet again. In this collection, ZIM will face foes like those never seen before! (And also Dib. But everyone's seen Dib before.)
SC, FC, 136 pages SRP: $19.99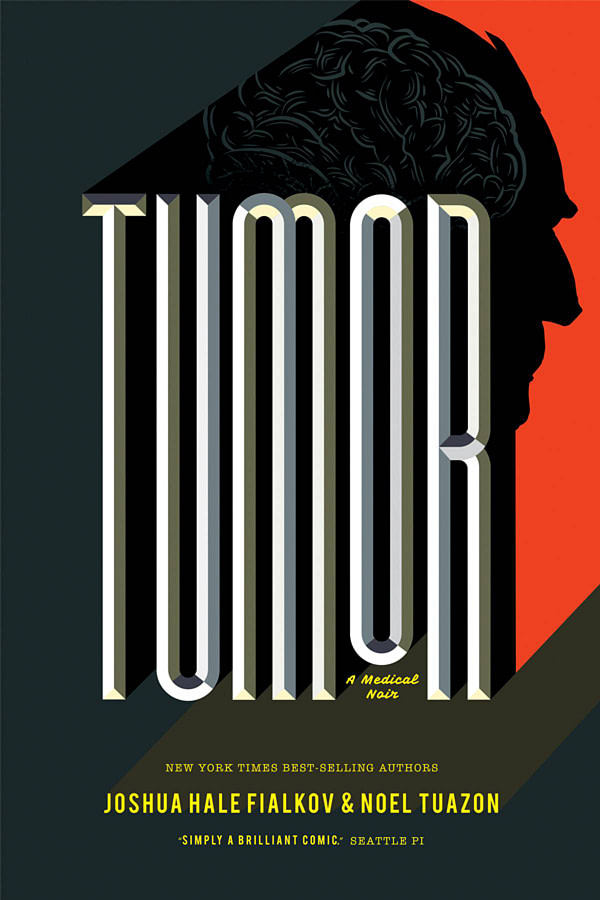 TUMOR HC
(W) Joshua Hale Fialkov (A) Noel Tuazon (CA) Noel Tuazon with Renee Dimalla
Private investigator Frank Armstrong barely scrapes by in the Los Angeles underbelly until "the big one" hits his desk. Locate and retrieve the daughter of a drug kingpin, and he can finally afford more than the one-dollar meatloaf. Unfortunately, the job offer arrives just as the symptoms of his fatal, late-stage brain tumor intensify. Frank must find the target and keep her safe while time collapses, family turns into foe, and the specter of his murdered wife resurfaces in the eyes of a mobster's daughter.
Eisner, Harvey, and Emmy nominated writer Joshua Hale Fialkov joins Harvey and Eisner nominated artist Noel Tuazon in their second thrilling collaboration about the bittersweet joy of lost love and the sharp pain of redemption.
HC, B&W, 248pgs. SRP: $24.99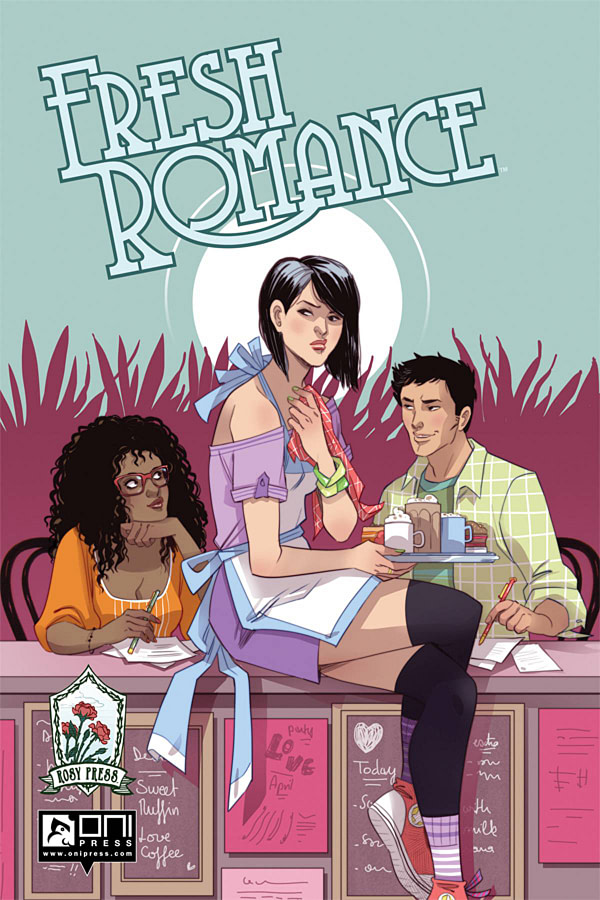 FRESH ROMANCE GN
(W) Kate Leth, Sarah Vaughn, Sarah Kuhn, Marguerite Bennett (A) Arielle Jovellanos, Sarah Winifred Searle, Sally Jane Thompson, Trungles (CA) Marguerite Sauvage
The critically-acclaimed anthology FRESH ROMANCE is finally available in print! Have you been wondering what the fuss is all about? FRESH ROMANCE is an exciting collection of romance comics from some of comics' most talented creators, including Kate Leth, Arielle Jovellanos, Sarah Vaughn, Sarah Winifred Searle, Sarah Kuhn, Marguerite Bennett, and Trungles. From unhappy historical marriages to covert teenage romances, there's something for everyone in FRESH ROMANCE.
HC, FC, 224 Pages SRP: $24.99