A Heap of Coincidences in House of Secrets 92's Swamp Thing

Like every fictional detective in the history of history, I hate coincidences. Events that are supposed to have "just happened that way" bug the daylights out of me, particularly in the field of comics. I enjoy trying to find actual reasons lurking under the surface of accepted conventional wisdom. Those reasons are almost always there. So it is with House of Secrets #92, the first appearance of Swamp Thing, cover-dated July 1971 and created by Len Wein and Bernie Wrightson. Coincidences aside, there's lots of fun and interesting history behind this book, and I've always loved it. It's one of the definitive comic books of the bronze age, which is why I'm delighted to take a closer look at its history ahead of the auction for this House of Secrets #92 CGC 9.0 copy up for bid at Heritage's 2020 July 9 – 12 Comics & Comic Art Signature Auction. Bidding for this item ends on July 12, 2020.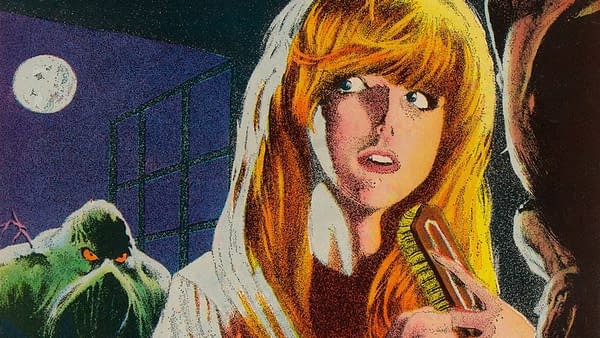 Here's what has me (and countless other fans) curious about the origins of this Swamp Thing tale: Comics magazine publisher Skywald's reboot of the Golden Age Hillman Publications swamp man character The Heap in Psycho #2 is cover-dated March 1971. Marvel's Savage Tales #1, the first appearance of the Man-Thing, is cover-dated May 1971. And DC Comics' House of Secrets #92 featuring the first appearance of Swamp Thing, is cover-dated July 1971. That's quite a few swamp monsters emerging from the comics within five months of 1971. It seems an unlikely coincidence, but is it?
Let's start with the best-known aspect of this history, the notion that well-regarded comic book writer/editor Louise Simonson (then Louise Jones) is the model for the character on the cover, Linda Olsen Ridge. While that's been well-known comic book trivia for decades, it's lesser-known that some of the photos used to help create this cover and story still exist. Along with those spectacularly historic photos, Wrightson was quoted as saying:
I recall Len [Wein] offered me the "Swamp Thing" short story to draw that night. The deadline was really tight and I remember doing most of the work on a weekend. I had help from [Michael William] Kaluta, [Jeffrey Catherine Jones], [Alan] Weiss and Louise [Jones]. I remember that to save time we photographed the whole thing.
House of Secrets #92 story writer Len Wein is also on the record about the matter, while adding another pair of coincidences to the pile. Not only was he at this time the roommate of Gerry Conway, the writer who scripted the first appearance of Man-Thing, but Wein also wrote the initially-unpublished second appearance of Man-Thing for a subsequent issue of Savage Tales — but the magazine was canceled after #1.
There are a couple of elements to that particular question. One of which is that I was rooming with Gerry Conway who wrote the first Man-Thing story. It was just independent creation. We were doing Swamp Thing and Gerry and I think Gray Morrow was doing Man-Thing. Neither of us knew the other was doing the same thing. The weirdest aspect is that I actually wrote the second Man-Thing story; the whole "Whatever knows fear burns at the Man-Thing's touch". In Gerry's first story anything the Man-Thing touched burned. It was a protagonist who could never interact with anybody so I came up with the idea of fear.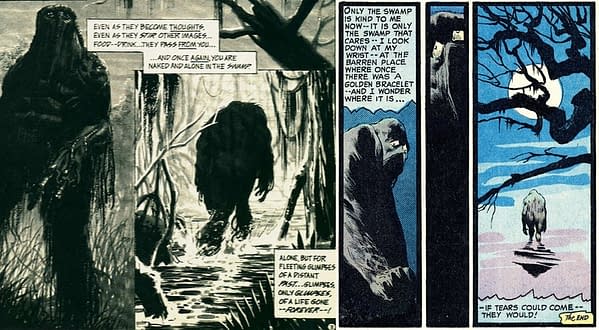 The Things in the Swamp
Naturally, this raised some eyebrows at Marvel, according to editor/writer Roy Thomas, who is credited with much of the Man Thing concept. In an editorial titled The Story Behind the Scenes in Savage Tales #1, Roy Thomas outlines the origins of the Man-Thing concept:
Editor Stan Lee has a title: The Man-Thing. And a concept: A man who becomes a powerful, misshapen monster — at the very price of his sanity, perhaps his very soul. Stan and sidekick Roy Thomas discuss maybe five different origins (we'll let you try guessing the other four).
Thomas has elaborated on this matter in more recent times in the introduction of The Heap Volume One collection of Hillman Publication Heap stories. Thomas has long been a fan of the original Heap character, and while summarizing various other swamp monsters that have appeared over the decades, he noted that he first brought a version of the Heap to Marvel in Incredible Hulk #121, cover-dated November 1969, with a character called The Glob. Thomas also asserts that he suggested the use of the character to Skywald's publisher (and former Marvel production manager) Sol Brodsky. Finally, he says that he interpreted Stan's brief description for Man-Thing as being a fit for the Heap as well, saying "Stan never referred to the Heap, but I felt that was what he had at least in the back of his mind."
Even more recently in Comic Book Creator #6 Presents Swampmen: Muck-Monsters and Their Makers, Thomas openly wonders about the various coincidences between Man-Thing and Swamp Thing:
Gerry and I though that somehow, unconsciously, of course, Len just took a bit too much from Gerry's and my story, even as opposed to the original Heap. In fact, there was talk, at the time — and I don't know how much Stan was involved in this, but it certainly would have had to involve him to some extent, or Goodman, not Gerry or me — that there was vague talk about possible legal action. I don't know if letters ever changed hands. Because, after all, the Swamp Thing origin was just too similar to the Man-Thing origin.
It's hard to get around the notion that the two stories do indeed have a fair degree of general similarity. Both involve secretive science taking place in a secluded location in a swamp. Each story also has a variation on the theme of a romantic betrayal of sorts triggering the tragedy which results in the betrayed man becoming a swamp creature. But there may be another explanation for the similarities between these two stories.
There is another story that also contains these specific elements and pre-figures Savage Tales #1, House of Secrets #92, and even Incredible Hulk #121.
Curse of the Swamp Creature was made in 1966 but didn't hit theaters until 1968. A glance through newspapers of 1968 to 1969 indicates showings around the country from February through December of 1968, and a jump to television throughout 1969. Like both Savage Tales #1 and House of Secrets #92, the story involves secretive science taking place in a secluded location in a swamp, as well as themes of romantic betrayal triggering the tragedy which results in the betrayed man becoming a swamp creature. The producer-director of the film, Larry Buchanan, was a low-budget film legend who went onto create infamous movies such as Mars Needs Women and It's Alive.
And the situation gets more interesting from there. Like the scientist in Savage Tales #1, the scientist in Curse of the Swamp Creature was actively attempting to create a superhuman man-monster hybrid of sorts (Savage Tales #1 ends with the man-monster implying the intent was to create super-soldiers). And like House of Secrets #92, an apparent love triangle results in tragedy when one of the men involved betrays the other — who becomes a creature. There is a general appearance that the stories of House of Secrets #92 and Savage Tales #1 may have both drawn inspiration from Curse of the Swamp Creature in different ways.
While this "new" piece of the mystery fits rather neatly into this puzzle — as the film hit theaters and then television just before Roy Thomas would have been working up his Incredible Hulk #121 story — my gut tells me there's another piece or two of the puzzle yet to be found. Of course, it's very possible that no one involved saw the film, but rather, were inspired by the general zeitgeist of the times. Because while one's first thought might be that swamp creatures don't grow on trees, of course… yeah, they kind of do. Or it seems that they did in the late 1960s and early 1970s anyway. You can bid on a high-grade example of this utterly fascinating bit of comic book history with this House of Secrets #92 CGC 9.0 copy up for grabs at Heritage's 2020 July 9 – 12 Comics & Comic Art Signature Auction. Bidding for this item ends on July 12, 2020.