A New Swear Word For Today's X-Men Comics?
Marvel Comics does it's best to find creative ways for its superhero characters to swear without scaring the horses. The MAX or Epid Mature Readers imprints. Using f*%&ing weird characters to replace the letters you know are there. Using substuite word like flip, spit or melonfarmer. Using skullheads. Using black bars. Cutting off in mid…
You can find a few examples here.
But this is 2018. And social mores have moved on. And another of George Carlin's seven words you can't say on television has made it into the X-Men comics with X-Men Gold #26.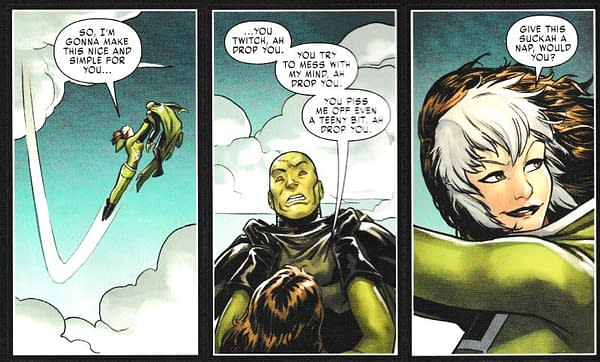 See? It's piss easy.
Although mores do change. And there's words that the X-Men did say back in the eighties, that you definitely couldn't put in there now. Specifically Kitty Pryde of the X-Men comic books, written by Chris Claremont. And she is now getting married.
Though you can still sell them in collections or on 12 year-old-and-up downloads on digital. But that's the power of archive.
Of course, the X-Men movies have chosen to go further. To their limit of once a movie.
And they didn't go as far as 'hobo's piss' as ex-X-Men writer Rick Remender used when defending himself for writing Havok speaking out against using the 'm-word', mutant.
But, I guess, it's one more tool in a mutant writer's toolbox these days.
When's Chris Claremont coming back again?
X-MEN GOLD #26
(W) Marc Guggenheim (A) Michele Bandini, David Marquez (CA) Phil Noto
• It all begins here! But WHO is tying the knot? And can I bring a plus-one?
• Also: The X-MEN in their final confrontation with an old foe, a fight that ends up costing RACHEL everything.
• Plus… The evil alliance you never expected.
Rated T+In Shops: Apr 18, 2018
SRP: $3.99
I really hope she didn't reply to Colossus in the same way she replied to Phil…