A New Wally West Comic From DC to Follow Heroes In Crisis?
Coming out of the bar chatter at the Diamond Retailer Summit as retailers, creators and publishers start chinwagging, especially at last night's DC Comics party. Bleeding Cool is told that one upcoming project intended to be a bit of a money spinner, and answer certain retailer concerns, is a Wally West series to follow on from Heroes In Crisis. This is not a replacement for what we previously heard was to be a Suicide Squad series starring Wally West, somehow surviving Heroes In Crisis, but it would fill a schedule gap between the two. Have 'Wally West' in the title. And be a best-seller for publisher and retailer alike.
What it would involve, I have no idea. Who might be working on it, I am also clueless. I heard one name mentioned but they deny it…. Maybe we'll discover more as the weekend unfurls?
Wally West, Silver Age-established sidekick to Barry Allen, The Flash, inherited the mantle and starred in the Flash series after Crisis On Infinite Earths, but was done away with for the New 52 reboot in 2011. His return in DC Rebirth in 2016 has been explained as the machinations of Watchmen's Dr Manhattan, and it was the psychological impact of losing his family to the timestream and his subsequent breakdown that a) saw him placed in the Sanctuary in Heroes In Crisis b) end up killing everyone there by mistake and c) saw him cover it all up, expose everyone's secrets and kill himself in a mathematical attempt to put everything right.
Will the new series somehow explain his new lease of life? Or will we get all that in Heroes In Crisis #9?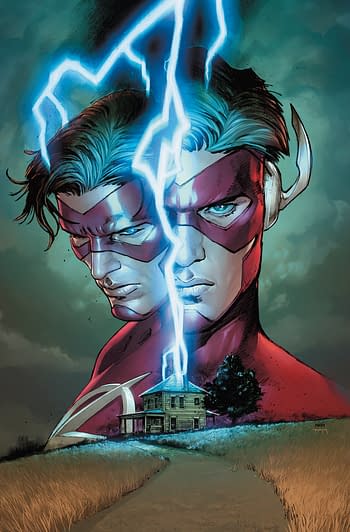 HEROES IN CRISIS #9 (OF 9)
(W) Tom King (A/CA) Clay Mann
The most-talked-about miniseries of the year reaches its stunning finale! The mystery behind the murders at Sanctuary is solved, but the mind behind it is one the heroes never expected. With their deepest secrets exposed, the Trinity has to consider how to carry on. Should the tragedy cause them to redouble their efforts to help their hurting comrades, or will they need to close up shop? The answers will be found in the ashes of this final showdown, and the fates of Booster Gold, Harley Quinn and the rest hang in the balance.In Shops: May 29, 2019
SRP: $3.99