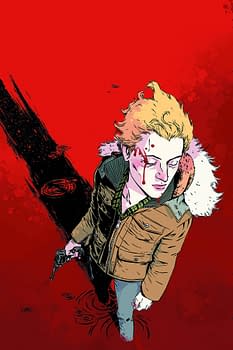 Louis Falcetti writes;
Quick! What's the hottest trend in pop culture right now? No it's not zombies, geez louise, where did you come from 2010? And it sure as shooting ain't vampires. It's kids killing kids! Thanks to tasteless titles like Avengers Arena or just the merely boring ones (Hunger Games), people can't get enough of kid on kid violence. Thankfully Ed Brisson and Johnnie Christmas have teamed up to introduce something into the child violence realm that's been sorely lacking, intelligence.
Straight away from the cover you can tell it's a comic that is not interested in retreading genre cliches, "a pre-apocalyptic tale" it reads under the title. Apocalypse stories, those are right up there with murderous minors as far as our short attention span cultural obsessions go, so for Brisson and crew to turn that concept on it's head, already I'm interested. Of course after reading issue 1 I'm no longer interested, I'm sold.
In Sheltered we're treated to one of those survivalist camps that are no longer just for the religious zealot crowd. Families and couples, set up behind fences and guard posts, armed to the teeth and preparing for (what they imagine to be) the inevitable. So far so nervously good, right? But, as seems to be the case, both in fictional worlds and real (though, what is the "real" world? Amirite?) you can't hide from the big bad forever, especially when the big bad was with you all along.
"As above, so below", is something that Grant Morrison acolytes will certainly have heard before as well as those even weirder folk, Christians. It's a message that comes across in Sheltered, for just like when you dump insane, paranoid, violent messages into the heads of your electorate people end up flying their planes into IRS buildings and shooting at congressmen, if you raise your children on a diet of paranoia and anti-government fear-mongering, don't be surprised if they shoot you and your friends and leave you in the woods.
So Sheltered has got it's premise and plot nailed like a "TRESPASSERS WILL BE SHOT" sign, but more than that, Brisson has created characters who, while we haven't really gotten the chance to know them yet, are already intriguing and different than expected. Victoria isn't the smiling happy optimist opposite that one would expect to counter the unhinged murderous Lucas and Joey, she's actually a lot more like an actual teenage girl. I'd be remiss if I didn't mention Johnnie Christmas' excellent art as well, the little details he adds to the scenes, whether it's Lucas and Joey's room or just military porn jackets and posters, he delivers a fully realized environment that's as cold as it looks. I don't talk about colorists often enough but I have to say that Shari Chankhamma adds the final piece to the perfect puzzle unfolding, just look at those characters' noses! Or the way the final page mixes a seemingly beautiful winter dusk with heartbreaking violence. Aces all around.
And if you're not so much into the book for it's contributions to the graphic art form, then there's a survivalist newsletter in the back with handy tips that you can use to protect what's yours from the eternally faceless "them" who wants to takes it.
Sheltered is a powerful and smart take on apocalypse fever with characters that are sure to speak to you, whether you like what they're saying or not. It's a comic that is of it's time, which doesn't sound that impressive, but believe me it is. Far too many creators spend their days creating like it's 1996 and they're writing for Vertigo and completely forgetting the years in between and how our cultures obsessions and fears have changed since then. Check out Sheltered if you want to see what creators who actually care can do with the tired tropes of the times.