Advance Review: Fantastic Four #1 – Managed Expectations [Spoilers]
Look what popped through the letterbox courtesy of Federal Express about an hour ago…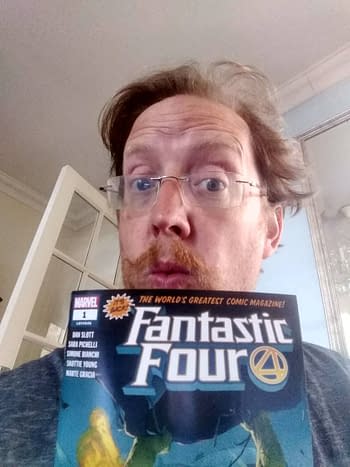 Fantastic Four #1 by Dan Slott, Sara Pichelli, and Marte Gracia — with a letter asking me to talk about it. Okay. First, there are spoilers here. Some spoilers, limited spoilers, what I see as managed expectations. Just as people going into Batman #50 and X-Men Gold #30 may have been expecting one thing and got another, Marvel may have set up much for Fantastic Four #1 that might not play out in the way it was pitched.
The return of the Fantastic Four in Fantastic Four #1 is about memory and memorials. Days that mark other days. So just as Fantastic Four #1 comes out on the same day that the first Fantastic Four was published 57 years ago, within the Marvel Universe it is also the anniversary of that space flight that formed the Four in the first place.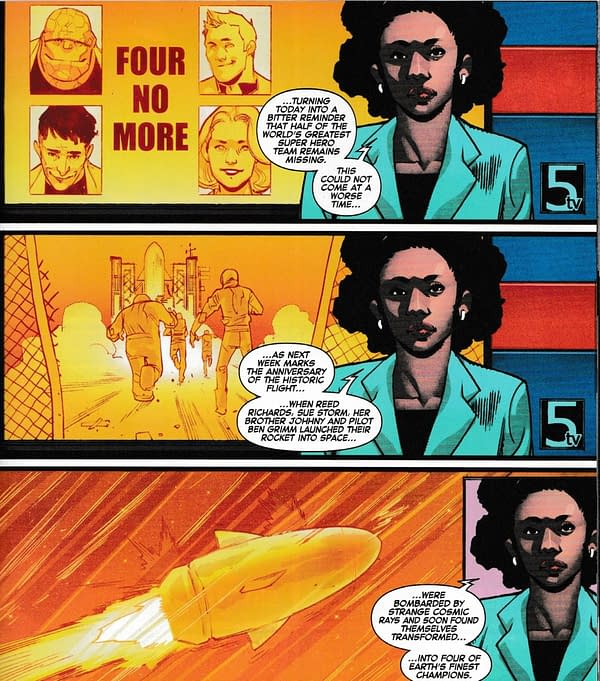 But now they are gone, the world missing Reed Richards and Sue Storm, of Franklin and Valeria (and also Alex Power, but no one ever mentions him — and only Katie Power knows).
In the Marvel Universe, this was down to the events of Secret Wars. Jonathan Hickman's storylines from Fantastic Four and Avengers came together as all realities were wiped out, with only the scraps available to be reassembled as a patchwork planet rules by an omnipotent god version of Doctor Doom. And when he was defeated by Richards and reality slowly recreated and reassembled, Reed and Sue and their kids stayed behind to fix it all.
The Marvel Universe rolled on, even if the Richardses did not, save for a brief glimpse in Marvel Legacy and Power Pack. And now, it seems, it has been a year. The Thing joined the Guardians of the Galaxy, the Torch moved in with Medusa and the rest of the Inhumans, and recently they have been looking for any trace of their friends, with no joy, in Marvel Two-in-One. Though the reformed Doctor Doom recently seemed to lose the shine off that reform in Infamous Iron Man.
In the real world it was down to Marvel chair Ike Perlmutter clashing with Fox Studios over returning the movie rights to the Fantastic Four to Marvel Studios (when he was still in charge of it) and, in fit of pique, declaring that Marvel would no longer publish Fantastic Four comics or license any TV rights, foreign rights, art shows, clothing, toys, games, statues, trading cards, posters, other posters, and other merchandise for the Fantastic Four or the X-Men. So much so that posters of the FF were torn down in the office in case Perlmutter saw them walking past. The general gist was eventually confirmed by Jonathan Hickman himself. But now Disney is buying Fox Studios. The X-Men restrictions began to be lifted. And now it seems, so have those for the Fantastic Four. And the comic has returned, reportedly with more orders than any other direct market comic in August.
And so we have Fantastic Four #1 by Dan Slott and Sara Pichelli, the grand return of Marvel's first family. But, right from the start, you might as well know that you are not actually getting the return of the Fantastic Four. You will get that in September. This first issue is very much the teaser, the trailer, the prequel to that return. The whos, the hows, the whys are not there. Everything that might be, happens off-panel or cut-panel. Instead, this is a comic book about a world without Reed and Sue — and most importantly the Thing and the Torch's world without them.
It may not have been what people were expecting. Even the previews were doctored to give a different impression of what the comic was promising, with Jennifer Walters's vox pop switching from this…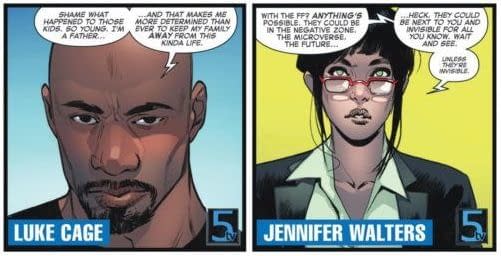 …to that.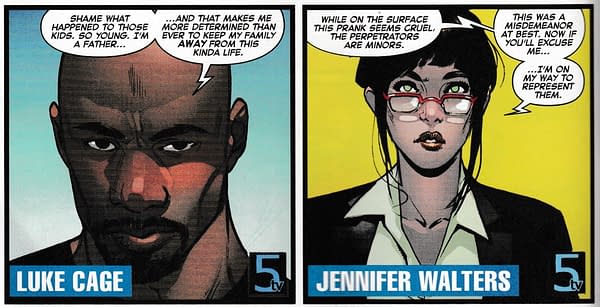 It's not all bad for the characters though. Necessity is the mother of invention, and for the Thing, without Reed to lean on, to use as a crutch, he has to stand up and make changes in his own life. The Torch, however, has a different journey. This is a comic about loss, acceptance of that loss, and moving on.
Until September, of course. This is superhero comics, of course — closure gets reopened with a crowbar on a regular basis, and you get to see a chink in the crack before it all gets opened up in a month's time.
But for those angry about announced-but-not-lived-up-to promises from Batman #50 and X-Men Gold #30, there are other things for long-term Fantastic Four readers that will pay off just as much, especially for the Thing.
But this is a comic book about the characters you love orbiting each other with hope, despair, love, and loss. It may not be what you wanted, but it is probably what you needed. And hey, you waited three years for Ike Perlmutter to stop pouting — you can wait another month, okay?
There are stories of Fantastic Before. Songs you never heard, played for the first time. But always working as a prologue. Pichelli is a perfect choice to draw those more human moments, characters embedded in slice-of-life reality but with enough cartooniness to emote.
We have a new status for Doctor Doom in a story drawn by Simone Bianchi involving his own return to former inglories, with a more baroque, detailed, and rich historical revolution of Latveria.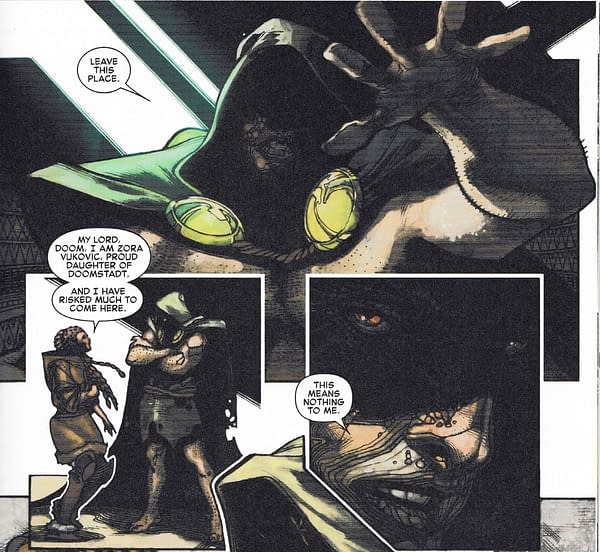 And it looks like he still has his nose.
There's also an Impossible Man strip drawn by Skottie Young dealing with, well, the lack of a return and new promises for September. For me, it may well be the highlight.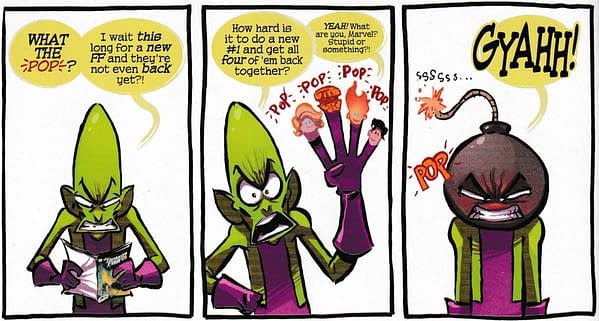 Maybe the retailers who got exclusive variant covers of issue 1 can do the same with issue 2? I understand that's available for such things as well… and no sign of The Griever either, making the Comixposure exclusive variant of issue 1 their definite first appearance…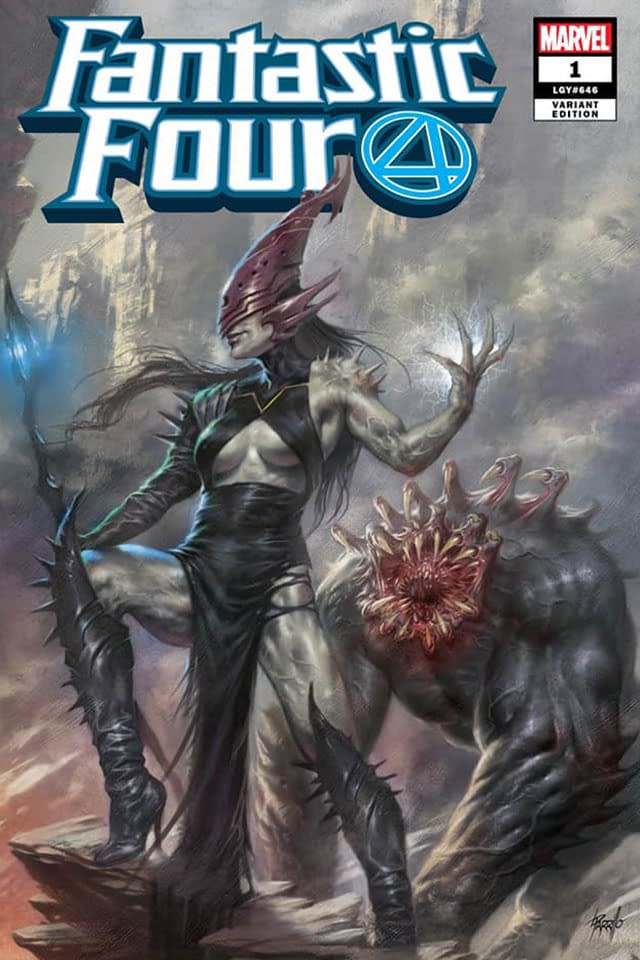 Oh, and if you need a ranking (and people do apparently), based solely on this single issue, better than Fraction and Robinson's run, below Hickman's run, and probably on a par with Zdarsky's Marvel Two-in-One. In fact, it might as well just be a new issue of Two-in-One. And who wouldn't want that?
FANTASTIC FOUR #1
(W) Dan Slott (A) Skottie Young, Simone Bianchi, Sara Pichelli (CA) Esad Ribic
FOUREVER Part One
BECAUSE YOU DEMANDED IT – THE WORLD'S GREATEST COMIC MAGAZINE IS BACK!
Since the end of SECRET WARS, there's been a gap in the Marvel Universe. A void no other team can fill. And it's time for the world to move on. But can it? A life-changing decision by the Thing! A momentous declaration by the Human Torch! A clarion call-to-arms that summons Doctor Doom! And a signal in the sky that heralds the return of hope to the Marvel Universe! All this, and Alicia Masters adopts kittens! So cute! Plus, the Impossible Man!
AND BONUS STORIES ILLUSTRATED BY SIMONE BIANCHI AND SKOTTIE YOUNG!
IF YOU READ ONLY ONE MARVEL COMIC THIS MONTH, THIS IS THE ONE!
Rated T In Shops: Aug 08, 2018 SRP: $5.99