The Aftermath of Universal FanCon's "Postponement"
Bleeding Cool mentioned the postponement/cancellation of Universal FanCon, meant to be held at the Baltimore Convention Center next weekend. The Kickstarter-funded inclusive and intersectional show left many folk high and dry.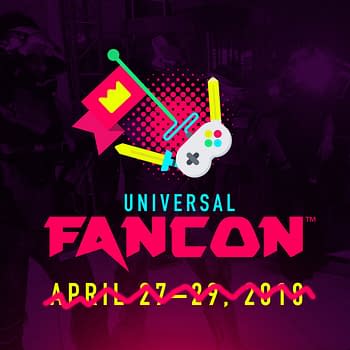 The show's website has run an apology and an FAQ, but there are questions that are not being addressed. The site states:
As we built out our floorplan, invited guests, figured out lodging/travel arrangements, and confirmed activities, our costs started to grow exponentially. Unfortunately, the support we were anticipating in terms of ticket sales and sponsorships did not materialize. Accordingly, the organizers of FanCon made significant personal investments in order to ensure FanCon's success. In addition to these investments, we worked to scale back the number of guests and limit the convention space to create a leaner and more efficient show. Sadly, this was not enough. If we were to have moved forward, the event would have been significantly diminished.

The strength of the chorus of unique voices that represents FanCon is of great value and we are devastated we couldn't keep the convention on as planned. Further, we've made mistakes in the process of trying to inform all of our stakeholders (guests, exhibitors, panelists, attendees, kickstarter backers, etc.) and have caused significant inconvenience to many who trusted us. The announcement that originally notified everyone of the "cancellation" of the convention was due to a miscommunication from one of our partner hotels and was in no way supposed to be communicated in that manner. We are deeply sorry that the public did not receive information regarding what was happening with the convention from us first, as we prepared to do so the morning of April 20th.
The FAQ leads with why the show is not happening, saying:
Currently we are in a financial deficit that will not allow us to operate the convention within budget. Accordingly, we have made the decision to postpone and reschedule FanCon so we can put forward the type of event our fans deserve.
And as for refunds:
We are determining how we can support refunds. We have emailed all ticket holders.
Although that was changed from the previous version:
People are advised to contact their bank/credit card/payment service to get a refund. And asking lodgings and airlines for refunds, even on non-refundable options, is still possible. Just go directly, if you can, to the place or travel provider first, before approaching whoever sold you your deal.
Back to the FAQ, questions not answered might include the following:
Is it true that despite being advertised and promoted widely, Baltimore Convention Center did not have Universal FanCon as a confirmed event for next weekend?
Is it true that the individual who was until today listed as VP of Conventions Operation and Entertainment for the show previously ran social media funding for other conventions that also never happened, such as Anaheim's Kickstarter-funded Pride Con (cancelled without refunds) and Anaheim's Akihabara Expo?
And if you have no money left — how do you plan to put on this postponed show?
But the questions continue to roll…
And one of the organisers had a commitment to make, saying:
That's…. a lot of shows. And not everyone involved was being quite so public.
But for those who shelled out, they were looking for alternatives.
Nerds of Color and Black Heroes Matter, who were to attend the show, are attempting to put on a mini-event.
Baltimore Comic-Con is running their Spring Fling on the Sunday of next weekend, for free, with a handful of comics guests in a hotel ballroom. It's not the same kind of show, but it's there.
If you can be in the Philadelphia area and want to attend PhillyCon next weekend, they are offering free Friday tickets to FanCon ticket holders, as well as half off Sunday tickets to those who can provide proof of purchase of FanCon tickets.
Plenty more to come.