Bleeding Cool mentioned the postponement/cancellation of Universal FanCon, meant to be held at the Baltimore Convention Center next weekend. The Kickstarter-funded inclusive and intersectional show left many folk high and dry.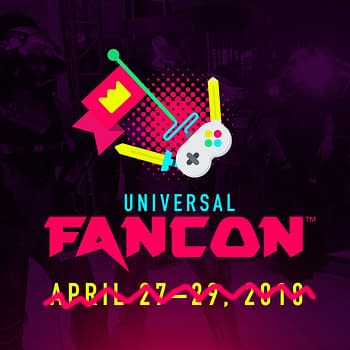 The show's website has run an apology and an FAQ, but there are questions that are not being addressed. The site states:
As we built out our floorplan, invited guests, figured out lodging/travel arrangements, and confirmed activities, our costs started to grow exponentially. Unfortunately, the support we were anticipating in terms of ticket sales and sponsorships did not materialize. Accordingly, the organizers of FanCon made significant personal investments in order to ensure FanCon's success. In addition to these investments, we worked to scale back the number of guests and limit the convention space to create a leaner and more efficient show. Sadly, this was not enough. If we were to have moved forward, the event would have been significantly diminished.

The strength of the chorus of unique voices that represents FanCon is of great value and we are devastated we couldn't keep the convention on as planned. Further, we've made mistakes in the process of trying to inform all of our stakeholders (guests, exhibitors, panelists, attendees, kickstarter backers, etc.) and have caused significant inconvenience to many who trusted us. The announcement that originally notified everyone of the "cancellation" of the convention was due to a miscommunication from one of our partner hotels and was in no way supposed to be communicated in that manner. We are deeply sorry that the public did not receive information regarding what was happening with the convention from us first, as we prepared to do so the morning of April 20th.
The FAQ leads with why the show is not happening, saying:
Currently we are in a financial deficit that will not allow us to operate the convention within budget. Accordingly, we have made the decision to postpone and reschedule FanCon so we can put forward the type of event our fans deserve.
And as for refunds:
We are determining how we can support refunds. We have emailed all ticket holders.
Although that was changed from the previous version:
LMFAO. Alright. Tell that to my bank. #FanCon pic.twitter.com/OF8AQLtsjY

— Clarkisha Kent: Slayer of Colonizers (@IWriteAllDay_) 21 April 2018
People are advised to contact their bank/credit card/payment service to get a refund. And asking lodgings and airlines for refunds, even on non-refundable options, is still possible. Just go directly, if you can, to the place or travel provider first, before approaching whoever sold you your deal.
Back to the FAQ, questions not answered might include the following:
Is it true that despite being advertised and promoted widely, Baltimore Convention Center did not have Universal FanCon as a confirmed event for next weekend?
Is it true that the individual who was until today listed as VP of Conventions Operation and Entertainment for the show previously ran social media funding for other conventions that also never happened, such as Anaheim's Kickstarter-funded Pride Con (cancelled without refunds) and Anaheim's Akihabara Expo?
And if you have no money left — how do you plan to put on this postponed show?
But the questions continue to roll…
This statement is bewildering. I cannot believe you would put this up. To tell people who have bought non refundable tickets that the organizers did too… is flippant, at best. And to offer no refunds… wow.

— roxane gay (@rgay) April 21, 2018
I've stood by you guys all day and I am not comfortable with this explanation. What was the date of the meeting when you knew you couldn't push forward and why didn't you inform us then? And I would like to see a balance sheet of where the kickstarter money went.

— Beta Ray Jill, Wielder of Nazibreaker (@fangirlsmash) April 21, 2018
Secondly, some of the language is coming across as flippant and evasive. I know you guys must be in ultra defensive mode but someone should've really proofed this two or three times.

— Beta Ray Jill, Wielder of Nazibreaker (@fangirlsmash) April 21, 2018
And finally, you mentioned that you had a meeting where you determined that the event would not go forward – what was the date of that meeting? Was it prior to April 20th?

— Beta Ray Jill, Wielder of Nazibreaker (@fangirlsmash) April 21, 2018
Be more transparent for the sake of all these poor folks that are out of hundreds/thousands of dollars now.

"It's the hotel's fault" is not enough. I've attended many BCC cons, you can have a convention in the venue without using the attached hotel.

— dr.nova@🛸⭐🚀 (@valerieflames) April 21, 2018
And maybe the rules have changed and you do have to, what do I know? But I don't get how you spend money to secure a venue… you never get the venue? Meanwhile there's a WHOLE other event scheduled at the BCC on the 28th? pic.twitter.com/VvnDYBhgkN

— dr.nova@🛸⭐🚀 (@valerieflames) April 21, 2018
And ok if everything was solidly paid for, for the sake of argument… there's no way that BCC won't charge you a massive cancellation fee or total loss of deposit. How can you expect people to just believe there will be another con?? when you clearly don't have the money?

— dr.nova@🛸⭐🚀 (@valerieflames) April 21, 2018
How can you ask people to continue to trust, believe and invest in this with no compensation and so little accountability for mismanaging the money already put up? Most of us are marginalized in some way yet we gave so much good faith and what funds we could.

— Tans @ Challenge Day (@Tansuru) April 21, 2018
I have questions-
If you weren't able to sufficiently fund THIS #FanCon how will you be able to fund one in the future?

How much of that Kickstarter money is even left? Where's the transparency on THAT?

What assurances do people have that this con will ever happen?

— Rob (@RobCabrera) April 21, 2018
They were forced to announce the event was canceled before they were ready? When the F did they plan to tell folx?! The day before?! This is FYRE FEST levels of scam artistry. My heart goes out to everyone who will have a difficult time recovering psychologically & financially.

— Susikone (@straightAstoner) April 21, 2018
Maybe they'll let you use your PrideCon tickets for the "next" FanCon too. Look it up for some same staff names.

— Professor Shyguy (@ProfessorShyguy) April 21, 2018
Here's a hot take on the Universal FanCon from someone who has worked in the hotel industry for four years: the only way that a hotel can drop a block of rooms is if payment in full is not received by the deadline outlined in the contract. That's it.

— Elizabeth Vlasoff of The Fandomentals (@ohemgeelizabeth) April 20, 2018
I'm beyond disappointed. But seeing everyone send you heart emojis while you all shrug and take our money is too much. And I didn't even spend close to what some people did. To say I trusted you would be an understatement. EYE was a supporter. Are these "Huggz" to me too??

— JaneEyrerysTargaryen (@intrstller) April 21, 2018
And one of the organisers had a commitment to make, saying:
I'm gonna work to make this right. Period. If I have to be a one-woman show to do it.

— Jamie Broadnax (@JamieBroadnax) April 21, 2018
That's…. a lot of shows. And not everyone involved was being quite so public.
Of coursem the co-chair of @UniversalFanCon made his Twitter private because of the backlash. You should be ashamed of yourself @DarthGeekonius. From one Marine to another, you absolutely disgust me, and us black geeks have to work harder because of your fuck up.

SHAME ON YOU.

— DJ Ranma S @ Kogaracon (@DJRanmaS) 21 April 2018
But for those who shelled out, they were looking for alternatives.
Yeah, got a non-refundable plane ticket and hotel. Going to make the best of it and just experience a new place. I've never been to that part of the states before.

— Ms Hill aka I Smile When I Want (@MissSilentTee) April 21, 2018
Me and a bunch of local artists are scrambling to put things together for people still making the trip. We know it's not the same as a big con, but hopefully we can still show everyone a great time and have opportunities for vending/panels/community building.

— Jordan Clark (@Jrsosa18) April 21, 2018
I hope those meetups include drafting complaints to state attorney general and maybe talking to a civil lawyer

— All the news that's fit, I'll print (@theta444) April 21, 2018
Nerds of Color and Black Heroes Matter, who were to attend the show, are attempting to put on a mini-event.
Baltimore Comic-Con is running their Spring Fling on the Sunday of next weekend, for free, with a handful of comics guests in a hotel ballroom. It's not the same kind of show, but it's there.
If you can be in the Philadelphia area and want to attend PhillyCon next weekend, they are offering free Friday tickets to FanCon ticket holders, as well as half off Sunday tickets to those who can provide proof of purchase of FanCon tickets.
Plenty more to come.
Enjoyed this article? Share it!