Alfred Pennyworth on Cocaine and Lex Luthor Has His Version of Alexa in The Batman's Grave #3 (Spoilers)
Yesterday I ran the theory that Bruce Wayne, in The Batman's Grave, is imagining Alfred Pennyworth. As Alfred Pennyworth is dead. Which may explain Pennyworth going a little off the rails in his commentary to Bruce Wayne – it is Bruce criticising himself.

You know that was 'tits' in the first draft, right? Batman Damned strikes again. But don't worry, Imaginary Alfred is only joshing.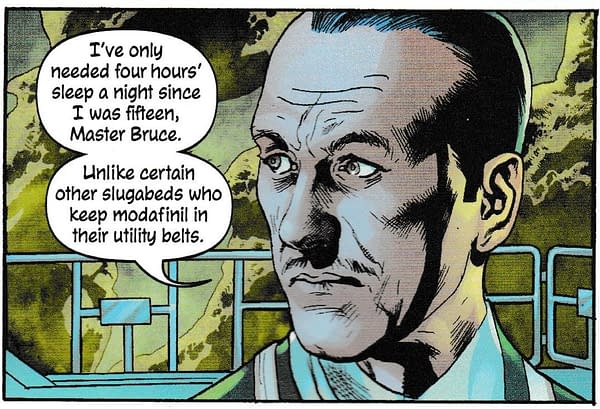 Man, Alfred is looking very familiar there. David Niven? Is Bruce Wayne imagining Alfred Pennyworth as David Niven? But there is more snark to come. When he's npt taking down capitalism, Batman is looking at the way Lex Luthor operates with a Lex-owned version of Alexa. Which is sadly not called Lexa, but comes close.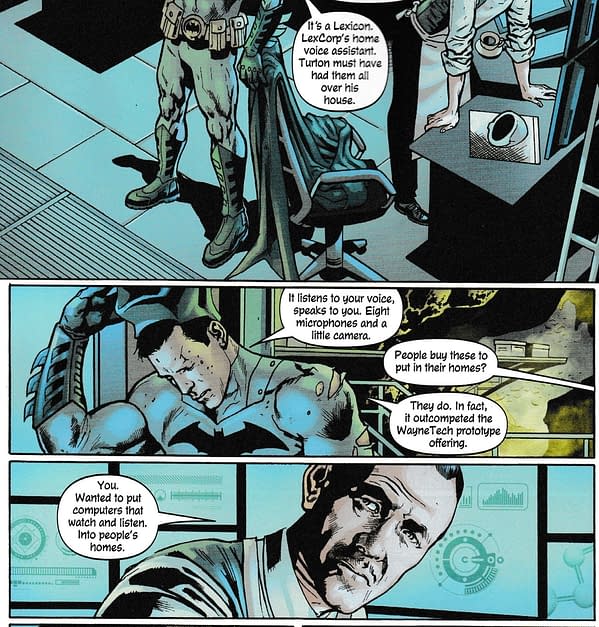 Lexicons, cameras and microphones in very home, that Luther uses to spy on the world. Must be those evils of dark capitalism that Alfred was going on about. And yes, Bruce Wayne wanted in…there but for the grace of Lex goes Batman. Got any of that imaginary cocaine to share, imaginary Alfred?
THE BATMAN'S GRAVE #3 (OF 12)
(W) Warren Ellis (A) Kevin Nowland (A/CA) Bryan Hitch
A corrupt politico dies by his own hand, but James Gordon is convinced there's something more to it. Now, it's time to ask for access to the Batman's resources. And that is why, right now, in a stately Gotham City mansion, the Batman is being beaten to death.In Shops: Dec 11, 2019
SRP: $3.99
The Batman's Grave #3 by Warren Ellis, Bryan Hitch, Kevin Nowlan and Alex Sinclair is published by DC Comics today in all good comic shops. I bought mine from Piranha Comics in Kingston-Upon-Thames. Piranha Comics is a small south London comic store chain with a small south-east store in Kingston-Upon Thames's market centre, which runs Magic The Gathering nights on Fridays, and a larger south-west store in Bromley, which also runs Magic nights and has an extensive back issue collection and an online store. If you are in the neighbourhood, check them out.