American Daredevil: The Fascinating Pre-History of Lev Gleason
I've long wondered if American periodical publishers Frederick Gleason and Lev Gleason were related. The parallels between the lives of the two men are compelling: Both lived in the same area for a time. Both were pioneering periodical publishers in their day. And both often employed their publishing apparatus in the service of their radical politics (The Know-Nothings in the case of Frederick, while Lev published and edited Communist Front magazines, and more stuff that is the subject for another day). Just as I'd completed this research, I was made aware that the eagerly-anticipated American Daredevil: Comics, Communism, and the Battles of Lev Gleason by Brett Dakin was recently published. I've picked up my copy and will be reviewing the book here shortly. But first, let's set the stage for what brought Lev Gleason and his family to that time and place in the world.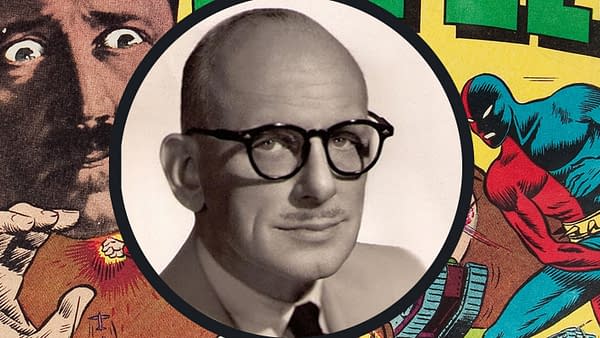 It turns out that Frederick and Lev Gleason are likely not related. Perhaps a very, very distant relationship that you'd have to go back farther than the seven generations I was able to go, to find. The matter was briefly made more complicated by a fascinating set of coincidences I found along the way, that appears to have confused newspaper editors in the 1800s just as much as it confused me for a while.
Lev's great-grandfather on his mother's side, a man named Thomas F. Eckert, was an engineer and an influential pioneer in the development and use of steamships in America. His achievements made him extremely wealthy, and later in life, he became a principal of the Western Insurance Company. A contemporary of his, Thomas T. Eckert, was an influential pioneer in the area of telegraphy. An associate of Samuel Morse, Thomas T. became Chief of the War Department Telegraph Staff and then United States Assistant Secretary of War during the Civil War. Later in life, he became president of Western Union. While Thomas F. and Thomas T. are not related, the name similarity, technical backgrounds, and Western Insurance / Western Union coincidence have proved too much for many newspapers, historians, and even government record-keepers to keep straight.
I was further drawn in here by the Morse connection. Morse was likely one of the principal financial backers of the Know-Nothings. As the Civil War was getting underway, his associate Thomas T. Eckert was accused of being a Union spy in North Carolina. He was acquitted, fled to the North, and immediately became responsible for the integrity of sensitive military and govt communications. That is a fascinating series of events I'm going to have to study more someday. Nevertheless, it's a coincidence to us here in the context of Lev Gleason.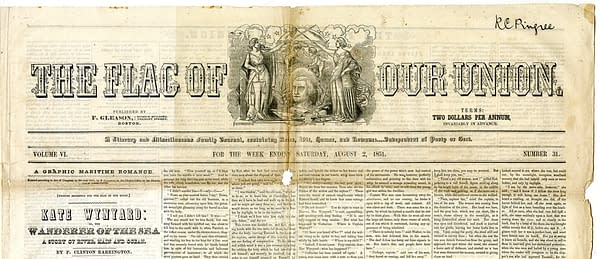 I had a research breakthrough when I found a 1921 letter in the Cincinnati Enquirer from Lev's mother Josephine Stone Gleason. The letter outlines some of the history of her family as she knew it, particularly in regards to her own father and grandfather. It's an impressive family history, but if anything, as we'll soon see — she was modest.
The first of Lev's direct line on his mother's side to come to America, George Eckert, came here during the colonial era. According to an entry in Ohio Biographical Sketches, 1787-1876, George was "a successful and opulent merchant. Deeming the new world better adapted to the raising of a family, and to offer greater inducements to capitalists, he loaded a brig at Hamburg with merchandise… and sailed to the United States."
George's son, Leonard, married Mary Chesire, and again according to Ohio Biographical Sketches: "daughter of Colonel William Cheshire, the revolutionary hero, who was killed by the fall of a tree while on duty near Bunker Hill. She was first cousin to Richard M. Johnson, Vice-President of the United States under Van Buren, who killed Tecumseh, and sustained the same relation to Daniel Boone, the distinguished Kentucky pioneer… She was the stepdaughter of John Nornavill, Washington's patriotic drum major."
While that all sounds historically impressive, and it certainly is, when you research people who lived during this period, you will find such connections as often than not.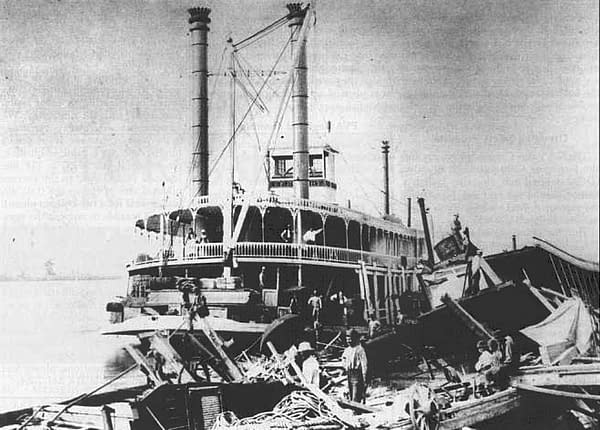 Lev's great-grandfather Thomas F. Eckert has a history even more impressive than his granddaughter outlines in the attached newspaper clipping. Once again from Ohio Biographical Sketches:
The name of Thomas F. Eckert had now become widely known among river men as one of the most skillful engineers and mechanics on the Western waters, and in the winter of 1832-33, when Colonel Robert Beveridge, of Florida, took a contract for carrying the mail three times a week from Apalachicola to Columbus, Georgia, he selected him to superintend the mechanical arrangements of his six boats.

After six months in this service he was detailed to go North to build a new boat; and, finding the yards and shops at Cincinnati already overrun, he proceeded to Wheeling, where he completed his task in the allotted time, and produced in 1833 the beautiful steamer "Andrew Jackson." At the expiration of the year he was commissioned to build the "Floridian;" in it he had one-fourth interest, and ran her a season on the Apalachicola and Chattahoochee rivers. Returning to Cincinnati in 1834 he built the "Hyperion," which he ran a season; and then followed the "Paul Jones," on the Ohio and Mississippi rivers, the "President," "Commodore," the second "Paul Jones," the second "Andrew Jackson" and the "Walnut Hills."

He left the latter in 1852 to retire to private life, having been engaged in steamboating twenty-two years, four as engineer and eighteen as captain; but he was not permitted to remain idle, for the Democrats elected him to the State Legislature in 1852 by an overwhelming majority. Among his distinguished services in that body was his authorship of "The Ten Hour System of Labor." After the expiration of his term he was elected President of the Western Insurance Company, then in its infancy, but which, under his management, has taken rank among the best in the country. To him the city is indebted for the magnificent avenue connecting it with Carthage, which, after years of patient labor, was thrown open to the public in 1861. His public spirit and indomitable enterprise has materially advanced the interests of the city, and he has done much to promote and perpetuate the river trade, so essential to the vitality of the mercantile interests of Cincinnati.
The 10-hour movement is worth further note in the context of this family history. This was part of a labor reform movement from the 1820s-1840s period, and led to early organized labor efforts. In 1840, President Martin Van Buren ordered a 10-hour workday for those employed on federal projects.
[Below: an article from Lev Gleason Communist Front magazine Friday vol. 2 #7, February 14, 1941.]
Fullscreen Mode
Lev Gleason, whose full name is Leverett Stone Gleason, was named after his grandfather on his mother's side, Leverett Stone. While Leverett Stone is described in the attached clip as a grocer, this appears to be understating the matter somewhat. Leverett Stone's firm "L & M Stone" is described in one Civil War-era history as "a leading forage contractor in Cincinnati." The firm provided corn, oats, and other grain to the federal government during the war, as can be seen in the Report of the Secretary of War, Contracts Made by the Quartermaster's Department, 1863-1865.
There's much more in the 1921 Cincinnati Enquirer clip below. While I do not claim that any of this serves to explain the Lev Gleason enigma, he's so little understood, and his background has been relatively underexplored up to now that it's perhaps at least a little something to build on.