Amy Chu has a Writer's Commentary on Red Sonja & Vampirella Meet Betty & Veronica #7 out now from Dynamite. She begins…
Ho ho ho! Hopefully you are all recovering from your holiday revels. If you're anything like me, maybe you're sitting on the couch a bit sluggish from eating too many sweets, feeling a bit like Jabba, and wondering what happened to the entire year. Well, don't fret. Stop watching Netflix, put down that game controller, and READ SOME COMICS!
So are you ready? Let's do this!
As always, let's take a moment to appreciate the covers. Say what you will about variants, but my comps just arrived a few days ago and I am pleased to see this issue has six, yes SIX awesome covers! I don't like to play favorites, and Laura Braga's cover is perfect in so many ways, but I had to chuckle at Robert Hack's clever Chick tract inspired variant.
Page 1: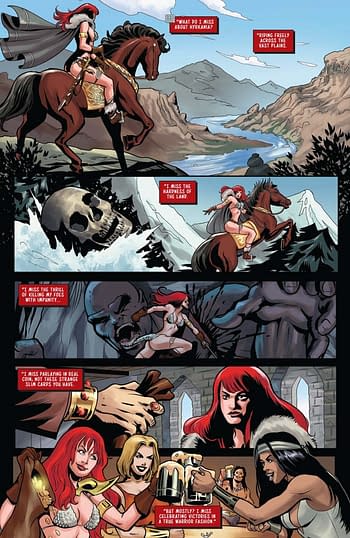 I really, really wanted to give the artist Maria Laura Sanapo a chance to draw more classic Red Sonja so we open with a little flashback. Happy artist, happy readers. A win-win if you ask me.
Page 2: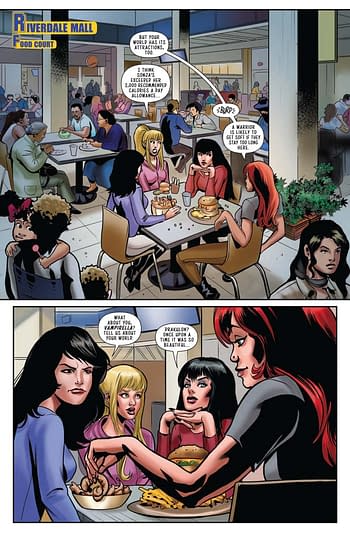 This is my favorite page, the food court scene. This little interaction between Sonja and Veronica wasn't in the script but added by the artist which I love. Veronica's expression is priceless!
Pages 3-4: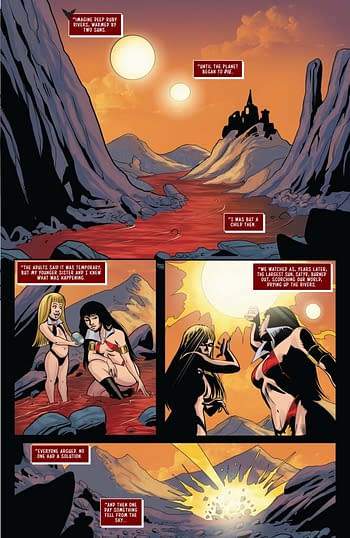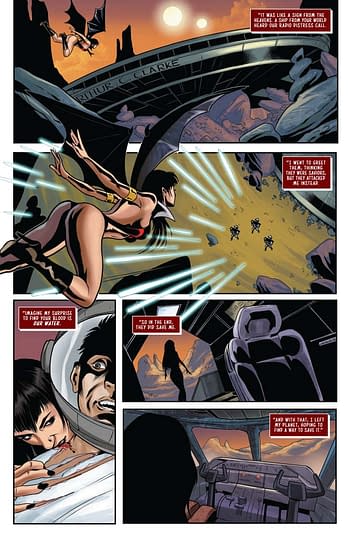 A Vampirella flashback. Finding Drakulon art references was harder than I thought. I'm not a big fan of the PDF – if I can get the original paper copy that's the way to go, but fortunately I found a new store nearby with boxes of Vampirella back issues galore. Shout out to Adrian at Dr. Wonder Comics for helping me out!
Pages 5-6: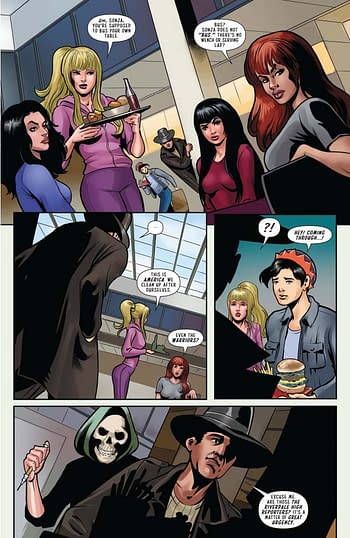 Letterer and fellow Kubert School instructor Taylor Esposito requested more Jughead, so here you go, Taylor. For you!
Page 7:
It's kind of a tall order to drop this kind of thing on the artist or letterer when they're rushing to finish the issue, so I decided to put a little extra effort and design a logo for Pulaski Pharma, so it could look properly corporate. I'm pretty pleased with myself! Fans will remember the name Pulaski from, yes… the first of the zany crossovers, Archie Meets Punisher. Please read it if you can find a copy.
Page 8:
I didn't start it off this way, but I couldn't resist putting more Dilton into this series. He is, after all, a geek after my own heart! This is also a little tiny shout out to the uber geek group the NSA which has its own internal comic con in case you didn't know (or maybe it's secret… whoops!)
Page 9:
Remember the days of microfiche? No? Oh well. Much easier to draw a computer screen anyway…
Page 10:
If you're wondering where this is headed, it always bothered me that Vampirella never really seemed to be thinking about the fate of her home planet.
Page 11:
No, that isn't the Apple Campus, but just something that LOOKS like the Apple Campus.
Page 12:
A note about Feebee, the robot is inspired by the real life robobees being developed at Harvard University. These mechanical critters are quite amazing! Check them out if you can.
Page 13:
The guard is reading a comic book, in case you're wondering. Which one? Use your imagination…
Page 14:
The character Jack Pulaski is a composite of real life and fictional personalities. But I was especially thinking of the CEO character Peter Weyland in Prometheus. You can watch his fictional TED Talk here:
Page 15:
So this scene turned out a little differently than I expected which is to be expected between writer and artist, unless we are of the Borg. I originally envisioned the remnants of the ship like the aftermath of a plane crash with lots of separate pieces numbered. But it was probably too literal. At least this way you know this is a ship!
Page 16:
Yes, Red Sonja fighting robots. There's not too many chances in one's career where this scene works. This was a late decision, otherwise I would have put it in the solicitation. Enjoy!
Page 17:
This was probably my least favorite and hardest page to write.
Page 18:
I thought Maria Laura handled this page very well. I had an idea for something like a Mario dungeon crawl but this was probably a better solution.
Page 19:
Yes, Drakulon! So there you have it. Get ready for a wild ride ahead!
If you haven't already, please, please add this to your pull list. I'm putting the final finishing touches on issue #10 now and it truly is a thrill to build out a new storyline with Sonja, Vampi, Betty and Ronnie. And don't forget that Dan Parent is drawing issue #9. You won't want to miss that one!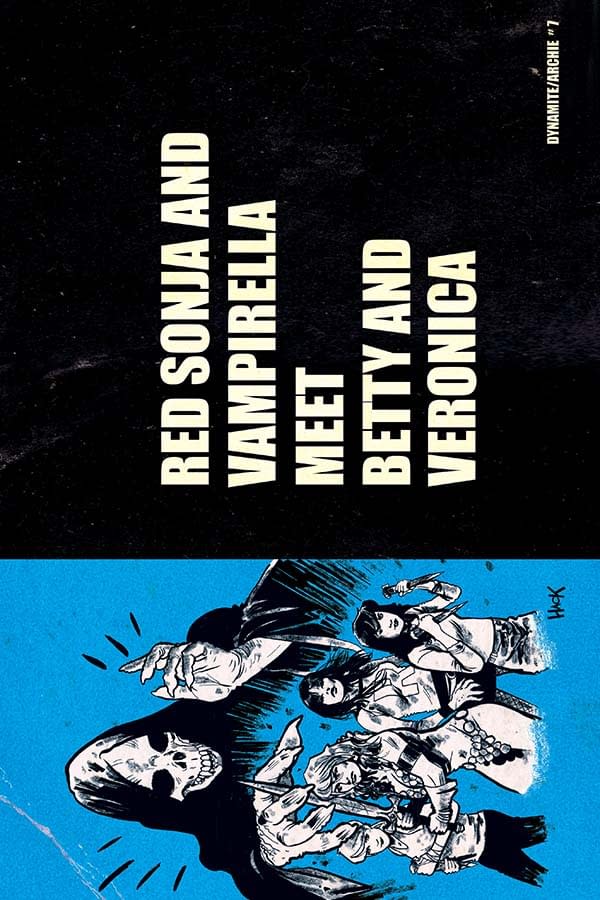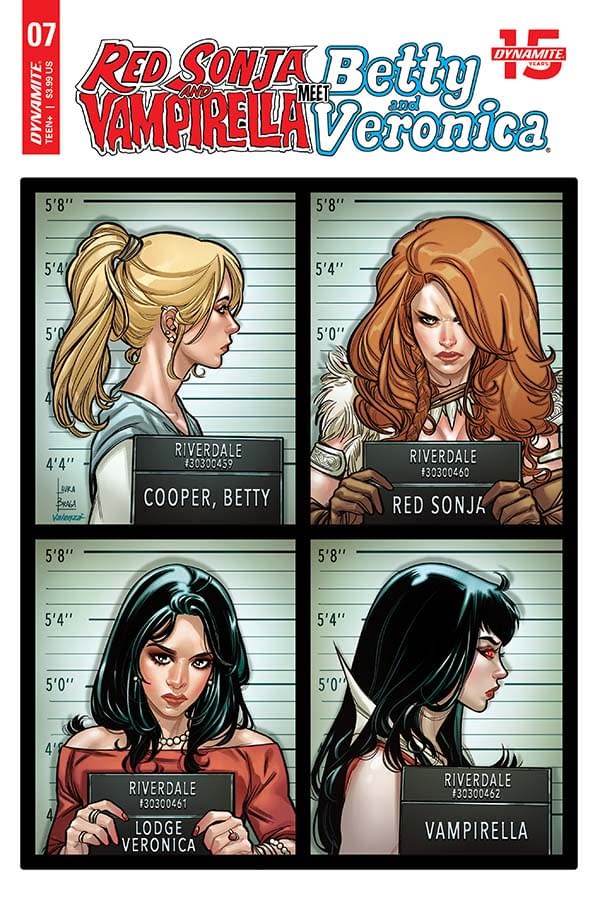 Enjoyed this article? Share it!