Andre The Giant: Closer To Heaven – 24 Trades Of Christmas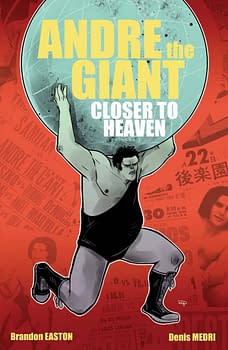 In my quest to find good trades and graphic novels to give as Christmas gifts, this one came to mind fairly quickly.
Andre Roussimoff may not be a household name, but if you add his moniker of 'The Giant', then suddenly everyone knows of whom you speak. I can think of only a handful of biography comics that really work… they don't usually match well to the format, but Andre The Giant: Closer to Heaven is the rare exception.
Told in the first person, Andre takes us through his life of growing up on a farm in the 1950's, reaching six-foot tall by the age of twelve and being told that being as tall as he was just made him closer to heaven. He was known for his size, 7 ft 4 in tall and 520 lbs. It earned him the title, 'the Eight Wonder of the World.' He would spend most of his short life in the public eye, gaining fame as a wrestler… feuding with Hulk Hogan… and fame for his role of Fezzik in The Princess Bride. He was even credited in the film as Andre the Giant. But with the fame his size brought him, it also brought him pain. He would suffer from constant back problems, not being able to walk after matches in his later career, and warnings that his heart could not handle his size.
The trade by writer Brandon Easton and artist Denis Medri takes us from his birth to his death and everywhere in between. Its a heartfelt tale of a man that everyone thought they knew. From Wrestling, to early TV to his final passing of heart failure in 1993, Andre was the prime example of Larger than Life but will still humble man through it all.
Andre The Giant: Closer To Heaven from IDW / Lion Forge Comics would be an obviously great gift for wrestling fans, but it would also appeal to fans of the Princess Bride or even the Six Million Dollar Man… Andre played Bigfoot in the series. But this book would also appeal to the people who like biographies. Easton and Medri do a superb job of telling a story that really feels like Andre is showing you his life and it's well worth the read.