Antarctic Press Launches Adrian Nelson's B.A.D.A.S.S. in October 2019 Solicits
Antarctic Press is launching a new series, B.A.D.A.S.S. from Adrian Nelson in October 2019. Previously kickstartered and published from Angel Comics in 2017, this marks it movement to the big time…Here's the solicit, along with everything else the publisher has planned for October.
BADASS #1 CVR A AUG191601
(W) Adrian Nelson (A/CA) Adrian Nelson
Agents of newly formed B.A.D.A.S.S.(Bureau of Alien Detection and Supernatural Sightings) scramble to contain a being classified as a Walking Pandemic. Recent recruit Sam gets to test the new abilities he's gained as a result of becoming an agent!
In Shops: Oct 30, 2019
SRP: $3.99
BADASS #1 CVR B BADASS #1 FIST FULL OF DOLLARS 5 PACK AUG191603
(W) Adrian Nelson (A/CA) Adrian Nelson
Time to see what the new team is made of, retailers! Show the customers how B.A.D.A.S.S. you are by stocking up with this fantastic 5-pack! (The special price will be our little secret.)
In Shops: Oct 30, 2019
Final Orders Due: Sep 06, 2019
SRP: $15.00
GOLD DIGGER #270 AUG191594
(W) Fred Perry (A) Fred Perry
Cast adrift into the Hollow of Time, Dreadwing's frail, deathly husk is approached by the Umbral Shadow which now threatens all of existence. This meeting is no accident; the Umbra has summoned Dreadwing for a purpose! Its command to Dreadwing: Destroy Negative Infinity! It is the one thing, the only thing that stands in its way! Faced with the choice of enslavement or oblivion, Dreadwing begrudgingly accepts the Umbra's terms. "Excellent!"
In Shops: Oct 30, 2019
SRP: $3.99
EXCITING COMICS #5 AUG191595
(W) Various (A) Various (CA) Brian Denham
Antarctic brings you more sensational stories of pulp-era heroes Black Jaq, Crimson Scorpion and Crimebuster 76, reimagined and created anew for the modern day! Thrill to yet more pulse-pounding adventures in every issue of Exciting!
In Shops: Oct 30, 2019
SRP: $3.99
WILLIAM LAST SHADOWS OF CROWN #4 AUG191596
(W) Brian Shearer (A) Brian Shearer
ALL AGES!
William discovers more than he bargained for when he learns the meaning of his vision. Meanwhile, Ella grows weaker from her mysterious illness and the Hawk-Riders prepare for war.
In Shops: Oct 30, 2019
SRP: $3.99
COOKIE & KID #4 (OF 6) AUG191597
(W) Alex Kosakowski (A) Alex Kosakowski
Desperate to find the Kid's lost dog before sundown, Cookie and his friends take to the skies on the backs of Beetleflies to seek the help of the mysterious Bogwitch. Meanwhile, unknown to them, the old grouch Griks glays a trap to catch the dog himself!
In Shops: Oct 30, 2019
SRP: $3.99
TEETHER #3 (OF 4) (RES)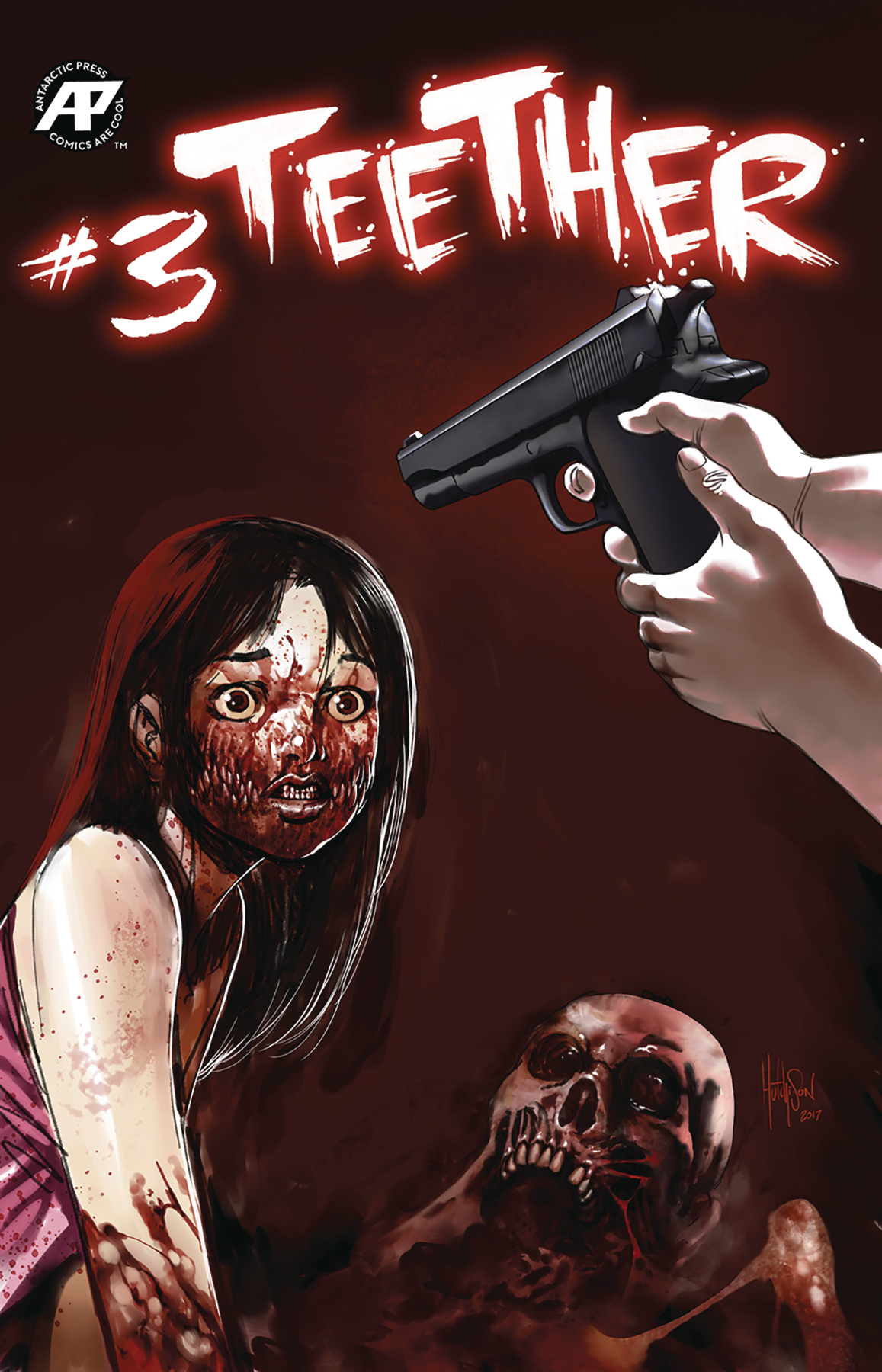 AUG191598
(W) David Hutchison (A/CA) David Hutchison
"Who goes there?"
As Lilly comes closer to getting her revenge, her hunger grows more monstrous. Any hopes Dillon had of getting through to her start to fade, and he begins to wonder if Lilly will stop even if she gets what she wants. As Dillon weighs his options, his "friends" are making plans of their own, and those plans start with the gun Dillon brought to school!
In Shops: TBD
SRP: $3.99
TEETHER #1 (OF 4) FOREST OF FEAR ONYX VAR CVR AUG191599
(W) David Hutchinson (A) David Hutchinson (CA) Kelsey Shannon
Dillon Brown thinks he's made a friend with new transfer student Lilly Quist. But when the grisly remains of local kids appear, he starts to suspect the new girl has something to do with it. Soon Dillon realizes that an ancient, endless hunger has come to Carol Hill, Indiana in the form of a 10-year-old girl. He and his classmates now have to stop Lilly's vicious, gore-drenched feast before it's too late. But the secrets behind Lilly's rage might just be more terrifying than Lilly herself!
Did you miss this issue the first time? Don't worry, we have you covered with this new edition, featuring a cover by Kelsey Shannon!
In Shops: Oct 30, 2019
SRP: $3.99
TEETHER #2 (OF 4) CHEEKY ONYX VAR CVR AUG191600
(W) David Hutchison (A) David Hutchison
"In the Mouth of Madness"
Dillon Brown knows the partially eaten corpse in the boys' restroom is only the beginning, but no one is going to believe Lilly Quist had anything to do with it. With Carol Hill Elementary on lockdown, Lilly's next victim is in arm's reach. Dillon can only pray the police get to them in time, but Lilly isn't the only monster on the prowl, and the police have problems of their own.
If you missed getting this issue the first time, getting it now won't require biting off more than you can chew. Just sink your choppers into this tasty new cover edition!
In Shops: Oct 30, 2019
SRP: $3.99
STRONG BOX BIG BAD BOOK OF BOON #5 (OF 8) AUG191604
(W) H Thomas Altman (A) Sebastian Sala
"CALL ME THE HUNT3R"
Following a catastrophic first outing with the Savance, Frank Boon questions his allegiance with them as both parties struggle to maintain dark and terrible secrets from one another to ensure mutual preservation. Meanwhile, Dixon's sadistic surge of fury leads him to his next cursed victim in the Circle of the Bitten…
In Shops: Oct 30, 2019
SRP: $3.99
SCRATCHER #2
AUG191605
(W) John Ward (A) Juan Romera
Dee heads to Los Angeles to find her client Jerry Jones, a conflicted young preacher, who refuses her help. She reluctantly joins forces with Hugo, an unorthodox scientist who knows about the tattoos and believes he has the answers. Dee and Hugo must now work together to try and save Jerry before he turns on them!
In Shops: Oct 30, 2019
SRP: $3.99
DOG EATERS #2 AUG191606
(W) Malcolm Wong (A) Guillermo A. Angel
While Bevan recovers from the Roach ambush, the Black Dog Clan enjoys a day and night in Three Palms, a small casino-city. Tommy impresses a city girl by winning a poker game but makes a powerful enemy.
In Shops: Oct 30, 2019
SRP: $3.99
LEAVE ON THE LIGHT #3 (OF 3) CVR A AUG191607
(W) Bradley Golden, George Aguilar (A) Stan Yak (CA) Helmut Racho, Oscar Pinto
FINAL ISSUE!
Despite how impossible it is for The Butcher to be a threat after his death, Sara Mckinney and Gary Marshall come to terms that the serial killings are indeed his method. Now they face his supernatural threat. But how do you defeat someone who even the death penalty couldn't stop?
In Shops: Oct 30, 2019
SRP: $3.99
LEAVE ON THE LIGHT #3 (OF 3) CVR B FOIL VAR