German-owned publisher Business Insider has commissioned a comic book from Anthony Del Col and Josh Adams to tell the full story of, as the publisher puts it 'why Trump was impeached, and what he got away with.'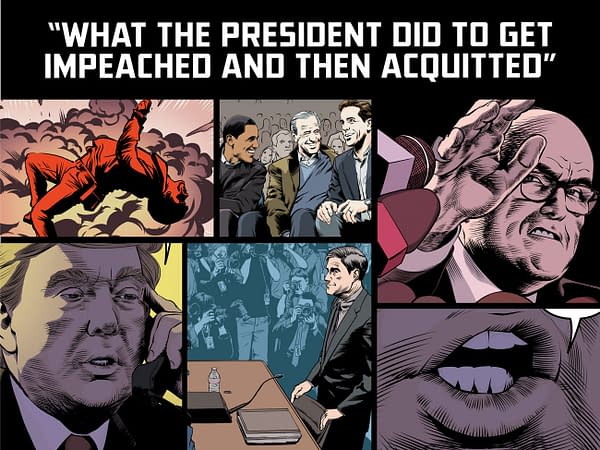 Josh Adams, son of Neal Adams, has worked on titles such as Doctor Who, Green Arrow, House Of Mystery and Superman as well as design work for shows on the Syfy Channel. He's also occasionally written for Bleeding Cool. Anthony Del Col is best known for co-creating the Kill Shakespeare franchise at IDW, writing Assassins Guild at Titan Comics and Nancy Drew and Sherlock Holmes comics at Dynamite. The piece begins,
In November, 2019, President Trump became the third man in the history of the United States to be impeached.. The story of why that happened, and what he was accused of, spans oceans, features an enormous cast, and runs the course of his entire presidency. To help the American people understand precisely what happened, Insider hired Anthony Del Col and Josh Adams to tell this story. All of what's contained in here are illustrations of real events. The original reporting is outlined beneath the comic.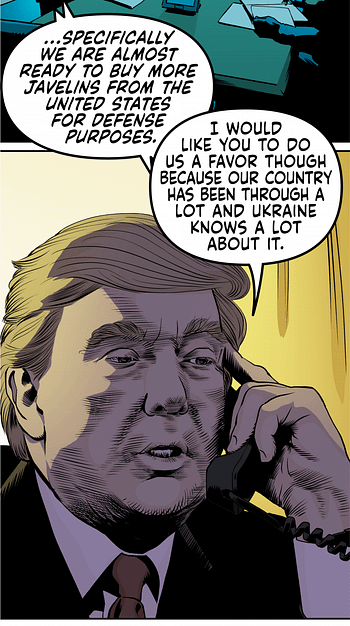 Here are those reference points:
Enjoyed this article? Share it!