We knew that the new Aquaman creative team of Kelly Sue DeConnick and Robson Rocha were going to bring big changes to Aquaman, but we didn't realize they'd be this big! It looks the Marvel and DC Universes may crossover once again for the first time since Avengers vs. JLA, at least if the cover to Aquaman #46 is any indication.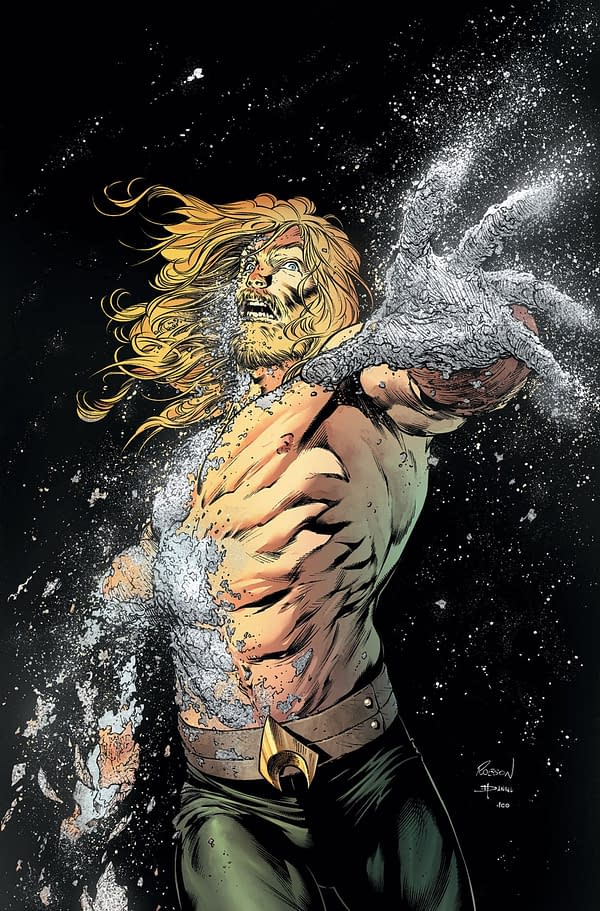 It certainly looks like Aquaman is a victim of Thanos's finger-snap from the end of Avengers: Infinity War. Does this mean that the Mad Titan has come to the DC Universe?
Well, the solicit seems to indicate someone else may be to blame. But sometimes, solicits lie, at least as often as clickbait articles.
Aquaman #46 hits stores on March 20th.
AQUAMAN #46
written by KELLY SUE DeCONNICK
art and cover by ROBSON ROCHA and DANIEL HENRIQUES
variant cover by ESTEBAN MAROTO
Trapped on Namma's island with nowhere to run, the amnesiac Aquaman must
protect Caille from her mother, who aims to reach her full power at the cost of Caille's life! Will Aquaman hold his own against the mother of all gods and retrieve his lost memories? Or will Aquaman turn to salt at her hand?
ON SALE 03.20.19
$3.99 US | 32 PAGES
FC | RATED T
This issue will ship with two covers.
Please see the order form for details.
Enjoyed this article? Share it!