Art Spiegelman's Maus Back In Bestseller Charts After Classroom Ban
Forty-two years after it was first released, Art Spiegelman's Maus is currently the twelfth best-selling graphic novel on Amazon.com for Book One, and 13th for the Complete Maus. I wonder why? Well, it's all thanks to a school board in McMinn County, Tennessee which unanimously voted to remove Maus, the only graphic novel to win the Pulitzer Prize for literature, from the language arts curriculum, citing concerns over profanity and female nudity.
Bleeding Cool has been covering a number of graphic novels that have been repeatedly challenged in recent years by school governors, parents and libraries, with a heavy focus on comics that deal with racism, antisemitism, feminist or gay content. But this time it seems that the media is responding more than usual, possibly because Maus is such a treasured and famous volume. You can read the full transcript of their meeting and their voting decisions right here.
The group first discuss whether Maus can be censored, removing the word "bitch" or use of "God" or "damn" as expletives, as well as an image that featured a naked woman. The image does not appear in a titillating fashion, and the comic book is hardly graphic in its terms of language, but this was enough of an excuse for the board to remove the book from the syllabus.
However, there is nuance in the discussion. It's not all "burn this book", but the discussion in the transcript shows how this decision was arrived at, the mentality of those behind it. Julie Goodwin and Tony Allman of the board fight over this, but in the end they all vote for its removal.
Julie Goodwin: I can talk of the history, I was a history teacher and there is nothing pretty about the Holocaust and for me this was a great way to depict a horrific time in history. Mr. Spiegelman did his very best to depict his mother passing away and we are almost 80 years away. It's hard for this generation, these kids don't even know 9/11, they were not even born. For me this was his way to convey the message. Are the words objectionable? Yes, there is no one that thinks they aren't but by taking away the first part, it's not changing the meaning of what he is trying to portray and copyright.

Tony Allman: I understand that on tv and maybe at home these kids hear worse, but we are talking about things that if a student went down the hallway and said this, our disciplinary policy says they can be disciplined, and rightfully so. And we are teaching this and going against policy?

Melasawn Knight: I think any time you are teaching something from history, people did hang from trees, people did commit suicide and people were killed, over six million were murdered. I think the author is portraying that because it is a true story about his father that lived through that. He is trying to portray that the best he can with the language that he chooses that would relate to that time, maybe to help
people who haven't been in that aspect in time to actually relate to the horrors of it. Is the language objectionable? Sure. I think that is how he uses that language to portray that.

Tony Allman: I am not denying it was horrible, brutal, and cruel. It's like when you're watching tv and a cuss word or nude scene comes on it would be the same movie without it. Well, this would be the same book without it. I may be wrong, but this guy that created the artwork used to do the graphics for Playboy. You can look at his history, and we're letting him do graphics in books for students in elementary school. If I had a child in the eighth grade, this ain't happening. If I had to move him out and homeschool him or put him somewhere else, this is not happening.

Julie Goodin– Even for me Mr. Allman, you know I have an eighth grader and even if you did pull this book I would want him to read it because we have to teach our kids. Are these words ok? No, not at all that is not acceptable, but the problem is that we are 80 years removed from the Holocaust itself. I just think this is a grave starting point for our teachers. I am very passionate about history, and I would hate to rob our kids of this opportunity. Are we going to be teaching these words outside of this book as vocabulary words? No, you know me better than that Tony Allman.

Tony Allman- I know and I am not being argumentative, I am just trying to wrap my mind around because if a student sitting in the cafeteria decides to read this out loud and complete the sentences, what are you going to do? It's in the book you're teaching them so what are you going to do?

Melasawn Knight– We can say that the students know what that means, but they know what that means if they have been exposed to it prior to. The B word doesn't have to mean that unless you have been exposed to it before. It's not like we are teaching that or exposing them to that. We are trying our best to redact the best we can and follow the law and that is what we felt like we have done to address the concerns of that language, the best we could. We think it is a valuable book and most of the supervisors here have read it.
We also learn from Stephen Brady, how Maus was being used in the school syllabus in the third year. He is quoted as saying
Stephen Brady: The task that students do at the end of this module, after they spend a couple months talking about the
Holocaust, studying this project that they do that shows they understand what went on, they will write their own narrative and pretend that they have interviewed a holocaust upstander. They are going to create graphic novel panels to visually represent a section of their narrative and they will present that to their peers. You have all these standards that we saw earlier are addressed through this project. Last part, how do we get there? Well, here's out text. So, our anchor text is Maus, and we have all these supplemental things that we look at throughout this module that build to that anchor text. We look at interviews from Holocaust survivors, news articles from BBC, Los Angeles Times, Guardian, survivor stories, and excerpts from other books. There is even a section where we go to the Jewish Virtual Library and look at some selections from that. All of these go to build that background knowledge, it's grade level appropriate for our students. For example, we wouldn't bring in the Diary of Anne Frank book at this point because that is written at a roughly fourth, fifth grade level. Beyond what we do in the module, beyond just addressing the standards and teaching that, there is one more piece to this curriculum that we forget about, that we kind of brush over but it's really important. There is an opportunity in this curriculum for us to teach habits of character.
The notes make for fascinating, if depressing, reading. The decision is more subtle and nuanced than represented elsewhere, but it also demonstrates a very limited scope for thinking, for context, for literature and history. It's an incredibly blinkered scope that leads to one conclusion that everyone goes along with. You are welcome to draw whatever comparisons you wish.
Attorney Jeff Trexler, interim director of the Comic Book Legal Defense Fund, whose charity has been challenging many of these bans said in a statement to Newsweek that the ban "illustrates why it's so important for students to be able to learn analytical thinking through the interpretation of graphic novels. Being able to understand the fusion of word and image is essential to 21st century literacy. Yet if we fail to recognize how this interplay of word and image works, we set ourselves up to make decisions that run counter to our core civic values, just as this school has done."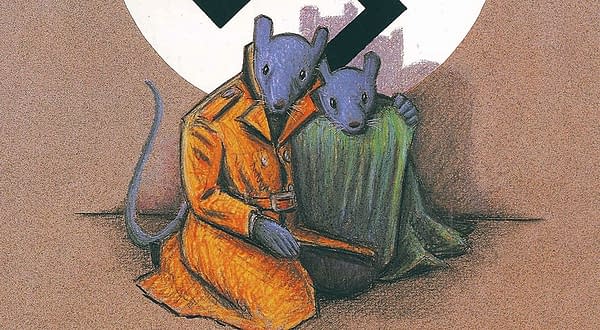 And the reason why Maus may be rising up the charts is not just publicity, but that people are buying copies in the county who may be missing out on Maus.
Ryan Higgins, owner of Comics Conspiracy, a comic book store in Sunnyvale, California, tweeted "As I've offered before with other banned comics, I'll donate up to 100 copies of The Complete Maus to any family in the Mcminn County area in Tennessee. Just DM me your address!"
Writer Gary Whitta added : I will match this. DMs are temporarily open, send me your McMinn County mailing address and I'll have a copy of THE COMPLETE MAUS shipped to you.
Amanda Segel wrote "Are you a parent or student in the Mcminn County School district and think book banning is for Fascists? Would you like to read Maus? I'll buy copies for the first 25 people to DM me w/proof of residence."
Steven DeKnight responded "I'll match Amanda's 25. If she's full up, DM me with proof of residency in the McMinn School District and I'll the first 25 a free copy of Maus. Banning books is the realm of fascists!"
Mitch Gerads: Anyone in Mcminn County need a copy of the Pulitzer Prize-winning graphic novel about the holocaust, MAUS? I'd love to send out a few. Kids, you're the future, not these backwater olds. Don't stand for it.
Holly Anderson: McMinn is about an hour south of where I grew up, and on a related note, I'll be donating multiple copies of Maus to the county library tonight
And comic book folk have been adding their take and support for Maus.
Neil Gaiman: "There's only one kind of people who would vote to ban Maus, whatever they are calling themselves these days."
Zack Davisson: We all know what kind of people vote to ban MAUS.
Tom King: Maus is one of—if not the—greatest works of graphic storytelling ever. It is horrifying and beautiful, bombastic and subtle, universal and yet incredibly personal. It should be read and it should be taught.
Alex Slater: We're just gonna move on to the next news cycle tomorrow knowing they're starting to ban MAUS? MAUS!
Derf Backderf: The ban of Maus from a Tenn. school is getting media traction that the previous 6 MONTHS of graphic novel purges from various Red State schools have not. That irks me, because I've been posting about this since last Aug, but glad people are waking up. And, in case the banning of Maus again stirs up the recent criticism of Spiegelman from parts of comicdom (old rich white guy, who cares? blah blah), almost all of the MANY school purges of GNs recently have been Queer Comics. Don't fool yourselves. This is important. Perhaps banning Spiegelman gets us bigtime media attention at last, and finally stirs up widespread opposition to this shit. I feel as if I've been shouting into the wind since last Aug. when MY book was purged in Texas.
Brian J Crowley: The continuing fight against teaching history in our country is disgusting and troubling:
Ryan Parrott: If for some insane reason you haven't read "MAUS" yet, please… it's a masterpiece. I remember getting assigned it in college and being excited that I simply got to read a comic for homework. I was not prepared for how absolutely fantastic it was. Please. Enjoy.
Jordan Blum: Have been trying to figure how to explain our history to my son. This news piece reminded me how perfect Maus is. Just ordered a copy for our home.
Borys Kit: MAUS, the influential graphic novel about the Holocaust, was banned by a Tennessee school board Wednesday. The latest in a rise of book banning in school and public libraries in many parts of the US.
Rik Worth: So nuts. If I had my way Maus would be a core text on the curriculum. But then again I'm not some crazy ultra-christian, conservative, antisemite so what do I know?
Reilly Brown: So wait, was Maus banned from that one place because it was a comic, or because it tells a true story about the Holocaust? And which reason ticks me off more?
Will the county change its mind? Will other challenges to Maus and other graphic novels receive such publicity?