We looked quite hard at Arthur Suydam's DCeased #4 variant cover for Comic Hero University, pointed out how rather than being a zombie homage to Brian Bolland's cover to The Killing Joke, it was basically a repurposing of a cosplay photo by Anthony Misiano, known as Harley's Joker, and one that was not owned by DC Comics. We reported Arthur Suydam's response to this claim, as well as the news that he had approached the cosplayer after our article to come to some arrangement. We don't yet know the outcome of all this.
But it also drew our attention to his DCeased #2 variant cover for Comic Hero University.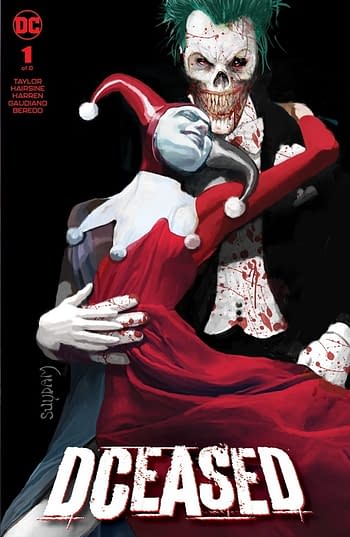 A take on the classic Alex Ross image of the Joker and Harley Quinn, published by DC Comics.
Anthony Misiano has also recreated that in cosplay so we checked…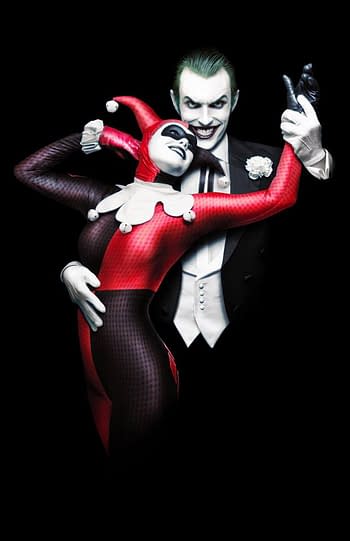 …but Suydam didn't use this image. Or directly lift Alex Ross' original pose. Instead, he used another recreation of this scene from the Suicide Squad movie.
And Margot Robbie's face appears to have been grabbed for this retailer variant cover.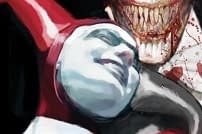 You can even make out what appear to be the lines where someone used the Photoshop lasso tool to cut it out of the screen grab… Now Warners also owns Suicide Squad – they made it after all. But what deal dd Margot make over the use of likeness rights?
Enjoyed this article? Share it!