Superman Will Outlive Those He Loves, but Lex Luthor Will Be There at the End – the Awesome Con Action Comics #1000 Panel with Tom King, Scott Snyder, Paul Levitz, and Dan Jurgens
Devon Sanders writes:
Awesome Con in Washington DC brought together some DC Comics' best and most legendary talent to talk about their landmark Action Comics #1000 issue. The Action Comics #1000 panel was moderated by The Washington Post reporter David Betancourt, and on stage were Tom King, Clay Mann, Dan Jurgens, Paul Levitz, and Scott Snyder (who arrived late but is forgiven for blowing me away with his answers).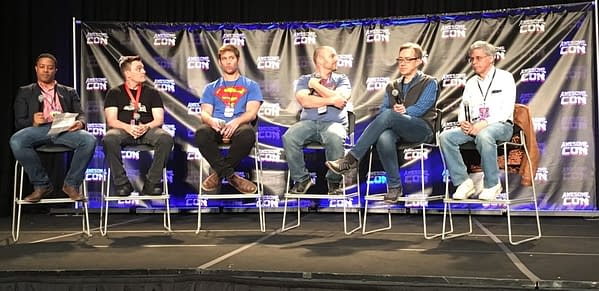 Paul Levitz is asked if he's amazed that Superman has remained relevant enough to have made it to a thousand issues. Levitz answers that he finds it amazing that anything from the popular culture of 1938 is still relevant today. What was cool then isn't cool now, noting that movies from 1938 are still viewed but seen as artifacts of their time. People are still excited about Superman 80 years later and still looking forward to where Superman can go past Action Comics #1001.
Next, Dan Jurgens is asked if he could've imagined, over a quarter of a century ago, while working on The Death of Superman, that he'd someday be working on Action Comics #1000. Jurgens flatly says he couldn't have imagined being there because as a writer and artist, you're just trying to put the latest issue you're working on to bed and move on to the next one. A thousand wasn't even a thing he could conceive, even when he took over Action well into its 900-plus issues.
Tom King is asked about his recent Superman/Batman double-date issue wherein Lois Lane and Catwoman get to know one another better. King notes that he feels like a hypocrite even being on a Superman panel. Once, he was on an all-Batman panel and and took multiple digs at Superman — after that, he felt like if he wrote any Superman, people would call him out. He notes that Batman is a lot easier to write because he says what needs saying and hits what needs hitting. Superman is more nuanced, and it's challenging because it forces you to find what's wonderful about the character.
Clay Mann is asked if he was excited about drawing a story with King for Action #1000. He says when he came on to Action as a cover artist for Dan's run he had no idea he'd be there for #1000. Mann notes that this isn't a good question for him because he's really just doing what he's told. Mann says nothing else for the rest of the panel.
King is asked about his reaction to being asked to participate in Action #1000. He notes that when he took the assignment, he did so enthusiastically because it's Action #1000 — and then the terror set in, because he had to actually make it good and do so in five pages. King asks Jurgens how many pages he got. Jurgens: "Fifteen." Page envy on the panel.
Betancourt brings up comics renumbering, and Jurgens notes that numbering is important in an industry constantly rebranding itself through numbers. Jurgens says that no better statement about the strength of Action Comics can be made by simply letting be its 1000th issue.
Levitz is asked about how the best ways to approach a Superman story. Levitz notes that with Batman, you simply have to ask a question and wait for him to solve it. With Superman, you have to go deeper. You have to find the drama of what it means to take on Doomsday and realize that you can't do that every month. You have to find new ways to deal with moral dilemmas and know that all the powers in the universe can't help you solve certain situations.
Jurgens talks up Brian Michael Bendis's upcoming run on Action Comics and Superman and finds himself, as a Superman fan, excited about what he has planned for it.
Jurgens is asked about Superman being a father now and how it affects the stories being told. Jurgens contrasts it with Batman and how he's almost always had a Robin. What it did for Batman was provide a way to change Batman's relationship to the world through his being a sort of caregiver. With Superman now having a son, we have new ways to ask the question, "Who is Superman?"
The panel is asked about how big of a role Clark Kent plays into the identity of Superman. Levitz notes that we are Clark Kent in some ways. We all hide ourselves and secretly wish that everyone will realize the value we have within. Clark Kent is us and one of the greatest creations Jerry Seigel and Joe Shuster gave comics. Levitz notes that who we are with our children isn't who we are with our parents. Clark Kent is our subtlety.
Scott Snyder joins the panel and is asked about his work on Superman. Snyder sheepishly postpones the answer and apologizes for his lateness — he was signing and got lost. Understandable, the convention center is truly the size of a huge city block. Prepare yourselves: Snyder goes super deep on this one, noting that the greatest misconception you can make when writing Superman is that you think he knows what he's being all of the time. No — he makes the decision he has to make at the time. He makes the moral choice and hopes it was the right one. Snyder notes that Superman knows that his life as Clark Kent will end someday and that Superman will outlive him and everyone he cares about. Brutal. Yet, he knows that Clark Kent must go into this world and continue to speak truths into power.
Betancourt notes that Detective Comics will reach the 1000 mark next year, and Snyder says that we're in a Golden Age of Superman storytelling. He mentions Jurgens's Action Comics and Peter Tomasi and Patrick Gleason's Superman work and just how much he's enjoying it. He also calls what Bendis has planned "phenomenal."
We then move on to an audience Q&A, and they're asked a really great question about whether Clark Kent's role as a reporter will gain prominence in his ongoing story as politicians and corporate interests aim to diminish and discredit the fourth estate. Jurgens says that he believes this will be a major element of the story Bendis wants to tell.
Someone asks about which villain would end Superman. Snyder says that if Lex Luthor was there at the beginning, he'll be there at the end.
An aspiring writer asks for tips on how to break into comics, and Levitz gives one of the best anecdotes about writing I've ever heard: What you do for anyone in the creative arts is ask them to bang their head against the brick wall until it breaks. At that point, having determined that they're sincere, you see if they have any talent. Write every day, send it to as many people as you can, get published. It's easier to review published work. Talk to every writer and editor you can, and be prepared for hardship. When your parents ask, "Why can't you do something safe?" remember that they have your heart in mind. But it's a wonderful way to live if you can get away with it, and we welcome everyone who can.
Devon Sanders is 6'5" and doesn't care what the evidence before him says. You can find him on Twitter at @devonsanders.