Bandersnatched: Black Mirror Vs Nightmare World
Dirk Manning writes…
I think the worst fear of most writers is not so much that they'll never get noticed/discovered/published as much as it is getting their work usurped by someone with more clout and notoriety…
As was the case that has potentially just happened to me via the new Black Mirror: Bandersnatch.
More on that in a moment, though. First, let me state for the record that fear of getting your "ideas stolen" is oftentimes dismissed as an irrational one by most published writers, myself included, because ultimately there are only so many ideas out there, and any writer worth their salt will be the first to tell you that it's usually the execution of an idea that makes the story unique rather than the idea itself.
Given this, as I started to watch Bandersnatch, the latest episode of Black Mirror (which – in news that will come as no surprise to anyone who is familiar with my extensive library of published work – is one of my favorite television series), I had to chuckle to myself as I started to see thematic similarities between the choose-your-own-adventure story of a man who realizes he's really just a video game character being controlled by outside forces (in this case the viewers themselves) and my own story titled "The Day I Tried to Live" from my horror comic anthology series Nightmare World. Nightmare Worldwas first self-published online in the early to mid-2000s before then getting out into syndication at the website Soul Geek, and then getting picked-up again for both online webcomic syndication and print in graphic novel format by Jim Valentino's Shadowline imprint of Image Comics. Most recently the whole series was collected into a hardcover Nightmare World Omnibus format as part of a record-setting Kickstarter campaign for Devil's Due Publishing.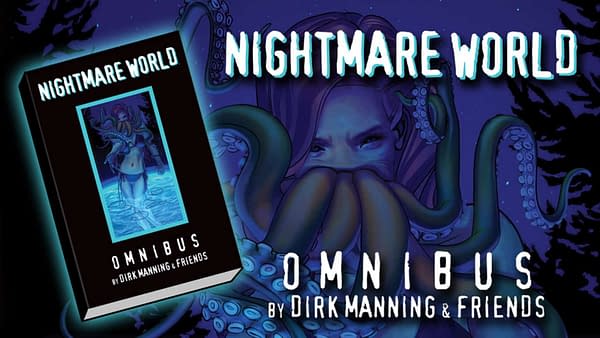 None of this is humble-bragging, mind you: I'm just saying that "The Day I Tried to Live" – which was written by me, illustrated by Jason Meek, colored by Dominic Marco, and lettered by Jim Reddington –has been out there – as has the whole NIGHTMARE WORLD series – in the public eye through a variety of formats and publishers for quite some time.
So, yeah… there are no new ideas out there, and I'm certainly not going to claim that I was the first one to ever use the trope of "fictional character realizes he's being controlled by an external creator" – even in comics. (For example, Grant Morrison used this same concept a few times in his now legendary run on DC's ANIMAL MAN.)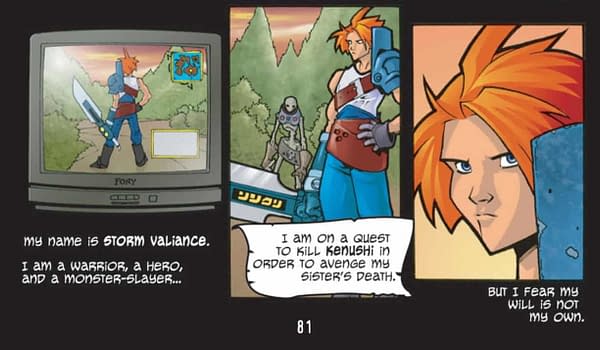 However, as Bandersnatch went on I started to find that not only the plot, but the theme, became more and more reminiscent of my story… and then Colin, the first character in Bandersnatch who's aware he's really just a video game character – starts to make this speech as part of an LSD-fueled tirade: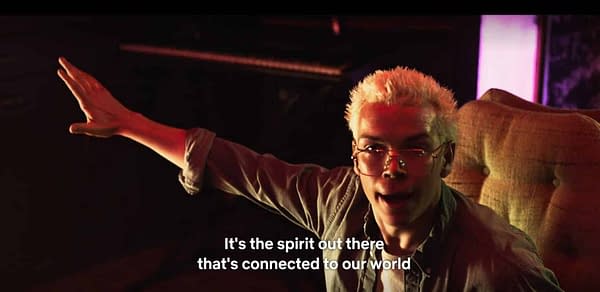 "When you make a decision you think it's you doing it, but it's not. It's the spirit out there that's connected to our world that decides what we do, and we just have to go along for the ride."
He then compares PAC-MAN to being a guy chased by his own demons (itself a concept already explored and made Internet famous in the T-shirt design and story "The Madness of Mission 6" by TeeFury user "Trevor76")
…before going on with a line of dialogue that made my jump off my couch: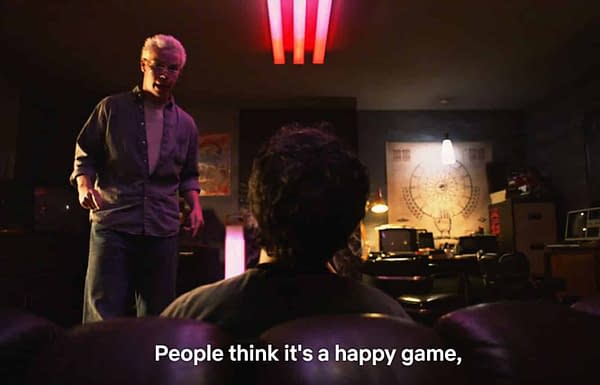 "People think it's a happy game. It's not a happy game. It's not. It's a f**cking nightmare world, and the worse thing is that it's real and we live in it."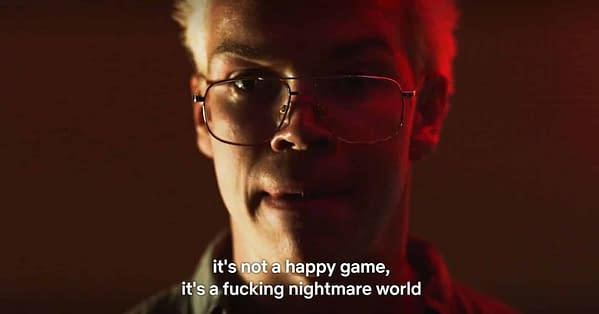 The cheeky reference to my comic series Nightmare World, the same series from which the Bandersnatch story was at this point seemingly pretty clearly cribbed, was bad enough… but the episode took it one step farther by actually reworking the wink-and-nod line from a second Nightmare World story of mine titled Somebody Told Me, written by me, illustrated by Josh Ross, colored by Paul Little, and lettered by Jim Reddington. The last lines of this story, which serves as the ending of the whole series, goes: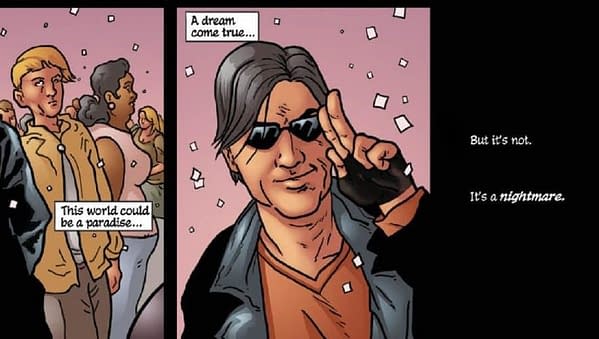 "This world could be a paradise… a dream come true. But it's not. It's a nightmare. We all live in nightmare."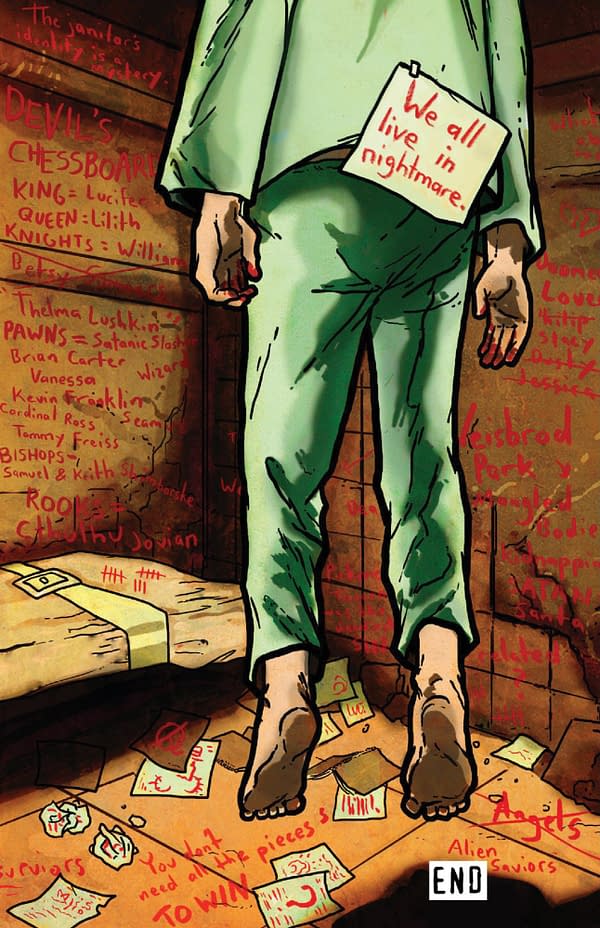 (Full Disclosure: "Somebody Told Me" originally served as the 52nd and final story of all the online incarnations of the NIGHTMARE WORLD series before then resurfacing in print for the first time ever as part of THE NIGHTMARENOMICON companion book to the NIGHTMARE WORLD OMNIBUS. For the time being, THE NIGHTMARENOMICON remains in print only as a Kickstarter or convention exclusive purchase from me directly, although, again, the online version of the story was published via various formats online and easily accessible/readable to anyone with access to the Internet and had an interest in the horror anthology stories for about a decade.)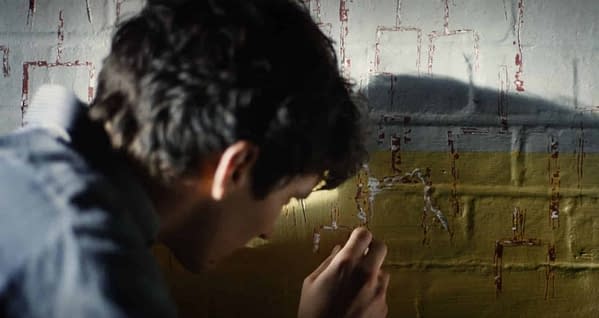 Finally, and perhaps most interestingly, is the whole "shared universe" concept. For those who aren't familiar with NIGHTMARE WORLD, it's a collection of 52 seemingly stand-alone eight-page genre-hopping horror-based stories that, over the course of the series, all slowly weave together into one giant uber-story that reveals they all take place in a shared universe, with the actions of characters in certain stories having major impacts on the characters and events in other stories. While BLACK MIRROR has historically stayed away from this approach (aside from very minor tongue-in-cheek Easter Eggs, most noticeably in the museum-based episode "Black Mirror, White Christmas," "Bandersnatch" goes in a complete 180 to this precedent, with full-blown and seemingly in-continuity references to "Metal Head" (another episode by the same director) as an integral part of the episode (it being the "hot" game our protagonist is trying to one-up) as well as a more veiled reference to "Nosedive" in the form of a second videogame which, while also a significant part of the story, is admittedly much less connected to the episode of the same name.
Again, is it coincidence that the episode seemingly cribbing from – or at least potentially inspired by (to the point of a name-drop) – a horror comic anthology series about a secretly shared universe of stand-alone horror stories has suddenly decided to play against form and start showing that there may be a shared universe in here too? You decide.
Is this all sour-grapes… or perhaps delusions of grandeur from a mid-card horror comic writer who's trying to impose his influence on one of his favorite series in order to get a little fame and validation by association?
Or is it perhaps all coincidence – all the way down to the seemingly intentional name-dropping of NIGHTMARE WORLD being done in a fashion that echoes (or would that be mirrors?) the last line of the series itself in a doubly meta-fictional twist?
(Mind you, none of this takes into consideration the story elements that also seem pretty clearly inspired by the cult classic film DONNIE DARKO, complete with the trippy mirror-like time-travel bit in one of the endings where – SPOILER for both "Bandersnatch" and DONNIE DARKO – the lead character, now self-aware of the multiverse – goes back in time and chooses to participate in his own death. Is the child's stuffed rabbit toy a homage to the creepy rabbit costume in DONNIE DARKO, or is that another coincidence too? Hmmm…)
Without a direct comment from Black Mirror creator Charlie Brooker on all of this – which seems highly unlikely for a myriad of reasons – we'll never know how much of all of this is true… but, hey, if you're out there reading this, Charlie, how about you rename the episode "Bandersnatched" and we'll call it even, yeah? I mean, since we're being cheeky and all, right?
For the sake of comparison, the eight-page NIGHTMARE WORLD story "The Day I Tried to Live" can be read in its entirety below as can "Somebody Told Me" – which, interestingly enough – also deals with a character becoming self-aware of being a pawn in a bigger plan and system,
The NIGHTMARE WORLD OMNIBUS, published by Devil's Due Entertainment, is currently available for purchase from comic shops everywhere or through Amazon HERE.
Dirk Manning is an occasional contributor to Bleeding Cool, but is better known as the writer of comic series including NIGHTMARE WORLD, TALES OF MR. RHEE, LOVE STORIES (TO DIE FOR), HOPE, TWIZTID: HAUNTED HIGH-ONS, and more. Additional information about Dirk and his work is available at www.DirkManning.com.