You don't have to read any of the spoilers after certain comic stores went rogue with the shipping schedule this week…
But DC Comics does invite you to look at the preview of Heroes In Crisis #4 out this week… beginning with a certain testimony to Sanctuary from Donna Troy.
Don't start with all that, Tom, I've walked through Troy when I was in Turkey last. With a historian and an archaeologist. Not having that. Still, if you are wanting a meta-narrative for a character with conflicting, even negating backstories, I suppose there's that. Shame she wasn't called Donna Atlantis. Still, another unreliable narrator to add to the list.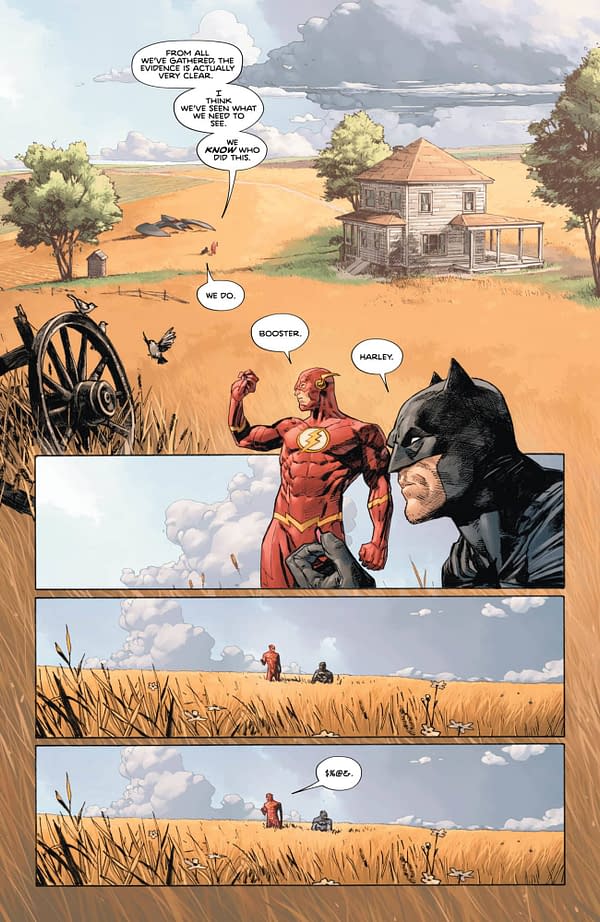 Yes, Barry Allen, you swear all you like. Only the crows there to hear you…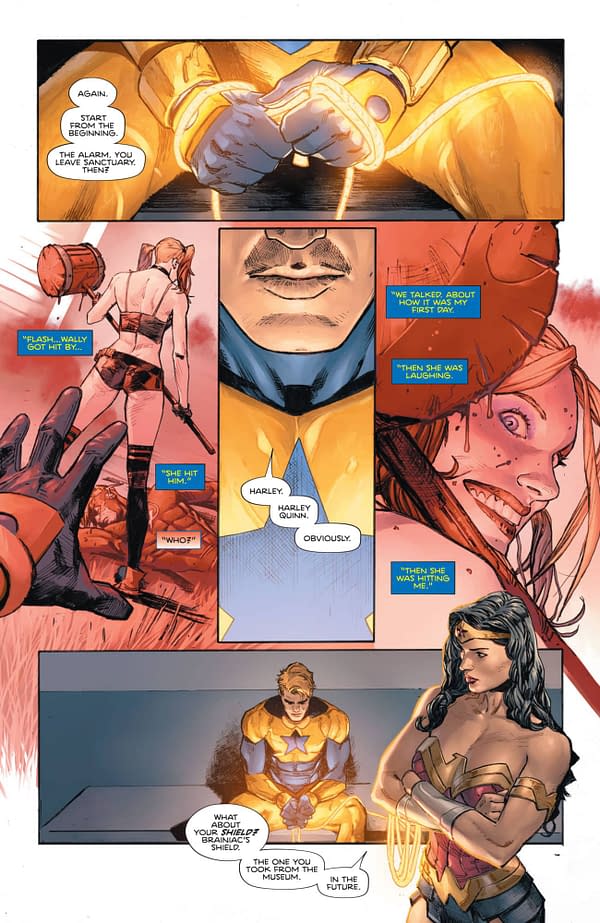 Well Booster Gold certainly believes his version. Even if the bodies aren't where we saw them. Even though it couldn't have been his first day. Even though there were two of him…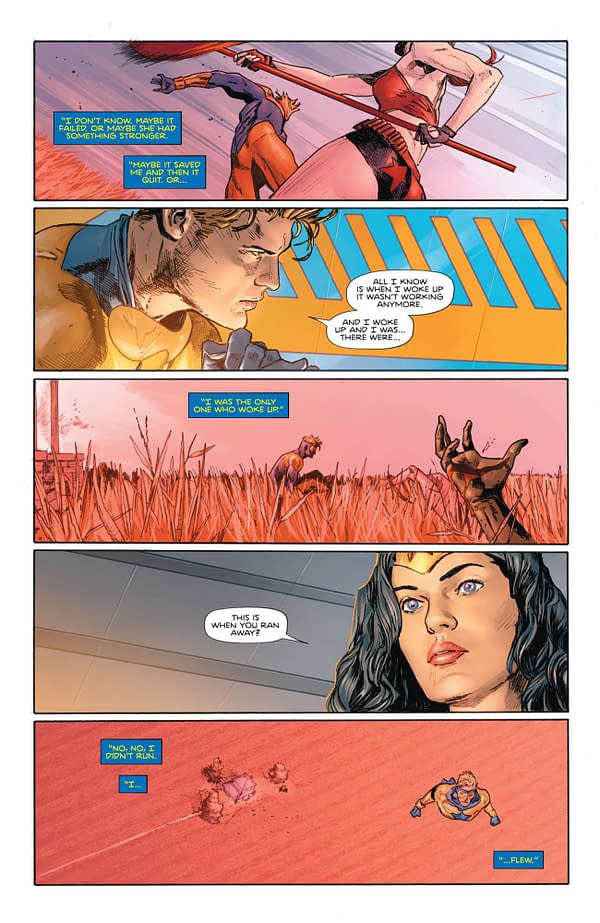 Something he didn't do when Harley was hitting him…
Who'd be an unreliable narrator?
Sanctuary has become a slaughterhouse. Designed as a place of healing, where heroes in need of support could work through the many issues that come with a lifetime devoted to fighting injustice, it's instead become the site of one of the most shocking mass murders in history. But who's responsible? All signs point to one of two people—Booster Gold or Harley Quinn. Each swears they saw the other do it, but who can be believed? Both are unreliable witnesses. Both have suffered remarkable trauma. Is it possible there's something else at work here?

In HEROES IN CRISIS #4, the Justice League attempts to get to the bottom of what happened, but that's no easy task—especially since they're dealing with the shock of the traumatic event themselves. Plus, do Booster or Harley truly have it in them to commit this sort of atrocity? They didn't seem to, so if they do now, does that mean Sanctuary failed them? Is it possible that Sanctuary could have made things worse?

HEROES IN CRISIS #4 (OF 9) VAR ED

(W) Tom King (A) Clay Mann (CA) Ryan Sook
Wonder Woman versus…Booster Gold?! Diana finds out the hard way that Booster can be a formidable opponent when his back's against the wall. Of course, being the prime suspect in a superhero massacre and exposing a secret trauma hospital for metahumans will do just that. Meanwhile, Batman and the Flash combine their detective skills to investigate what went awry at Sanctuary and uncover a serious glitch in the system-not to mention an explosive, spoiler-ific secret! In Shops: Jan 02, 2019
SRP: $3.99
Enjoyed this article? Share it!