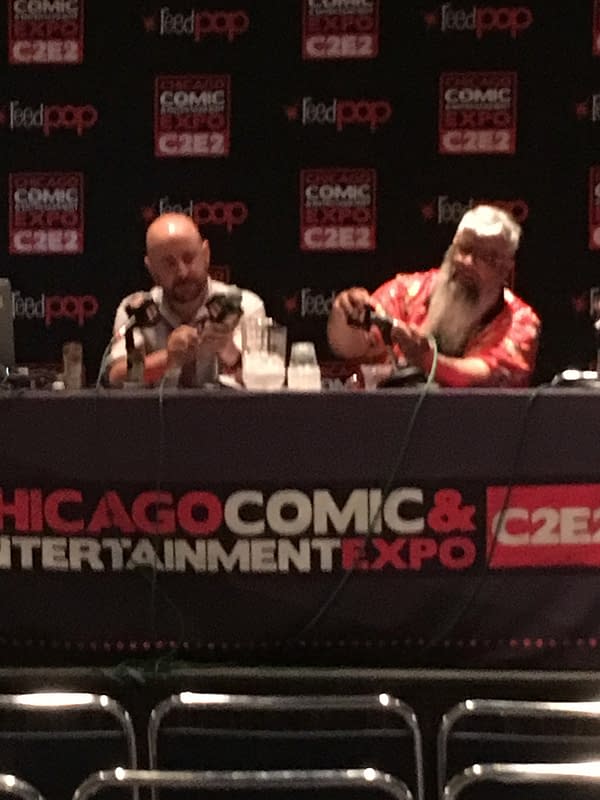 Robert Goode wrote for Bleeding Cool from C2E2,
Amidst jokes and a few less than appropriate stories, the creators for two of the web's most popular comics, Least I Could Do and Looking for Group answered questions about how they got started. In their panel at C2E2, writer Ryan Sohmer and artist Lar Desouza answered questions about how they got started and how they turned their comics into the media business called Blind Ferret.
This year marks the 15th anniversary of Least I Could Do and the 10th year for Looking For Group. The Q&A started with some fun stories then soon went into questions about the comics themselves.
For those of you are fans of LICD and LFG, you don't have to worry about them ending anytime soon. When asked what they have planned for the future, Ryan Sohmer responded that LICD will "die with him" and LFG, even after 10 years, has years more to go before it'll be done.
The rest of the panel was dominated by questions for those interested in how these two creators got started. It might be surprising to some to learn that Ryan Sohmer started in a business career, but his love of comics motivated him to leave and try his hand at writing. This background allowed him to take the success of the comics and turn it to a successful business venture as well. Both he and DeSouza emphasized the need to creators to learn business as well as grow artistically.
Overall, it was an entertaining panel for those interested in getting into webcomics. Special note though: Sohmer hates the term "WebComic": It's a comic no matter the media used to put it out there and the last lesson of the panel was don't think the web is any less worthy than any other format.
Enjoyed this article? Share it!