Black Science #36 Review: Metaphysical Marriage Counseling
[rwp-review-recap id="0"]
Grant and Sara have been sent into a "hotel" to help the mend their marriage. Both are apprehensive of the idea. The hotel mirrors a dream they've both had and sends them down a river to a party where they reunite with many important people from their lives over the years. They soon discover that the party is actually their own wedding reception.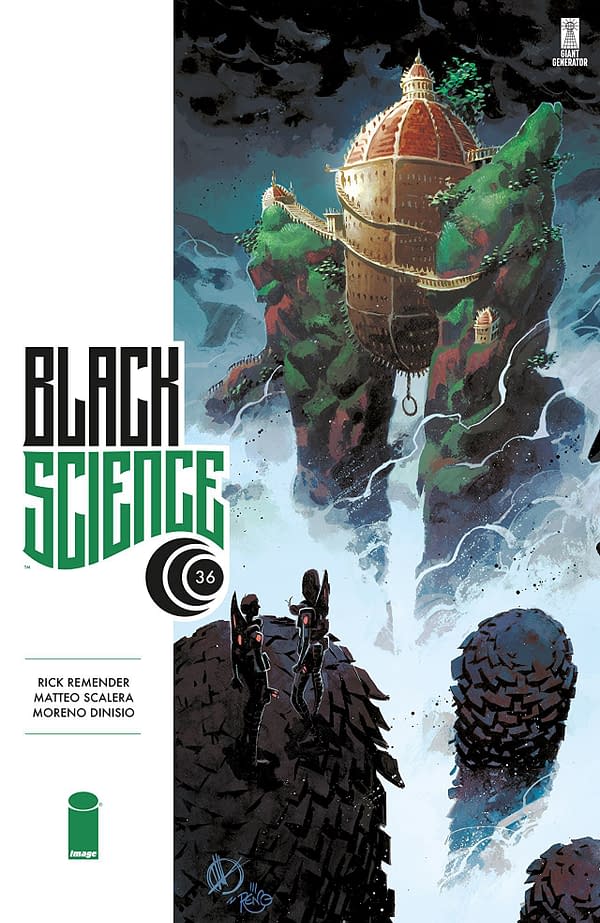 Black Science #36 is a metaphysical marriage counseling session. It's also the most beautiful and well-realized version of such an idea that I've ever seen—though admittedly I'm not sure how many of those I've seen.
I don't intend to damn with fine praise here; I quite loved this comic. It's sweet, emotionally centered, and has excellent dialogue and thought narration.
The comic has color-coded thought narration from both Grant and Sara, and creates a poetic give-and-take between the two, even though they never speak to one another until the last few pages of the book.
Apart from the hotel simulation, this is an issue far-removed from any of the big idea science fiction elements of the comic, and it works wonderfully. Plus, presenting characters that are at their deepest lows being given something of a "win" is always good way to go straight for an audience's heart. This is one of those comics that is excellent but hard to explain how without just reciting the text to you. Hopefully, this analysis of the plot helped at least a little.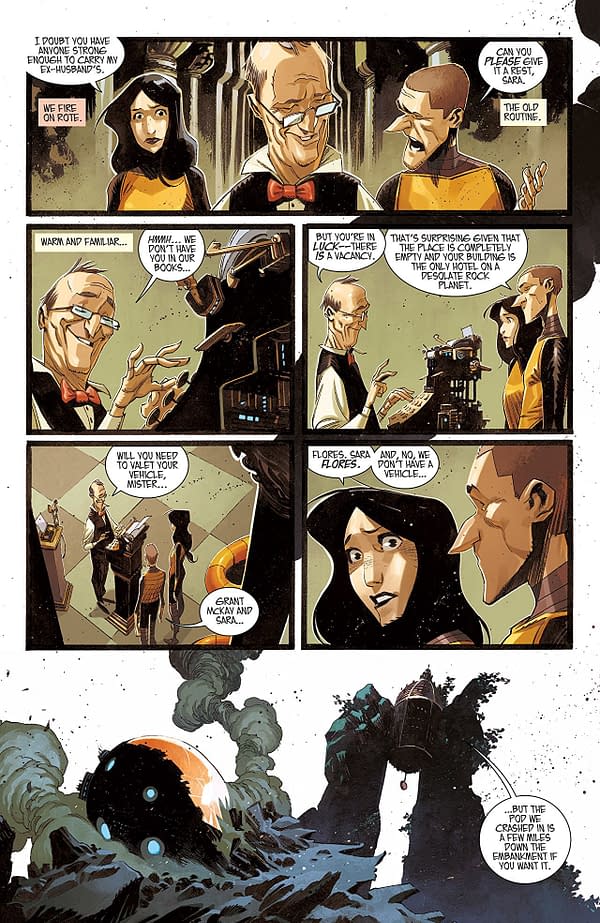 [user_id]
Matteo Scalera nails it once more with the artwork. The shading, exaggerated, and detailing cooperate to create an art style quite unlike anything I've seen in other comics. The characters are highly expressive, and the subtle details are given their proper care. Moreno Dinisio provides excellent color work too, giving a vibrant and well-balanced palette that adds even more life to the visuals.
Black Science #36 is another brilliant dive into the protagonists Grant and Sara. We see a world designed to aid them in repairing their marriage as well as their emotionally weighty responses to it all. Plus, Scalera and Dinisio make it another visually stunning installment. This one earns a strong recommendation. Give it a read.
[rwp-review-ratings id="0"]
[rwp-review-form id="0"]