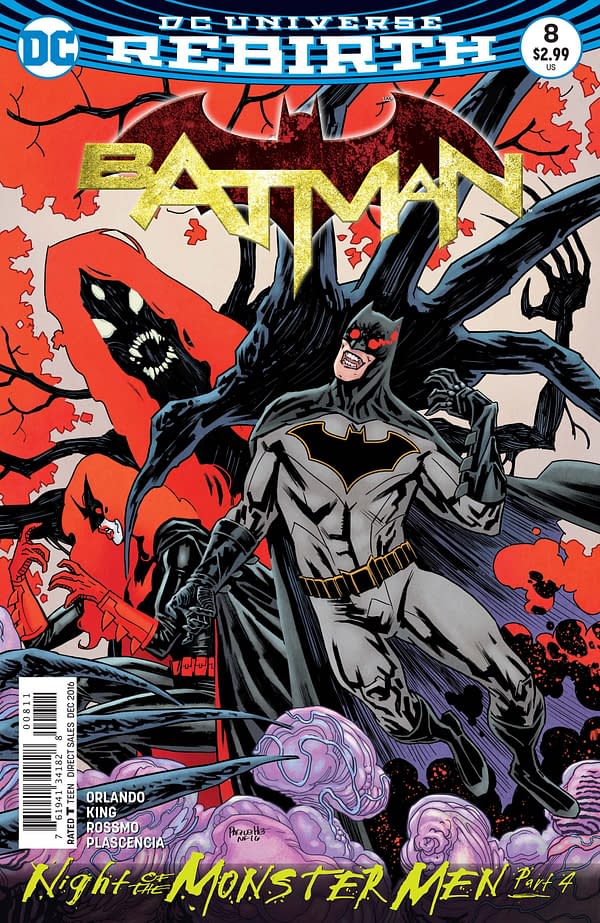 Delayed due to New York Comic Con (And I'm compiling this on a flight right now…) This is the Top Ten Bleeding Cool Bestseller List, as compiled by a number of comic stores from their sales on Wednesday and Thursday. It measures what are known as the "Wednesday Warriors", those who can't wait to the weekend to get this week's comics. We salute you, and the keenness you bring to your passion.
1. Batman #8
2. Superman #8
3. Justice League #6
4. Nightwing #6
5. Green Arrow #8
6. Amazing Spider-Man #19
7. Death Of X #1
8. Invincible Iron Man #14
9. Green Lanterns #8
10. Deadpool: Back In Black #1
Thanks to the following retailers.
Who had this to say
Champions was the NOT the blockbuster that MARVEL was predicting – but these #'s are only based on WEDNESDAY sales – so we'll see if word of mouth grows the book (I can't see how it won't, I reluctantly enjoyed it).

On the flip side Jessica Jones had a much stronger New Wednesday release – actually making it on our top 10 best sellers list!

Nine Rebirth books from DC take the top nine slots on our Top Ten sales chart, with Jessica Jones creeping in at 10th place. The biggest surprise for us was the dismal response to Champions #1 (with only 10 of 250 sold, this was the poorest performer of the week in terms of sales versus expectations), Death of X #1, and in particular Cage #1, which most of our customers strongly disliked because of the inappropriate art.

What an awesome week for comics (and comic sales) which just goes to show that a healthy top two is so much better for everyone. Marvel Now came out of the gate hot and DC Rebirth is still kicking hard! Plus Image, Boom! and others were shown some love. No negativity this week we are just going to soak up this incredible week and hope it carries through the Holiday season!

Batman and Nightwing (pre-Flashpoint) remain the big sellers for us, with growing interest in pre-Crisis Flash and Green Lantern. Also a renewed interest in Fantastic Four; since customers can't get new adventures of Marvel's first super-team, they've started buying back issues.

Well,Batman was the "Champion" of the week since it was the only title to crack the century mark.few other books did pretty well and the week was good for sales since all the publishers needed product to talk about at NYCC.The loser's of the week were Cage and Champions…it would be like trying to figure out if you should vote for "Giant Douche" or "Turd Sandwich"

Back issue market was a whole bunch of Wolverine and the Vision with a sprinkle of Justice League on top.

Very good start to the month. Rebirth is still killing it. Death of Hawkman did not do well (it was mostly about Adam Strange with little to do with Hawkman which was odd). Marvel got Death of X and Now Champions into the top ten. Though for a first issue Champions still was easily beat by 6 DC Rebirth titles that did not have the first issue advantage. Now Cage started out very poorly sales wise. Now Jessica did decent. No one thinks "Now" (again) is a good tag line for Marvel's books. Not a great start for Marvel's latest launch. Walking Dead we would have sold more of but didn't know the "death" would be such a big deal. More copies are still available which is good.

Another strong week for sales. The past month+ has been a nice bounce back from a lackluster summer. DC's Rebirth surge has almost fully worn off for us. Aquaman and Green Lantern books are back to N52 sales numbers or lower. Cyborg and Midnighter and Apollo are barely a blip on sales radar. The only significant uptick that has stuck so far is on the Super-books, Superman specifically. What sold well before is what continues to sell well. Bat-books and Justice League took #s 1 and 2 this week.

Even split for the BigTwo with Marvel and DC having four books each on the list and Image two. Walking Dead was #3 and Paper Girls #6. People cannot get enough Paper Girls. For how consistantly good its been, Amazing Spider-Man is starting to slip for us. Historically its been Marvel's #1 seller every issue but Iron Man over took it this week at #s 4 and 5. Doctor Strange and Death of X took the last two spots. Customers seem eager for something significant to happen in the X-books.

Not a single Now! Again! book made our top ten. Champions #1 was closest but also sold just as well as Future Quest. Jessica Jones had strong numbers but not enough for a top ten spot.
Best debut of the week (in a week of many, many #1s) goes to Moonshine. I personally could not be more thrilled to have a new Risso/Azzarello book. I only fear shipping delays hurting single issue sales (*cough* Bitch Planet *cough*.) Worst debut would go to Shade, The Changing Girl. Not very encouraging if DC is wanting Young Animal to be the next Vertigo.

We had an abbreviated sales week so far because of Hurricane Matthew shutting us down for Thursday and Friday here at Famous Faces & Funnies in Melbourne, FL, but luckily we didn't see any real damage, so we're incredibly thankful for that. It's unfortunate that we had to close a few days on such a giant sales week and the start of Marvel NOW, so we hope to sell more of this week's books to our Thursday and Friday regulars next week.

So far we've sold a decent amount of some of the new Marvel books, including Death of X 1 at sales position 6 for us and Champions 1 at position 11. Nightwing has definitely picked up with that Monster Man crossover (I'm still not a fan of that arc), and Walking Dead has been great as always and is our 4th bestseller so far. Paper Girls, Cannibal, and Shade: The Changing Girl are our other bestselling indy books this week. I haven't seen any new faces come in for any of the new Marvel NOW stuff just yet, so I hope they'll do some advertising outside of this industry, but I'm not holding my breath.

We are still selling a lot of Walking Dead and Saga back issues. Still moving lots of Rebirth runs and other older Uncanny X-Men and Amazing Spider-Man issues. Not any major issues, just a few issues here and there. Decent amount of interest in All New Ghost Rider with Robbie Reyes' SHIELD appearances as well.
Enjoyed this article? Share it!