Bleeding Cool Bestseller List 11th February 2018 – "We Sold Out Of Amazing Spider-Man"
This is the Top 10 Bleeding Cool Bestseller List, as compiled by a number of comic stores from their sales on Wednesday and Thursday. It measures what are known as the "Wednesday Warriors", those who can't wait to the weekend to get this week's comics. We salute you, and the keenness you bring to your passion.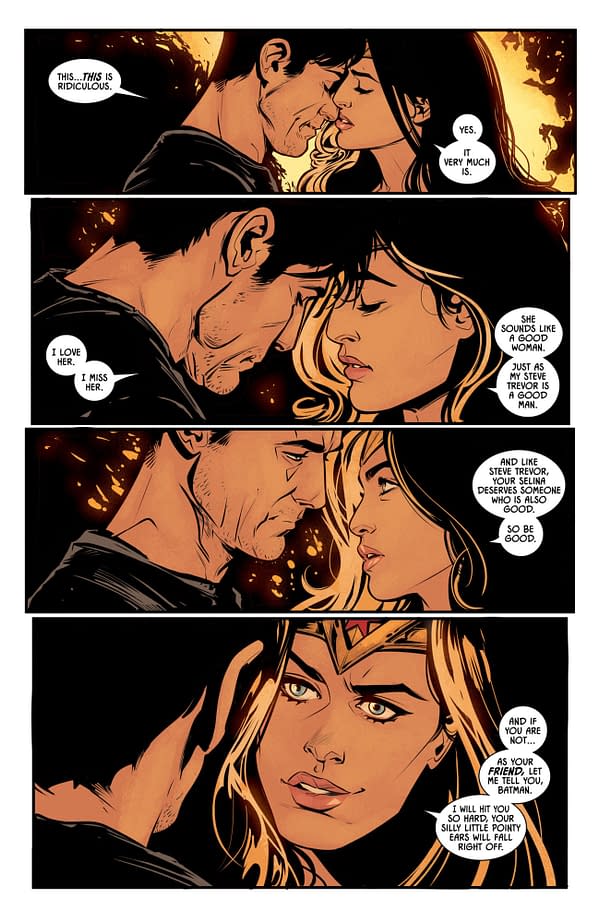 And Star Wars has been pushed out… but Batman still beats Spider-Man, X-Men Red launch and Avengers. Not much love for Mother Panic/Batman though. Swamp Thing Winter Special performs surprisingly well, and Paper Girls peeks in too.
Batman #40
Batman White Knight #5
Amazing Spider-Man #795
X-Men Red #1
Avengers #679
Walking Dead #176
Swamp Thing Winter Special #1
Justice League #38
Superman #40
Paper Girls #20
Thanks to the following retailers – get in touch if you'd like to join them.
Who had this to say,
Marvel is continuing to gain back some readers with the new books they're putting out. Four of the Top Ten books at FFF this week were Marvel books, and X-Men Red was the second best seller of the week. Avengers is still holding strong, defying expectations as the #4 top seller just behind Batman White Knight. Turns out people ARE willing to buy a weekly Avengers book (even if it doesn't have close to anything to do with a cinematic release). It's actually kind of refreshing to see Marvel get back some lapsed fans while also appealing to a few new readers. The Infinity Countdown Warlock issue also made the Top Ten surprisingly. Mike Allred is a definite needle mover and it's not a huge shock to see him sell a book, but to see a $5 book sell so well is a bit of a shock. Amazing Spider-Man rounded out Marvel's tortoise like climb back to relevancy. With the first appearance of the Red Goblin, demand shot up and we were nearly sold out by Wednesday night.
For what it's worth, DC is still selling better on average. The remainder of the Top Twenty was a healthy mix of books from both of the Big Two. Batman was still the week's top seller and White Knight just fell slightly below X-Men Red. Superman has dropped a bit in recent weeks, but I have a feeling once Bendis jumps in we'll see a big uptick in the book's sales. At least for a little bit.
On the indie side of things, Walking Dead and Paper Girls were the only non-big two books to make the Top Twenty this week, both managing to land in the back half of the Top Ten (being broken up by Amazing). Both books have a solid readership that doesn't fluctuate too much in either direction. I was a little worried that Walking Dead going up a buck an issue might give some readers pause, but the fantastic Sienkevitch variants have actually drawn some new readers in (some even buying both covers!).
—–
Oh my! Marvel got five in our top ten this week. Amazing Spider-man blew out the door thanks to some article on Bleeding Cool letting everyone know they could flip it to make some money. X-Men Red made it in but, for a first issue it only came in at 8th place which isn't that good for a new first issue. Walking Dead barely made it into our top ten at tenth. Avengers is rocking even at a weekly pace, much better than when it had all the useless third rate Avengers spin offs. Batman of course took the top spot.
—–
It turns out people love Batman! Like, a lot! They also like swamp monsters, zombies and time traveling teenage girls, although to a slightly lesser degree. They like Spider-Man a little more than they did a few weeks ago, and Superman and Star Wars maybe just slightly less.
—–
Swamp Thing edged out Batman White Knight for #2, and White Knight sells amazing so Swamp Thing was definitely a strong book and a pleasant surprise. X-Men Red might have legs over the coming weeks but I would've thought that the hype would've translated into higher sales this week.
—–
Our stand out, as always, was Paper Girls, but Batman White Knight #5 and the Wicked & Divine 1923 one-shot are holding strong, tied for second in our top ten. We sold out of Amazing Spider-Man #795 this week because of that reveal at the end. Speculators were all over it. One that didn't quite make our bestsellers this week (but it was close!) is Ivan Brandon and Esad Ribic's new Image series VS. Even though it hasn't made a huge splash with our customers yet, there's definitely interest in it so hopefully it picks up more readers before the next one comes out.
—–
This week's sales were about what we expected with two new Batmans but Marvel wasn't looking too shabby this week either. Still surprised at the popularity of Avengers No Surrender and let's hope X-Men Red can keep up momentum!
—–
Good sales week. Very nice to see considering the miserable trends of this winter. Four and four split of BigTwo books and two Images series. Batmen take the top two spots with Walking Dead just behind for three. Marvel's top 5 spots belong to Amazing Spider-Man and a licensed sci-fi book. Bottom half is your usual super hero team books and Superman with Paper Girls making it to #10 for the week. Meaning two of Marvel's launch books this week did not make the list. X-Men: Red under performed significantly. Infinity Countdown: Adam Warlock also did not set the shelves on fire. My personal opinion is having a cover artist so drastically different from the interiors is a mistake. I happen to love Allred but plenty of people do not. People did not come back in droves for part two of Milk Wars.
—–
The biggest surprise is that BOTH DC 80-page specials (Swamp Thing and Young Monsters in Love) made it into our store's Top Ten. The surprising news was that Avengers fell out of our store's top ten this week–and that Doomsday Clock #3 took a spot in the Top Ten for the third week in a row, beating out all but seven of this week's releases. A strong lineup forced every Marvel out of the Top Ten other than X-Men Red, which took fourth place. Marvel DID place ten books between eleventh and twentieth place, however.
—–
Notable sales: Albedo Anthropomorphics #3 CGC 8.5 $70.00 2nd Usagi Yojimbo finally got a new home.