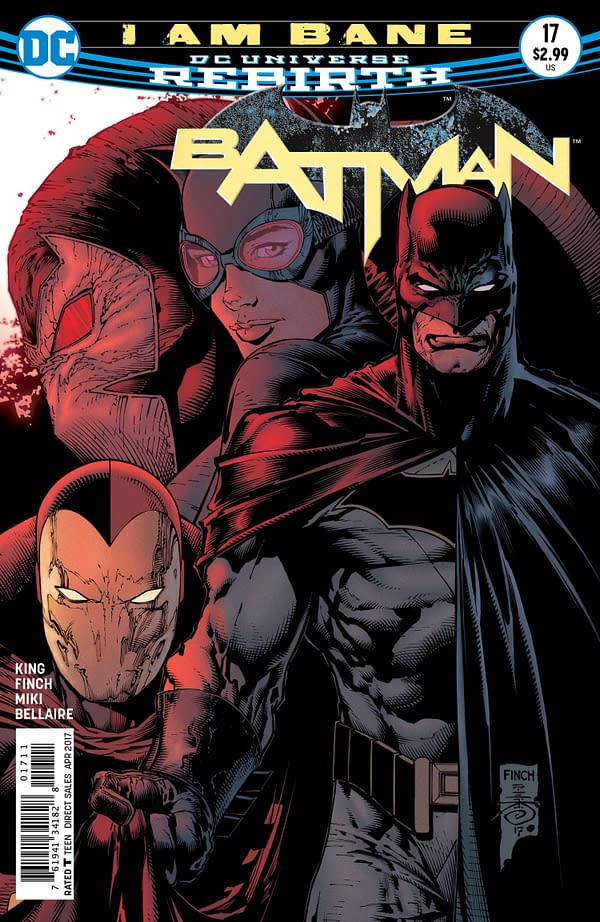 This is the Top Ten Bleeding Cool Bestseller List, as compiled by a number of comic stores from their sales on Wednesday and Thursday. It measures what are known as the "Wednesday Warriors", those who can't wait to the weekend to get this week's comics. We salute you, and the keenness you bring to your passion.
And it's notable that not only do Image Comics have three titles in the top ten, but one of them outsell every Marvel title but two outsell evey Marvel title aside from Clone Conspiracy.
But Batman, Batman's son, Batman's team and Batman's female counterpart all take the top four…
Batman #17
Super Sons #1
Justice League #15
Batwoman Rebirth #1
Walking Dead #164
Superman #17
Spider-Man: Dead No More: The Clone Conspiracy #5
The Wild Storm #1
God Country #2
Kill Or Be Killed #6
Thanks to the following retailers,
Who had this to say,
Great week for comic sales.Batman obviously took the top spot and sales have actually increased…looks like Mr. King has finally hit his stride and people are seeing it. God Country sold out of all issues and all printings. DC titles performed great as always.
While DC Comics new issues are selling the best, all I can say is that Marvel is destroying them on the back-issue market. X-23, Wolverine and X-Men are the winners for the overall week.The one that is some what surprising is that Iron Man all of a sudden came to life and have sold 5-8 copies each to at least a half dozen people since last weekend….weird but welcomed.
—
As has become the norm, there are no Marvel titles in our store's Top Ten this week. There are only two Marvel titles in our top twenty. And as far as Marvel's current event series Monsters Unleashed is concerned–well, we sold more copies of Batman #21 and Flash #21 lenticular covers than we sold of Monsters Unleashed today, and those two lenticular covers are preorders for books that won't be out for two more months! Maybe Marvel could license their characters out to DC?…
Strong interest in early Lobo appearances and Wolfman/Perez Teen Titans.
—
Good sales week. DC would have to do something pretty severe to get Batman out of the top sales spot. Rebirth has helped Superman and Justice League sales immensely. #1s for Super Sons and Batwoman make for DC's other charting titles. Buffy is a huge seller for us and comes in at #6 on the list. Walking Dead is always consistent (#3 seller of the week) but the 25 cent price point on Invincible pushed it into ninth place. It beat out every Marvel title with the exception of Uncanny X-Men, a title with no enthusiasm but loyal buyers. For months I've refused to join the chorus of contributers to this list saying Marvel should get back to publishing books that appeal only to middle aged white men. However, certain core Marvel titles that were shoe-ins for this list two years ago are not hitting sales anywhere close to a Top 10 spot. At the same time, many Marvel books are outselling DC books- just not in top ten numbers. Mighty Thor, Doctor Strange, and Clone Conspiracy all outsold Green Lanterns, Green Arrow, Harley Quinn, Nightwing, and Trinity. Everything has cyclical ups and downs. I hope Marvel starts an upswing soon rather than continue downward. My favorite book of the week was Kill or Be Killed #6.
—
To no surprise to anyone, DC had another great week at FFF. Our Top 10 are Batman #17, Super Sons #1, Justice League #15, Walking Dead #164, Batwoman Rebirth #1, Superman #17, Trinity #6, God Country #2, Wild Storm #1, and Invincible #133! It's great to see these new Rebirth books starting out so strong. Especially since they don't seem to be slowing down anytime soon. Batman #17 sold over triple our best selling Marvel titles this week.
Speaking of Marvel, we only had three of their titles crack our Top 20 and even then, they were the last three spots. Clone Conspiracy 5, Spider-Man 13, and Uncanny X-Men 18 all hit spots #18, 19, & 20 respectively. It really says something that the only titles we're selling consistently enough are the ones who deal with the traditionally established big heroes of Marvel's past. My hopes are (probably too) high that the X-relaunch will help boost their sales in at least that one corner of their universe. flo
Image is starting to get a pretty solid footing with some of their newer titles, like God Country (which even beat out the 25 cent issue of Invincible), that they can hopefully keep for weeks to come. Another indie book we've been doing really well with is Aftershock's Animosity. Everyone at our store reads and recommends it highly to anyone they can.
Monday we had an afterhour's sale, so our BI sales were a little all over the place. We sold a lot of variants from all different publishers. We also sold a good chunk of Batman from the 90s and Uncanny X-Men and Wolverine from various years. A few customers have also been digging through the Avengers back-issues and grabbing anything with any of the cosmic heroes with upcoming movies.
—
Great week for new comic sales!! Marvel actually had 3 that cracked the top ten with Captain America having a surge in sales ( thanks to the Secret Empire announcement! ). Seeing Invincible also crack the top ten made us all very happy ( I know, I know it was only 25 cents but hopefully this will bump up the readership of this awesome comic!).
—-
Good week. The 25 cent issue of Walking Dead did not increase readership. The same people picked up the regular priced issue this week. It was the only non DC title to make it into the top ten. Wildstorm 1 sadly did not make the top ten which makes me wonder if there is a market for it. Marvel's best selling book this week was Deadpool which surprised me. The Star Wars line is losing steam. I thought Poe would outsell Deadpool. So far the weather here has been very nice for winter and I think that has helped our sales.
Issues from Iron Man vol 1 was popular this week. People want to read about the Iron Man that was in the movies along with the one they grew up with and this way they can. Sold more Iron Man vol 1 comics this week than we did of the new issue of Invincible Iron Man 4.
—-
Walking Dead back issues have remained hot, including graded books. We offer a large selection of autographed books, and our customer have continued to support these as well.
—-
Batman is still going strong in spite of mixed feelings on King's work so far. Batwoman is off to a good start! Wild Storm kicked off fairly well, as did Super-Sons (though not top ten).
Marvel made a better showing (top-ten-wise) for us this week, what with Clone Conspiracy, Old Man Logan, and Mighty Thor (Marvel books that still sell well for us!) and other decent sellers.
My store doesn't do much business when it comes to alternate covers, but the Image anniversary variants and Marvel's Joe Jusko variants all did really well this week. I've almost phased out variants, but this makes them make a bit of a comeback. I think variants would still be doing well if there was a max of one reasonable-to-get variant, and perhaps a rare one, but no more than those two. Seven or more variants is just silly.
—-
Super Sons has been the only thing that's been able to tie with Batman sales in months. Not much else to mention, but I'm fairly certain that in the coming months we're going to see a huge shift of new Image comics pushing many of the Marvel titles out of the top 10.
Enjoyed this article? Share it!