This is the Top Ten Bleeding Cool Bestseller List, as compiled by a number of comic stores from their sales on Wednesday and Thursday. It measures what are known as the "Wednesday Warriors", those who can't wait to the weekend to get this week's comics. We salute you, and the keenness you bring to your passion.
Batman takes the top but it was so close. Many stores had Justice League at the top – and one had Carnage…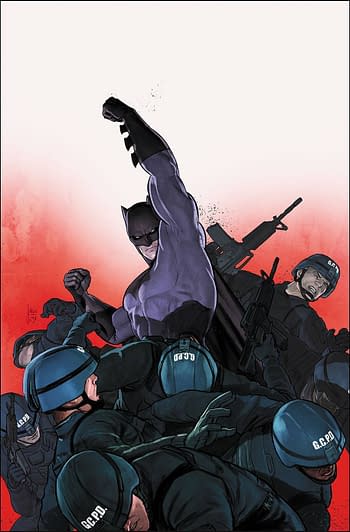 Top ten bestsellers
Batman #59
Justice League #12
Uncanny X-Men #2
Justice League Dark #5
Web of Venom Carnage Reborn #1
Aquaman #42
Immortal Hulk #9
Spider-Geddon #4
Astonishing X-Men #17
Shuri #2
Thanks to the following people:
Who had this to say
Donny Cates leads the Top Ten at FFF this week with Web of Venom: Carnage Reborn. Batman sat at #2 selling just two copies less than Carnage. Batman is king, but Donny Cates is the God Emperor of our store. His books sell. The last issue of Astonishing sold better than Uncanny on it's second week of being weekly. Even when the book isn't $8, people just don't seem to care. The die hard X-Fans are there, but it's not grabbing new readers the way it should. Hopefully when the weekly schedule goes away and the big characters come back we'll see a small bump, but I'm not holding my breath. Justice League regular and Dark both continue to sell very well thanks to beautiful cover Bs. Spider-Geddon is staying steady. Aquaman is enjoying a small boost thanks to the Throne of Atlantis crossover, but it's not a spectacular jump and it'll crash back down when the event is over.
Another crazy week. Justice League and Justice League Dark clocked in at 1st and 2nd. Batman dropped to 3rd. We gained new customers this week due to a comic store completely closing. I was told they were down to selling comics one day a week. Thanksgiving also brings in new people for the week with other regulars out of town.
—–
Tom King Batman dominates yet again. Nothing changes. Justice League and Aquaman have both mutually benefited from the Drowned Earth event that people actually were enthusiastic about. Immortal Hulk is about the strongest there is when it comes to Hulk titles from the past ten years, maybe barring the Red Hulk run when it first started. Punisher numbers are way up post War Machine armor and people keep adding this one to their pull list 4 issues in. We ordered way more Alex Ross covers for Astonishing X-men #17 and it seemed to give the book a bit of a bump. The only turkey now two weeks running is the Black Order book which is a shame because it looks really good, although admittedly I didn't read it either. The art has a professional sheen on it that a lot of Marvel books are lacking this year.
—–
Always an interesting week of sales. You lose Thursday (Thanksgiving in the states) and you lose a lot of regulars to Thanksgiving/family out of town visits, so they're either not in town or are in town but entertaining Uncle Bert by watching the football game.
Then you get Black Friday which tries to make up for no sales Thursday and you mix in sales and people buying some gifts. The sales pull in the COLLECTORS, which is always fun to see Back Issue sales on some under demand books popping up. Most new comic performed as expected with Batman still pulling the #1 spot by a LOT.
—–
Our numbers are slightly off from what they would be normally, thanks to being closed for the holiday, but the list doesn't look *too* different from how I imagine it would have had we been open. BATMAN being at the very top is anything but out of the ordinary after all.
Team books made a good showing this week, with UNCANNY X-MEN, JUSTICE LEAGUE, and JUSTICE LEAGUE DARK all hanging out in the top half of the list. Another solid hit this week was the… cumbersomely titled WEB OF VENOM CARNAGE BORN.
On the lower half of the list we see the always excellent IMMORTAL HULK hanging out with the usual suspects of midlist titles: AQUAMAN, PUNISHER, an the like.
Notable best sellers include the one-of-a-kind classic Love and Rockets and the new series Shuri. East Of West and Lucifer both had a good week as well. Other not-so-surprising best sellers include Batman, Justice Lleague and Uncanny X-Men.
—–
Five DCs and four Marvels on this week's top ten, with Batman and Justice League eking out then top spot by 3 copies and 2 copies respectively. The surprise third-place finisher was Image's Middlewest, which benefits from a lot of buzz that translated into strong sales. No book generated significant excitement this week, though; even the top two generated lackluster sales compared to prior weeks.
Notable sales:
Justice League #2 G $500 We sold a lot of Justice League of America from #2 through #145 to a very good regular for $500. Most are pretty beat and falling apart at the cover but most are in beautiful shape for their age.
Enjoyed this article? Share it!