This is the Top 10 Bleeding Cool Bestseller List, as compiled by a number of comic stores from their sales on Wednesday and Thursday. It measures what are known as the "Wednesday Warriors", those who can't wait to the weekend to get this week's comics. We salute you, and the keenness you bring to your passion.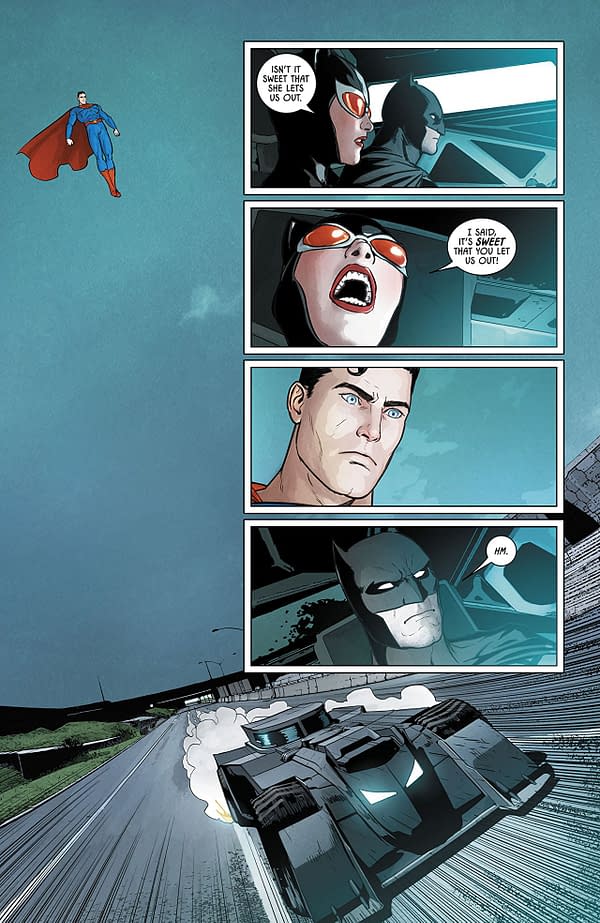 Batman totally takes the top. It's tradition. But interestingly, it was nowhere near the clean sweep it usually is across stores, often topped by White Knight, Oblivion Song and Amazing Spider-Man, which all clustered around the top, pushing The Walking Dead back. And everyone give a big hello to Gideon Falls… and to Collector's Paradise, who have joined the contributing comic book stores.
Bleeding Cool Bestseller List – Top Ten Comics – 11th March 2018
Batman #42 by Tom King and Mikel Janin for DC Comics
Amazing Spider-Man #797 by Dan Slott and Stuart Immonen for Marvel Comics
Batman White Knight #6 by Sean Murphy for DC Comics
Oblivion Song #1 by Robert Kirkman, Annalisa Leoni, Lorenzo De Felici from Image Comics
Infinity Countdown #1 by Gerry Duggan and Aaron Kuder for Marvel Comics
Justice League #40 by Priest and Pete Woods for DC Comics
Gideon Falls #1 by Jeff Lemire and Andrea Sorrentino from Image Comics
Walking Dead #177 by Robert Kirkman, Stefano Gaudiano, Cliff Rathburn, Charlie Adlard from Image Comics
Avengers #683 by Mark Waid, Al Ewing, Jim Zub and Paco Medina for Marvel Comics
Captain America #699 by Mark Waid and Chris Samnee for Marvel Comics
Thanks to the following retailers
Who had this to say
—–
Strong sales this week. Ordered over triple of what I ordered of Amazing Spider-man two issue ago and they all blew out the door Wednesday. Granted there were multiple people buying the various covers and some hoping to make money off the latest issue since the previous two issues have been going for a decent amount on the secondary market so after the after market prices calm down I have no idea how many will stick with the title. Regardless it is a lot better than selling hardly any copies. Batman of course took the top spot. Hoping next week's sales are just as good if not better.
—–
Big week for Marvel and Image this week at FFF! Nine of the Top Twenty bestselling books this week were Marvel and three of the Top Ten were Image books. Amazing Spider-Man was our #1 selling book this week. Even limiting it to one copy per customer (to dissuade eBay scalping) we nearly sold out of the copies we ordered. Speaking of speculators, Oblivion Song was our second best selling book this week selling two less copies than Amazing. Walking Dead and Gideon Falls both sold well at #5 & 6 respectively. Part 9 of the surprisingly still weekly Avengers story has slipped a little with it's numbers, but is still in the Top Ten. The shock of the week was definitely the fact that the True Believer's: Venom vs. Spider-Man reprint issue managed to sell enough copies to crack the Top Ten at #10, outselling almost every DC book!
For DC, Batman and White Knight were still near the top of our bestselling books at #3 & 4. Justice League sold one issue more than Avengers. Wildstorm is actually a constant part of our Top Ten whenever a new issue comes out which can be attributed to nostalgia, Warren Ellis and just generally being a quality book. Superman was pushed out of the Top Ten where it normally sits near the bottom by the Spider-Man reprint which sold just one more copy.
Like Peter Parker in Web of Spider-Man #32, Marvel seems to have dug it's way out of it's own grave and has finally started to sell more books. Will this stay when they relaunch all of their books in three months? Probably not, but it was nice to see for one fleeting run of weeks.
—–
It was closer than it's ever been, but Amazing Spider-Man couldn't quite beat Batman. He'll have to be satisfied with knocking the other Batman book out this week, as White Knight slips to a close 3rd. A great week of sales all around though, with Image hitting twice thanks to Robert Kirkman. Quality rises as well, as X-Men Red #2 vastly outsells the other colors of mutants.
—–
Robert Kirkman and Lemire put Indie in the top 3 this week. Batman and some fellow named the Red Goblin who didn't even show up in this issue take the other top slots.
—–
Marvel had a pretty solid week for us: AMAZING SPIDER-MAN #797 flew off the shelves (as have the last few issues) thanks to the ceaseless heat around the debut of Norman Osborne as the "Red Goblin". Elsewhere the current AVENGERS story arc continues to hold steam and the first issue of INFINITY COUNTDOWN is here to remind us "Hey! There's a movie coming out!"
As is The Way of Things, The Caped Crusader holds more than one spot in the top half of our list.
Keeping things interesting, the debut issue of Robert Kirkman's new ongoing series OBLIVION SONG #1 comes in at the middle of the pack.
Towards the bottom half of the list, we've got a scattering of the usual suspects like SUPERMAN, SPIDER-MAN, and the hairs-breadth from the big landmark issue CAPTAIN AMERICA #699.
—–
Two new Image series made our top 10 this week and both made strong debuts. Jeff Lemire and Andrea Sorrentino's Gideon Falls #1 tied with Batman White Knight #6 for bestseller, and Robert Kirkman and Lorenzo de Felici's Oblivion Song #1 was a very close runner-up. With those two titles along with Wicked & Divine, East of West, and The Walking Dead, Image made up half of our top 10 this week. Plus, Sloane Leong's stunning new sci-fi story Prism Stalker didn't quite make our bestsellers, but it wasn't too far behind.
—–
Lots of great books out didn't translate to stellar sales. DC has only 3 entries to our list. Batman is the top, White Knight at #3, and Justice League at #4. Amazing Spider-Man was our second best. Skybound had a good week with two books on the list. Walking Dead rounds out the top 5 and Oblivion Song has an expectedly decent first issue showing at #9. Let's hope it doesn't lose readers as rapidly as Outcast did.
—–
we had a bit of a snowstorm wednesday. numbers are probably reflecting this. are marvel fans more rugged than dc fans? marvel had a very good showing, for a change
—–
Marvel takes four of our top ten slots this week–and one of the winners is a $1 reprint of Amazing Spider-Man #300! DC holds on to four slots, with two Bat-books taking the top two places, while Robert Kirkman & Image take two slots with Walking Dead and Oblivion Song. And this week we have a horse race for comic shop sales dominance!
—–
Notable sales:
X-Men #12 VG+ $175.00 First Juggernaut!
Enjoyed this article? Share it!