This is the Top Ten Bleeding Cool Bestseller List, as compiled by a number of comic stores from their sales on Wednesday and Thursday. It measures what are known as the "Wednesday Warriors", those who can't wait to the weekend to get this week's comics. We salute you, and the keenness you bring to your passion.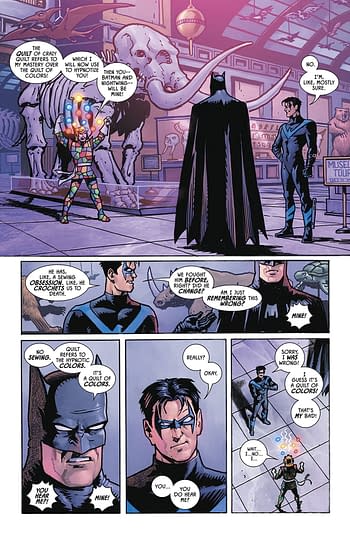 Batman tops the chart, as usual, but again it is tight against Avengers and Justice League, with a whisper between them, when it used to outdo them easily. There has been talk of the softening of Batman sales since the non-wedding, this continues to provide evidence that possible the shine is off the Batarang…
Batman #54
Avengers #7
Justice League #7
Thanos Legacy #1
Captain America #3
Immortal Hulk #5
The Dreaming #1
Walking Dead #183
Asgardians of the Galaxy #1
Paper Girls #24
Thanks to the following retailers
And here's what they have to say:
—–
Big week for Marvel at FFF with five of the top Ten selling books going to the House of Ideas. Batman took the top spot of course, But Thanos was a close second selling just two less copies. Justice League and Walking Dead sold well, which is a good surprise as all of our cover A copies of Justice League came damaged. The Jim Lee variants have been helping that book for sure. Cosmic Ghost Rider, Donny Cates' other book this week also sold very well. Immortal Hulk has stayed strong which is nice to see. Bruce had his fans and they've suddenly resurfaced and are buying his book. Hulk was down to one sub a year ago and now it's selling well enough to crack our Top Ten. Avengers has seen a similar boost. I hate to attribute the success of these books to the "Fresh Start" Marvel has taken and would like to say it's because the stories are actually compelling and the creative teams seem to actually care, but whatever the reason, Marvel is definitely seeing a rise of its numbers. Let's hope it can stick.
—–
Batman was still #1 by a pretty sweet margin, but with THREE books in the top 10, Donny Cates was the winner of the week. It was notable that Walking Dead charted below megahit Immortal Hulk, and that Star Wars has dropped off the top 10 altogether. Lots of fluctuations these days! A volatile, fun market!
—–
Batman. That is all. But if it weren't the final word in new issue sales I would at least mention that Avengers is selling like Hickman numbers, Dreaming was a good debut, both Jinxworld titles were met with little enthusiasm at all, and people still really really like pig breasts.
—–
Not a bad week. Batman dropped to the number two spot. It bled out to many readers and let Justice League #7 take the top spot. Marvel took most of the top ten this week with Walking Dead also making it in. Dreaming was a pleasant surprise by selling out and also making the top ten.
It was a good week for new series–half our bestseller list was made up of new #1's. The new Sandman entry THE DREAMING drew the most readers, but BORDER TOWN, the new Vertigo series from Eric M. Esquivel and Ramon Villalobos seems to be clicking with people, too. Our top bestseller was PAPER GIRLS #24, with CAPTAIN AMERICA #3 right on its heels.
—–
We've got a nice mix of stuff making up our top sellers for the week, with Marvel, DC, and Image all represented.
The top spots are unsurprisingly occupied by this week's BATMAN and JUSTICE LEAGUE, but trailing just behind it are AVENGERS and the continually excellent IMMORTAL HULK. The mid list sees new title ASGARDIANS OF THE GALAXY and the SUPER SONS maxi series doing solid numbers.
Towards the end of the list we get some Image titles with WALKING DEAD and PAPER GIRLS, both some of the publisher's most reliable titles. Amusingly enough, we've got DEADPOOL and DEATHSTROKE sitting right next to each other on the list.
——
An even split this week between Marvel and DC, although DC did take the top two slots with Batman and Justice League. Asgardians of the Galaxy did much better than we anticipated, taking 7th place, while Immortal Hulk sneaked in at tenth place–the best showing for a non-first-issue Hulk comic in years. Also interesting: True Believers Daredevil by Lee & Everett #1 barely missed the top ten at twelfth place, which is outstanding for a print book featuring 54-year-old material.
Notable sales: Uncanny X-Men #266 VF $75 – We get a lot of this book in, it's actually super common but it's also super popular and we never hang on to one for very long.
Enjoyed this article? Share it!