June 1st 2009, that was the day Bleeding Cool went live, a new comic book reportage news service with an emphasis on the rumour, the gossip, the unofficial. I was hired by William Christensen and Mark Seifert of Avatar Press to launch the website, name the damn thing and kinda be its face going forward.
But before you knew it, we were joined by Adi Tantimedh, Warren Ellis, Si Spurrier, Jim Kuhoric, Brendon Connelly, Dan Wickline, Hannah Means-Shannon, Gavin Sheehan, Joe Glass, Donny Cates, Christine Marie, Greg Baldino, Dennis O'Neill, Kate Kotler, Kareem Aminu, Fraser Brown, Will Romine, Dan Celko, Joshua Stone, and many, many more – and now we have Kaitlyn Booth, Jude Terror, Mary Anne Butler, Bill Watters, Jeremy Konrad, Madeline Potts, Leigh Kade, Eliot Cole, Tom Chang, Erin Wilheim, Chelsy Bloomfield with regular contributions from Matthew Snyder, Rod Lamberti, Michael Davis, Neal Adams, Roy Thomas and more, as the site spread its wings to covers films, TV, games, toys, collectables, wrestling, NFL and Full House.
That first day, Bleeding Cool broke the news that Mark Millar and Dave Gibbons were working on a new comic book, which Millar initially denied, then grudgingly confirmed. That comic was The Secret Service, adapted into the Kingsman franchise by Matthew Vaughn and Jane Goldman. That report probably set the tone for everything that followed.
Not everything was perfect, some were just a first stab, that's often been Bleeding Cool's way. And as publishers started to take a more aggressive line to what they have dubbed 'media partners' in reporting PR/news, denying or rewarding the compliant with access, Bleeding Cool has managed to stay vaguely independent, despite – possibly because – it is owned by a comics publisher, and ran the kind of things that other places couldn't, shouldn't, wouldn't run.
Loved and hated, ridiculed and rewarded, and now despite our best efforts, some kind of semi-establishment role, we're ten years older, if not wiser. But during that time, we have seen comic book pop culture explode and expand beyond our wildest dreams and taking Bleeding Cool with it.
How long will Bleeding Cool continue? I've always had the pessimistic take that maybe there's about a year left in the old beast. But I've thought that every year for the ten years. I'm starting to think that maybe we might have eighteen months now…
And as a website that likes to hold the comic industry's feet to the fire, our own toes have always been kept toasty. So if you've been with us for ten years or this is your first day, thanks for popping by.
Hopefully, we'll be able to give you a better idea over just what's going on… as Chris Claremont told me today…
Well keep on trying, mate, 'til you get it right!
We'll try, Chris, we'll try.
So what have your favourite stories been over these ten long years?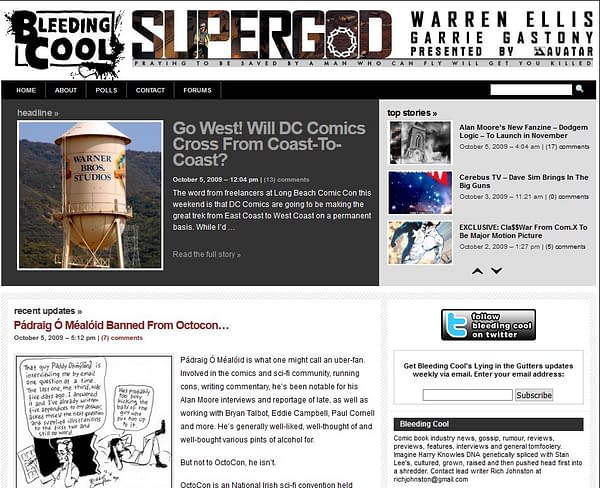 How it all looked back in October 2009…
Enjoyed this article? Share it!