Blood Queen Vs Dracula #1 Writer's Commentary By Troy Brownfield
Blood Queen vs. Dracula #1 Writer's Commentary by Troy Brownfield
Greetings again, citizens of Bleeding Cool. Troy Brownfield here, back to offer some commentary of the follow-up to last year's The Blood Queen, Blood Queen vs. Dracula. The first issue hit shelves Wednesday from Dynamite, and it comes to you from me, artist Kewber Baal, colorist Kirsty Swan, letterer Marshall Dillon, and editor Molly Mahan. The covers are by Jay Anacleto (with Ivan Nunes), Fabiano Neves, Adrian Syaf (with Guillermo Ortega and Kyle Ritter) and Lucio Parrillo.
Before the first page: The story picks up about two years after the events of Blood Queen #6. Dynamite publisher Nick Barrucci and I were talking about potential ways to go for a second series, including crossovers. Since I'd just written the Prince Dracula novel for Dynamite last year, a meeting between the vampire lord and Elizabeth seemed like a fun thing to do. While original Blood Queen artist Fritz Casas had already committed to another Dynamite project, we were able to reassemble our colorist and letterer Marshall Dillon. Joining us in the artist slot is Kewber Baal, perhaps best known for his work on Jennifer Blood. With that said, let's go to . . .
Page 1 – The year is 1582. I went with that for a few reasons. Historically, Elizabeth Bathory would have been about 21 or 22, which lines up nicely with the "two year time skip". The historical Vlad would have been dead over 100 years, but the vampire Dracula will have had time to come into his power and be somewhat more comfortable with who he is. We're also deep into the various and ongoing conflicts between the Ottoman Empire and the parts of Europe that would have been crucial to Dracula (Transylvania, aka future Romania), and Elizabeth (Hungary). At this point, Transylvania was considered a principality of the Ottomans. On this page, a column of troops is on the advance again. Kewber did a lot of research into armor and arms of the era.
Page 2 – It's Dracula, kids. And he's pissed. One thing I always loved in the original novel (and it's something that I incorporated into the Prince Dracula book) is that Dracula is basically a patriot. He's proud of his heritage and wants the Turks expelled, if not annihilated. You'll notice on this page that the mini follows by Blood Queen naming convention by borrowing the name of a Slayer album; the first mini was Reign in Blood, and this one is World Painted Blood. It's the little things.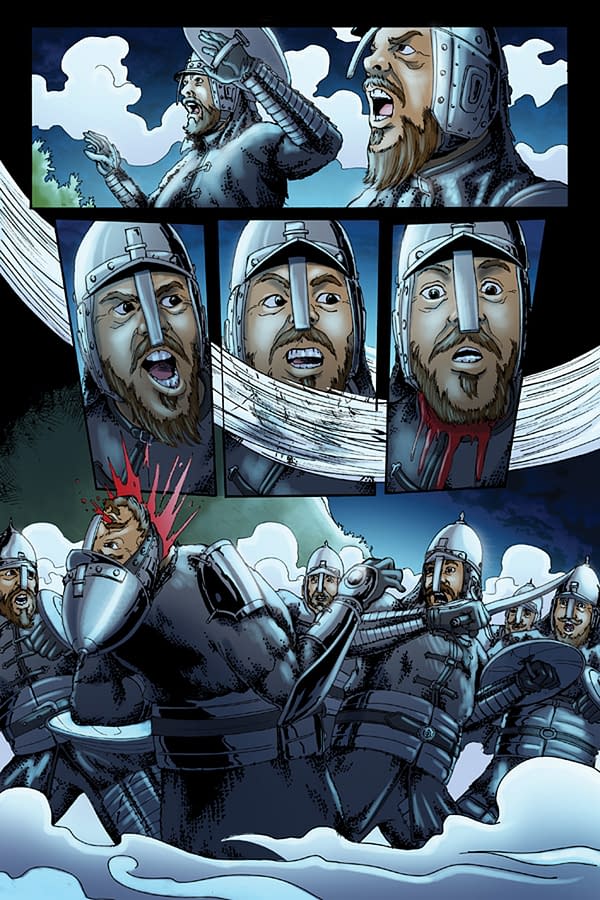 Page 3 – Horror Staple: Skeptics die horribly.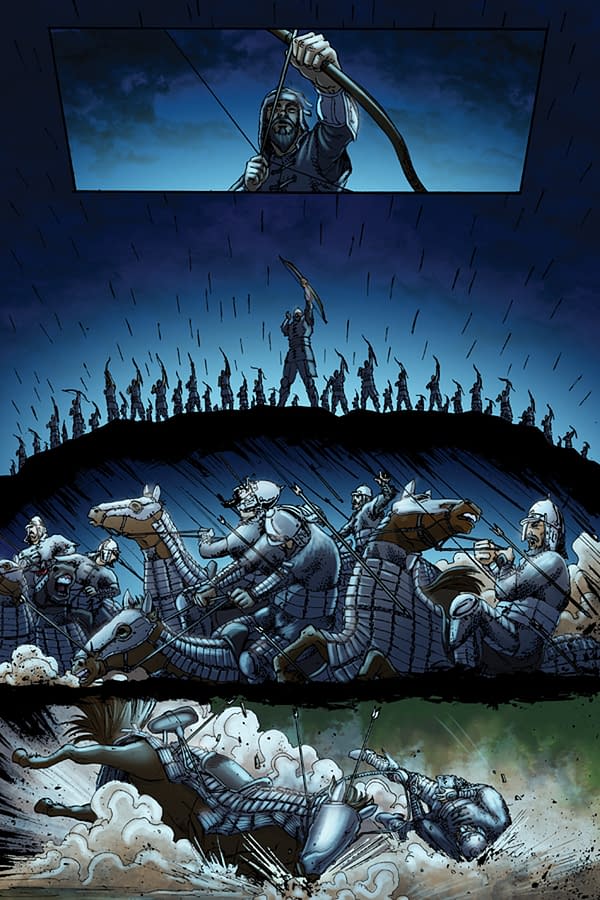 Page 4- Dracula's general, Besnik, gives the order for the dark prince's forces to drop a rain of arrows on the column. I don't care if you have cannons and armor; a boatload of arrows coming at you from above is going to mess with your day.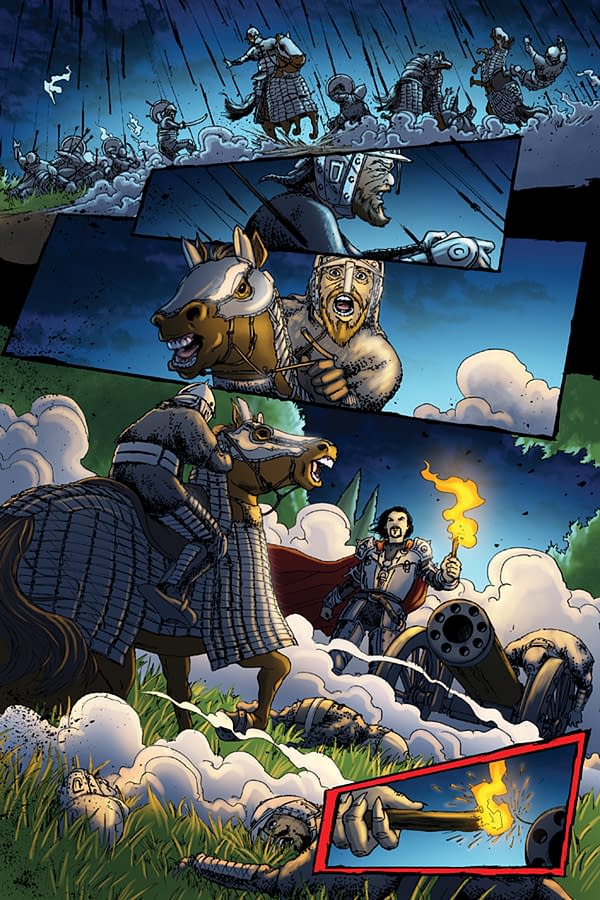 Page 5 – That cannon is an era-specific anti-personnel device. I wanted to include that as a nod to where the region was technologically, and also as an indicator that cannons aren't always super-useful against a guy that can turn into mist. Page 6 – A few words about Kewber Baal. He does a fantastic job with this mini. This issue is solid, but he only gets better as he goes along. He's not shy about carnage; that's certain. (That Bong is brought to you by the Pak-VanLente School of Advanced Sound FX). Page 7 – What's a Dracula story without some impaling? Vlad goes for the minimalist route here, opting just for two rows of heads. I prefer to believe that this is how garden path lighting originated. Marek here is Dracula's majordomo.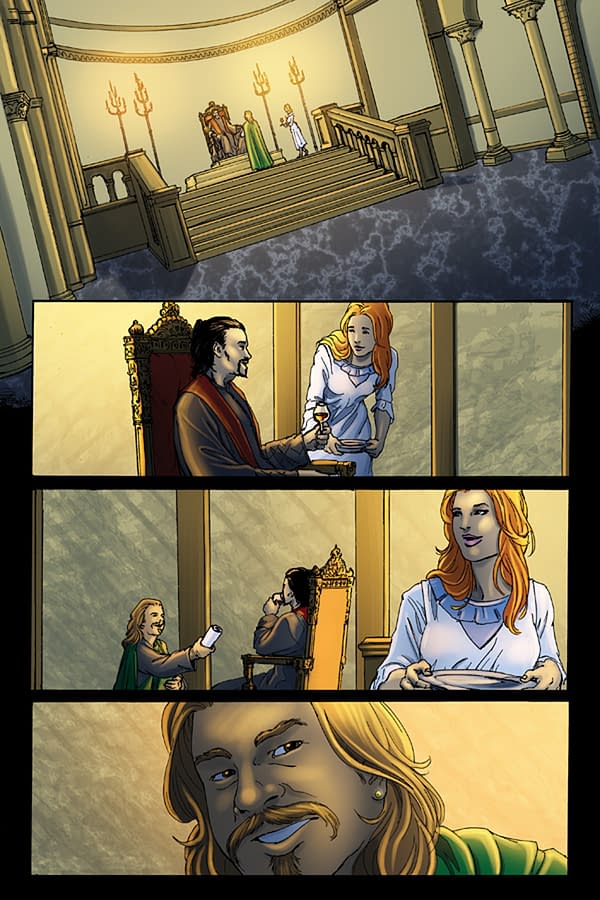 Page 8 – Here's the first curb I had to jump over into merging the vaguely fairy tale lands of Blood Queen with the "real world". I had always intended the various small kingdoms of the first series to echo places in Hungary; here I just made it explicit, just as you would have DC's fictional countries or cities occupying space alongside locations from reality. Marek mentions Sir Ferenc, whom readers of the original series will know.
Page 9 & 10 – So we spend a little time with Ferenc, and you see that he's identified as Elizabeth's husband. You also see a reference to Azimuth falling; Azimuth was a kingdom that was home to another member of Blood Queen's cast. But, in terms of Ferenc . . . does he seem a little touchy about his wife's possible proclivities?
Page 11 – Kewber on the details. Notice that the serving lass is bleeding herself into Dracula's goblet, but she's startled when he laughs. Pretty much what you would need to know about living in Castle Dracula.
Page 12 – Our man in TransVan is intrigued. He's noted the rather obvious similarities in Elizabeth's story and his own and decides to check it out. That's, y'know, how we get to the Vs. part.
Page 13-14 – And here's where I heap praise upon Kirsty and Marshall. Kirsty really makes that red sing on Page 14. And Marshall, as usually, does great work with any crazy font or effect I throw his way. They are solid pros that enhance the look and feel of the book. As for the action on the page, what the young lady does with the rat and the symbols that appear in the air will be familiar to Blood Queen readers as blood magic in progress.
Page 15-17 – Dracula makes his move on what will turn out to have been one of Elizabeth's apprentices. Elizabeth has begun to train her own version of the Daughters of the Line. Leandra is the young lady's name, but Elizabeth calls her Little Leona, a reference to her teacher (that disguised herself as the Elder Winnifred in the other book). Dracula kicks in his powers to seduce and drain the young woman, but finds that the magic may make it a lot harder to handle.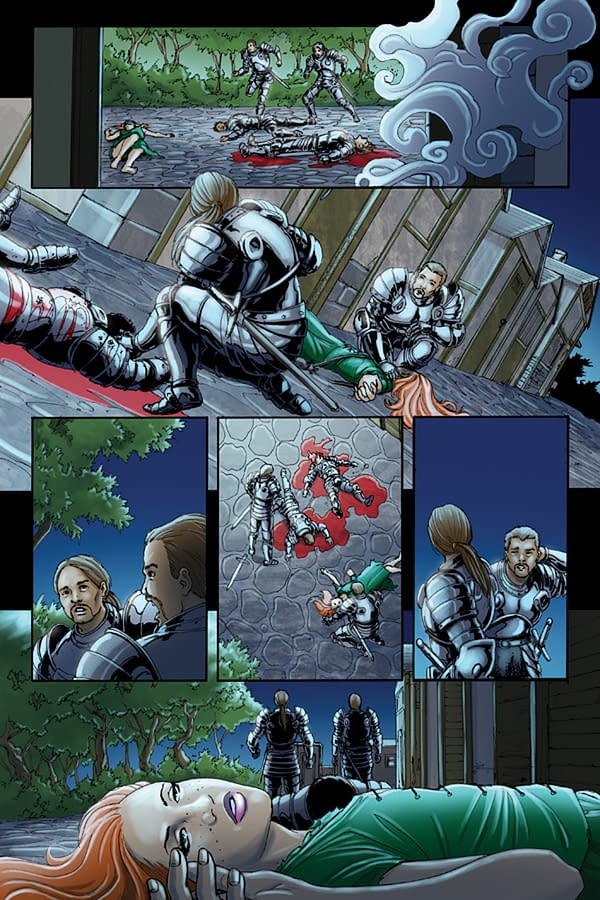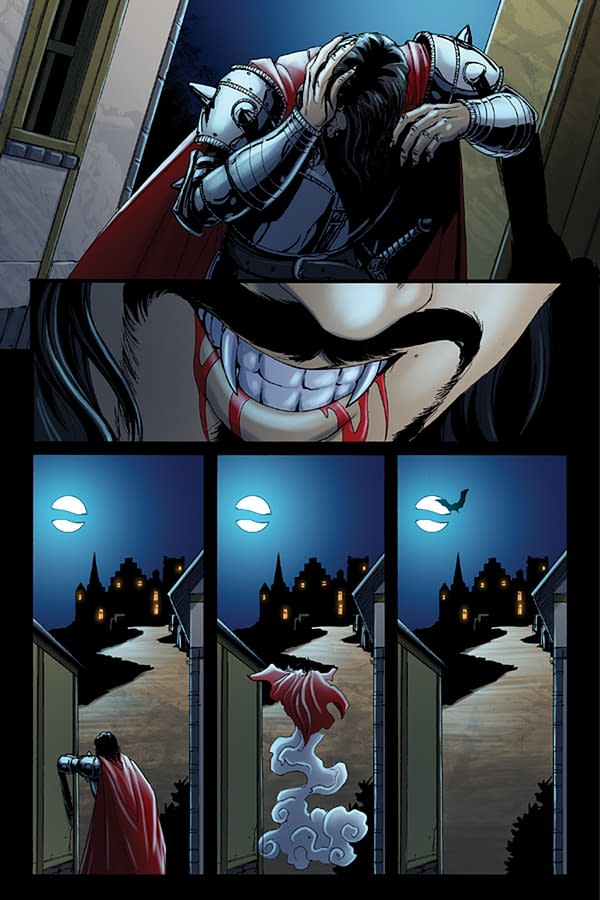 Page 18-19 – Two things should be clear here: Elizabeth's men are afraid of her (for obvious reasons) and defecting students are said to be part of Helena's Rebellion. If a reader of the original series wants to give a thorough explanation of who Helena is in the Comments, we might be persuaded to send you a prize.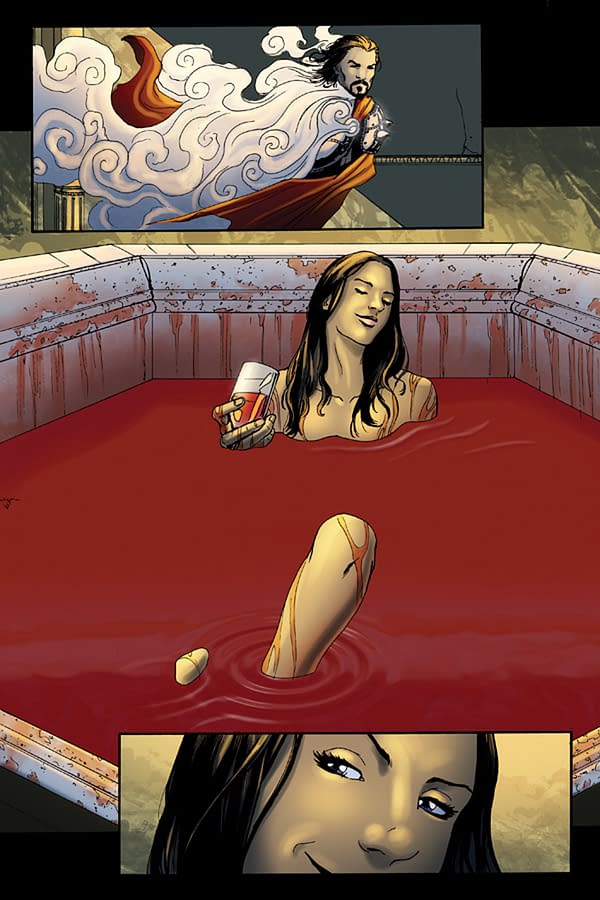 Page 20-22: I basically knew the ending of this one from the start. I wanted to start with Dracula, establish where he was at this point in history, and then follow him as he learns more and more things about Elizabeth. That culminates in the revelation that the stories are true, and here is Elizabeth Bathory bathing in the blood of young women for the purposes of power and beauty. Clearly, a lot has happened to her in the two years since the first series to take her to this point. By going from Dracula's POV, we're able to bring some mystery back in and work up to the meeting.
In the next issue, we'll learn more about the nature of the Ottoman threat and you'll see the art team do further fantastic work. Hope you enjoyed the issue, and thanks for reading.
For more on Blood Queen vs Dracula #1, click here.
Troy Brownfield is the writer of Blood Queen vs. Dracula. He's previously written The Blood Queen and co-wrote Buck Rogers Annual #1 for Dynamite. Among his other work, he writes the webcomics Sparkshooter and Solo Acoustic which post weekly at www.sparkshooter.com