Yesterday, we reported that Bodnar's Auction House of New Jersey would be auctioning off a major part of DC Comics history on February 8th.97 catalogue bound colume collections of comics spanning the history of DC Comicd, that was originally part of the National Publications/DC Comics archive. But we also raised concern about their provenance, as there were no records of any of the volumes having been sold – but that some had been stolen over the years. Even so, 97 of the volumes was still a massive hoard. Well, after we ran the article, DC Comics got in touch and now Bodnar's has pulled the items for sale – though they are still proceeding with the large Massachusetts comics collection sale on Saturday in New Jersey, which was separate to this. The owner told Bleeding Cool
The books were found in an attic in Staten Island, NY. The owner passed in 2007 and the 67 year old widow found them this past year cleaning out her late husband's hoards. It is not clear how he obtain them and would be hesitant to say they were stolen. Once I have more information I would give an interview. The online portion of the sale will be taken down later today.

Our February 8, 2020 auction Catalog portion of the sale is being canceled until further notice. It has been brought to our attention that there could be question to who has proper ownership of the collection of 97 volumes of bounded comics marked Library National Periodical Publications, Inc in the sale. We are working with DC to investigate who has proper ownership and authority to sell this collection. Once we have clarification, we will release our findings. We apologize for any inconvenience this may cause to buyers who planned on attending the auction however we take great pride to be a leader in the auction industry and we at Bodnar's want to do the right thing for all parties involved.

ONLY THE 97 CATALOG LOTS HAVE BEEN CANCELED! The rest of our Comic Book Sale is on as planned. This sale will now begin at 12 noon.
We look forward to seeing how this plays out.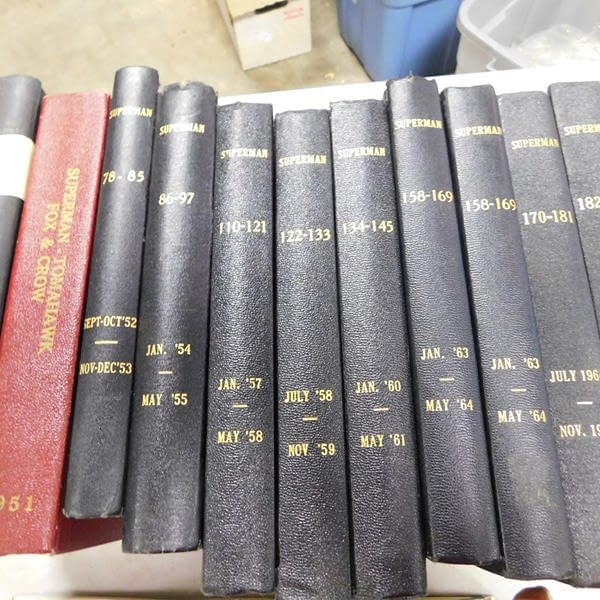 Enjoyed this article? Share it!