Fan Expo Boston took place this past weekend, and among the gathering of excited fans and cosplayers, it appears several attendees had some not-ideal experiences with convention center staff. Here are some of their stories.
—–
A longstanding and familiar comic book vendor writes:
I've been working conventions as a vendor in New England for seven years now, doing probably 15 shows in four different states. That's not much compared to a lot of people, but I think it gives me some perspective on what's normal at conventions. Boston Comic Con was my "home" show; I was worried about what would happen to it when it was sold to Fan Expo in 2016, but I never imagined that the biggest problem following that sale would because Fan Expo switched to a bigger venue, from the Seaport World Trade Center (which was wonderful and full of helpful staff an security) to the larger Boston Convention Center (which… is not).
Last year was the first year at the BCC under new management. Both my partner and I had problems with security. His problem came when he tried to hand truck items out the front door and was yelled at (this was not an issue at the Seaport). Mine came on Saturday, which was the only day of the convention I did not enter through the back door, labeled as the entrance for exhibitors.
Now, let me state straight off: I understand the need for security, but I'm a vendor. I brought several carloads of product on the set day Thursday and Friday and was searched neither day. Prior to the Saturday of Fan Expo Boston last year, I had never been searched entering a convention as a vendor. So I was more than a little surprised when not only I was subject to being searched, entering from the main entrance, I was put into a line with fans, which was going to make entering the convention early to do pre-show prep difficult. I loudly voiced my displeasure at the situation, but was given little choice if I wanted to enter or even get my stuff back.
The next day I entered through the back door and wasn't searched at all. It makes no sense to me to subject vendors to search based solely on which door they use — either you're searching us or not. Oh, and it wasn't just vendors having issues, as Riddle, a cosplay guest of the con, complained about security on Twitter.
Anyone coming to @BostonComicCon wear a cup. They are over zealous with the security wands

— Riddle (@Ridd1e) August 12, 2017
So that was last year, and it made me apprehensive about doing the con again, but I hoped it was just a first-year problem and kinks would be worked out. I also resolved to only enter through the back door the next year. Thursday and Friday were fine, with no issues (and given that Boston's mayor was there Friday, maybe some could have been expected that day). I noted the backdoor now had an x-ray machine by its guard desks, which I'm fairly certain wasn't there the year prior. So things seemed fine. Then Saturday morning happened.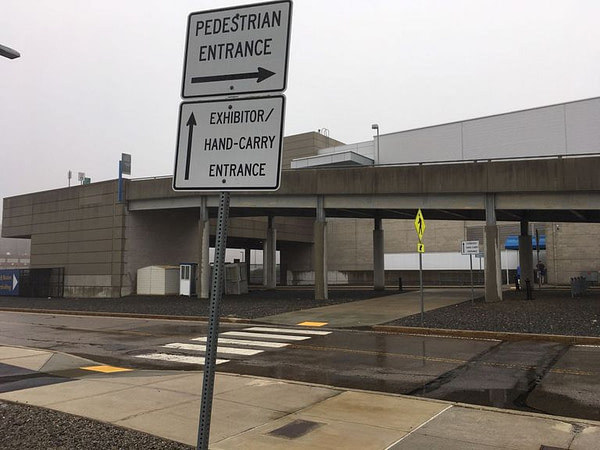 I entered unmolested through the back door, but after I was there for about an hour, one of the other vendors near me told me that the back door was closed and vendors now had to go through the front door, subject to search. At first, the vendors were all placed in line with the fans, but apparently a second line was created soon after — but only for vendors not bringing anything in to the convention. Again, this was still during daily set-up time.
Another neighbor soon came up telling a story that one dealer, incensed by the situation, argued with a security guard only to have his badge ripped off his neck and be kicked out of the convention. Cut to that night, and my partner and I were both unhappy that while the show ended for the day at 6 p.m., the cosplay contest was being held not off-site, but in the auditorium on the show floor! Some security guards understood our concern, but others, particularly T Johnson, did not.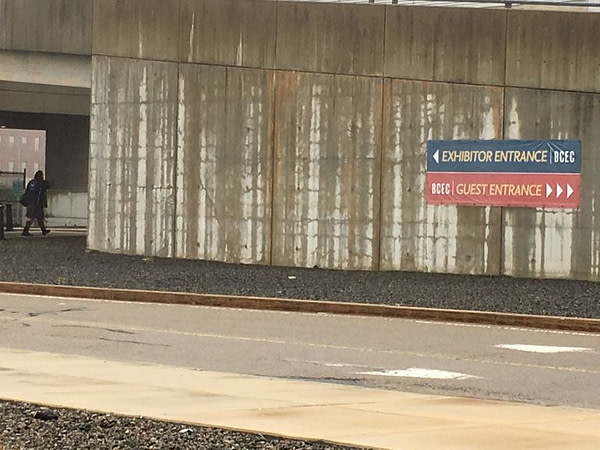 The next morning, vendors were denied entrance (with T Johnson backing up the posted guard) to the backdoor clearly marked as being the appropriate entrance. We were sent a quarter of the way around the building (in a rainstorm that caused flooding in parts of the state), where we were subjected to being searched and sniffed by a dog. Again, this makes no sense to me; three days of not being searched and one of being searched. How is that secure?
A flyer with load-out descriptions was distributed that morning that clearly stated the back door would be available for use by smaller vendors. Yet at 5:30 p.m., there was a giant sign denying exit that way, with an extraordinarily unhelpful security guard posted there. Supposedly, the door would be available at six, but by 5:45, vendors were walking back in that way unmolested by security. Despite that, at 7:00, the giant sign was still up, with the same unhelpful security guard posted there, unable to explain why.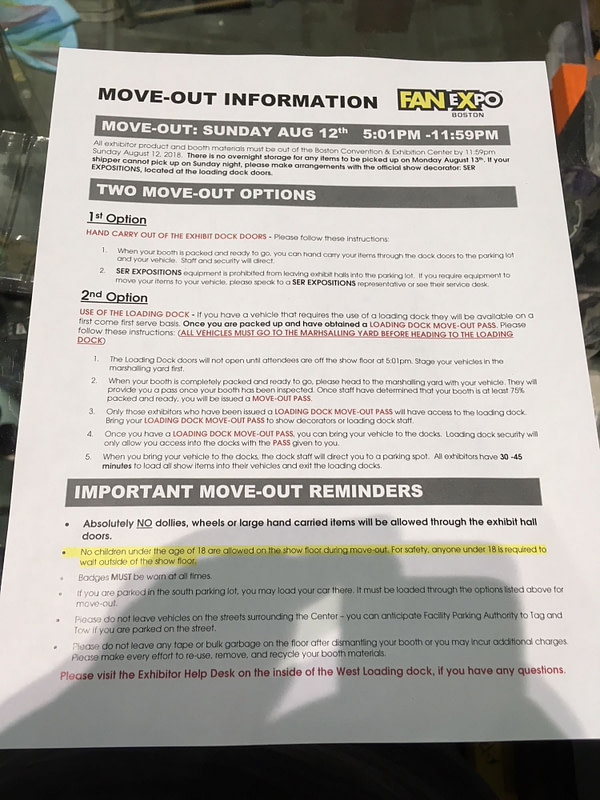 I have no plans to ever set foot in the Boston Convention Center again because of how inconsistent, unhelpful, and petty its security team is. I completely blame the convention center, not Fan Expo for this, but that's assuming the security works for the building, not Fan Expo.
Fan Expo itself, however, does not seem to be doing a great job running the show. Harrison's in Salem is one of the biggest, most successful local stores that used to have a large presence at Boston Comic Con. They were absent from Fan Expo Boston. Comically Speaking of Reading is another large store, traditionally with a large presence. The rumor around the con was that CS and its associated store, Nick's Comics of Middleton, were both going to skip show, until they were contacted a few weeks beforehand and offered tables at buy-one-get-one free due to desperation on Fan Expo's part over the number of unsold tables. If shops like Harrison's and Comically Speaking are skipping a major show in their backyard, there's a problem with your show.
Other than rumors, I can only speak to the experience of myself and my partner, which was unlike anything at any other convention we've done, but plenty of other vendors we spoke to found the security ridiculous (one said only NYCC was worse to deal with), and all agreed that show was very vendor unfriendly.
—–
It wasn't just the vendors who reported inconsistent treatment.
Wow, was I put in my place at end of @FANEXPOBoston. Not allowed to walk w/media con guests thru large green room to shuttle. "Walk around." #humiliating

— Terry Moore (@TerryMooreArt) August 12, 2018
I snuck back in later for coffee.

— A M Y C H U writes comics☕️🍩 DragonCon 216 (@AmyChu) August 12, 2018
—–
A reader writes:
I live in Boston and have attended all the Boston Comic Cons for the past decade or so. I skipped Fan Expo Boston last year because it seemed too focused on the media guests. I attended this year not only to see Terry, but to meet with other guests in Artist Alley. I had a three-day pass and spent a majority of my time (and 99% of my money) in Artist Alley. To hear that a creator I admire was treated in this way is heartbreaking. Boston Comic Con was focused mostly on comics. I feel that Fan Expo does not care about its guests if they are to treat them this way. Is there any way you could reach out to them for comment? This greatly impacts my decision (as well as other fans in the comic community) regarding a return to Fan Expo Boston next year. I may not even bother if this is how they treat their guests.
—–
Well, we did ask for both of you, and it went to the top. Well, nearly the top. Andrew Moyes, Vice-President of Fan Expo HQ, Global Exhibitions wrote back to say:
We can confirm that all security processes were mandated by the Boston Convention and Exhibition Centre. We did have a post-show meeting with the facility to communicate the challenges everyone faced and there is a commitment by the facility to improve for 2019.

With respect to booth pricing – we do offer special rates for people who renew by a certain date and time. Also we offer incentivized pricing for those who purchase multiple booths as per our rate card which is available to everybody.